"Paznaun - Ischgl CREW" Staff Program Continues Development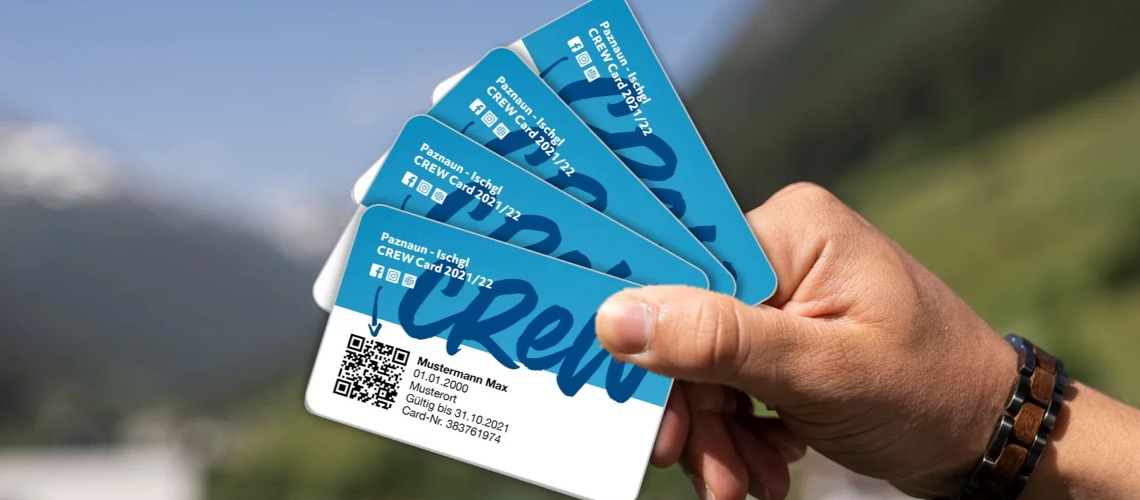 The topic of employee search and retention has been continuously promoted as part of the "Paznaun - Ischgl CREW" initiative since 2018/19. In this way, services and benefits could be expanded year after year. Employees in Paznaun can use the CREW Benefits, the CREW Academy and the CREW Activities in their free time. The new products this year are the uniformly designed map for the whole of Paznaun and the newly designed CREW website, including a more user-friendly job search and application function.
The Paznaun - Ischgl CREW and the full range of leisure activities as well as further educational opportunities are added values to our employees for enjoying to live and work in Paznaun, and even return to the region as their working place. As soon as an employment contract exists with a company in Paznaun – any employee from all businesses in Paznaun can become part of the Paznaun - Ischgl CREW.
True to the motto '#bestplacetowork', the Paznaun towns of Galtür, Ischgl, Kappl and See, with all their employers, have made it their business to inspire their employees with attractive jobs as well as a varied leisure and training program. Due to the positive response, the "Paznaun - Ischgl CREW" has been operated by the tourism association as an independent employee marketing facility alongside guest marketing and continuously expanded since it was founded. Service offers in the three core service areas CREW Benefits, CREW Activities, and CREW Academy are increasingly being expanded. New from winter 2021/22 is that in Paznaun, for example, instead of the individual CREW Cards in Galtür, Ischgl, Kappl and See, there will now be a joint CREW Card and a standardized CREW website.
"Paznaun, that's all of us who live and work here. As a tourism association, it is very important to us that you feel comfortable from day one. That is why we launched the "Paznaun - Ischgl CREW" a few years ago to promote exchange and to be able to offer specially compiled benefits, leisure and further training activities, "says Miriam Walser, chairman of the board of the Paznaun - Ischgl tourism association, describing the mission statement of Paznaun - Ischgl CREW. In Paznaun not only should guests from all over the world have an unforgettable holiday, but it should also be a home for employees from near and far. All information about CREW is available at: www.paznaun-ischgl.com/crew
The CREW Card as a ticket to an attractive offer for all employees:
CREW Benefits - as far as the valley stretches
Benefits, discounts and even free offers - employees can experience this and more thanks to the CREW Card. This is the ticket that employees can use to make their free time as varied as possible. Participating companies offer discounts on food and beverages, shopping and rentals, wellness and beauty, as well as active sports on the mountain. The majority of the benefits can be redeemed with the CREW Cards from all locations - so you can get to know Galtür, Ischgl, Kappl and See in winter as well as in summer in a relaxed and affordable way. All details about the CREW benefits and other important information about the Paznaun can be found in the current CREW Benefit Guide and in the new CREW magazine 2021/22, which are now available in the Paznaun tourist offices.
CREW Activities - ingenious leisure activities
Compensation in your free time is important for everyone and that is also available with the CREW Card. With the fantastic infrastructure in Paznaun, nothing is missing to pursue your favorite activities and to get new energy for your daily work. From Galtür to ​​See there are ideal opportunities to practice a wide variety of hobbies such as ice skating, ski touring, hiking, snowshoeing, biking, cross-country skiing, swimming or tobogganing with new friends and colleagues in winter and summer. With paragliding, yoga, or fat biking, activities can also be tried out that may not have been known before. In addition, it is always ensured that time-bound CREW activities are offered in such a way that, due to the many different free times, every employee has the chance to participate.
CREW Academy - wide range of further training courses
True to the motto: "Life isn´t about finding yourself. Life is about creating yourself" (by George Bernard Shaw), the CREW Academy is creating a diverse training program that is also available with the CREW Card. During the seasons, every CREW member can choose their desired courses from a tailor-made offer from the CREW Academy and further their professional and personal training. These training courses are rewarded with recognized certificates. In addition to language courses in German and English, so-called learning nuggets are also offered. These are compact workshops that can be optimally planned in the room lesson or after work. In this way you expand your own specialist know-how and learn interesting facts about many topics such as photography, Communication and rhetoric as well as insights behind the scenes of a gourmet kitchen or technical operations. The learning nuggets are held by established trainers on the one hand, and local heroes on the other hand share their knowledge with the CREW and pass it on from employee to employee.
Share This Article