Helmet Brands Chose Noble Biomaterial's Ionic+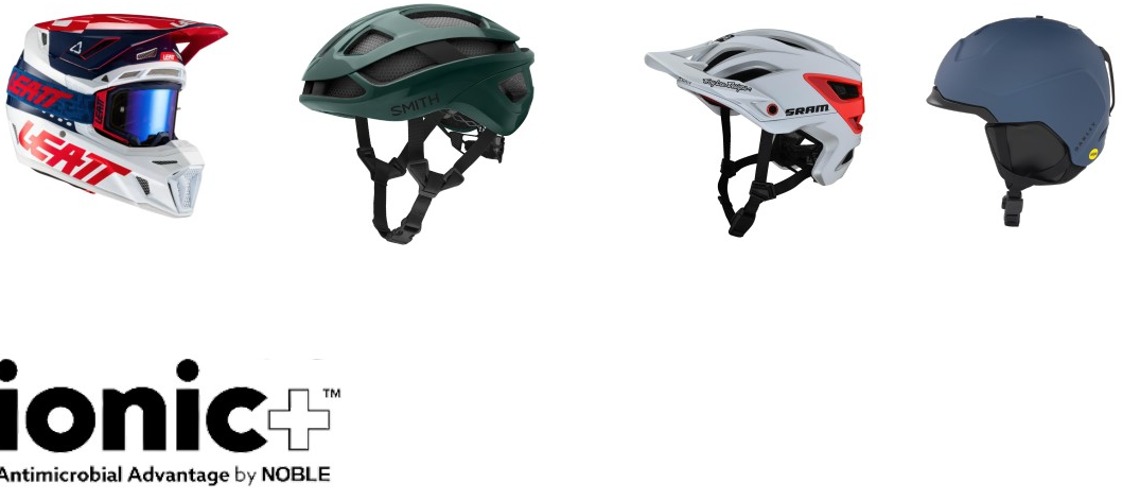 Noble Biomaterials, creator of advanced antimicrobial systems, announces today that their Ionic+ fiber and fabric technology is being recognized by a slew of helmet manufacturers as the preferred choice for helmet linings in the ski, bike, and motocross industries.
Noble Biomaterials, Inc. is a global leader in antimicrobial and conductivity solutions for soft surface applications. The company produces advanced material technologies designed for mission-critical applications in the performance apparel, healthcare, industrial, and emerging wearable technology markets. Its flagship brands, X-STATIC, Ionic+, and CIRCUITEX, are used by hundreds of world-class licensees to provide odor elimination, infection prevention and management, biometric monitoring, and conductive protection benefits. Its headquarters and manufacturing facilities are located in Scranton, PA, and the company has offices in Europe, Asia, and South America.
Responding to consumer demands for cleaner, longer lasting antimicrobial technology, Noble Biomaterials created an unmatched suite of antimicrobial treatments within Ionic+. This newly branded antimicrobial continues its rapid growth within the helmet space garnering support from a multitude of brands such as Oakley, Giro, Fox, Troy Lee Designs, Leatt, Bell, Shred, and 6D Helmets. Smith is also set to debut Ionic+ in helmet offerings in Bike for '22, followed by Snow for '22-'23. Ionic+ offers brands versatility in protection with several delivery options between yarn or fabric treatment.
The primary mechanism of action behind Ionic+ is the release of positively charged silver ions in the presence of moisture, such as moisture vapor naturally emitted by the skin, and especially under helmets during active pursuits. This natural release of silver ions helps inhibit and eliminate growth of negatively charged microbes and bacteria on the surface of the product. Less bacteria means less odor, less washing and longer lasting fabric, extending the life of the product. Ionic+ has become widely adopted in the outdoor, sport, and athleisure markets, while its proliferation continues in healthcare and medical applications.
The breadth of helmet partners - and the different disciplines for which the helmets have been manufactured - speaks highly to the efficacy of Ionic+.
"Partnering with the best helmet brands in the world speaks directly to how versatile and technical the Ionic+ platform has become," says Allon Cohne, Chief Marketing Officer at Noble Biomaterials. "It's important not only to gain the trust and support of product developers around the world, but you also have to satisfy consumer demands regarding performance - Noble is very proud of how quickly Ionic+ is exceeding expectations."
Noble Biomaterials is a registered FDA medical device facility, an essential sole-source technology supplier of medical components to the US military, and a US EPA–registered antimicrobial manufacturer. Noble products are EPA, FIFRA, BPR, and CE conforming. Ionic+ products exceed the performance claims on the market to which Noble is publicizing within its social and digital channels. As an EPA compliant partner, Noble Biomaterials take very seriously any claims made to the consumer.
For more information on Noble Biomaterials and to view their full range of fabric applications, please visit www.noblebiomaterials.com.
Share This Article