Destimetrics - Summer Records Solidify At Western Mountain Destinations; Winter Bookings Keeping Up The Pace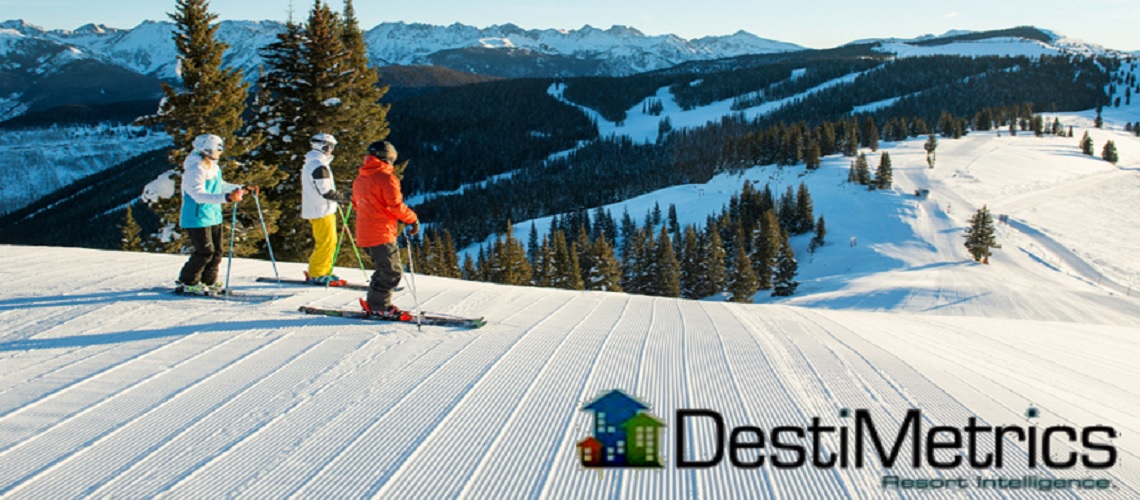 Despite rising concerns about the COVID-19 Delta variant and widespread smoky conditions across much of the western U.S., 18 mountain destinations across eight states have shrugged off any potential setbacks and are carrying on unhindered. Occupancy, rate, and revenue are continuing to set new benchmarks as consumers continue to accept the rising rates in their pursuit of delayed vacations. And as of July 31, that enthusiasm for mountain vacations is galloping into the fall and winter months. Evidence of this pattern was released by DestiMetrics,* the Business Intelligence division of Inntopia in their monthly Market Briefing. Data was collected through July 31 and draws comparisons to both last year and two years ago at this time.
However, the dramatic demand is complicated by two crucial and inter-related issues for mountain communities as resorts and local businesses struggle to find adequate staffing to meet the demand for services while the number of available rental units is diminishing--for both short-term overnight guests and longer-term employee housing.
July results
Actual occupancy for the month of July was up 45 percent in a year-over-year comparison to July 2020. The Average Daily Rate (ADR) for the month was up 28.3 percent to deliver a remarkable 86.5 percent increase in revenues for the month. For a more meaningful perspective of the substantial growth that participating properties are enjoying this year, a comparison to July 2019 also shows impressive growth. Actual occupancy this July was up 8.2 percent compared to the same time two years ago, and with daily rates for the month up an impressive 34 percent compared to two years ago, properties have achieved a 44.8 percent increase in aggregated revenue compared to July 2019.
No sign of summer slowing
For the entire summer season from May through October, occupancy is up 96.8 percent compared to Summer 2020 and includes both actual and on-the-books occupancy for those six months as of July 31. ADR for the full six months of the summer season is up a solid 21.5 percent and the combination is yielding an exceptional 140.4 percent increase in revenue compared to last summer.
A more relevant assessment is available by making comparisons to the summer of 2019 before the pandemic hit. As of July 31, occupancy for the full summer is up a moderate 5.6 percent compared to the same time two years ago with only year-over-year declines in the months of May and June. However, in those two years, daily rates are up strong 32.4 percent compared to two years ago and despite those declines in occupancy during early summer, rising rates have more than offset those dips to deliver a 40.5 percent increase in full summer revenues compared two years ago at this time.
"The rapid growth we are seeing, particularly for daily rates, is unprecedented and been a boon to lodging properties struggling to recover from the significant losses suffered last summer in the midst of the pandemic," observed Tom Foley, senior vice president for Business Process and Analytics for Inntopia. "What remains uncertain is whether those rates are sustainable in the long-term as many consumers finally make up for delayed travel plans, substantial savings get spent, and depending on the latest wave of the Delta variant, life and travel may return to more typical patterns," he continued. But for now, and moving into winter, it seems that travelers are still going full speed ahead, regardless of winter rates that are now at or exceeding $1,000 per night in some destinations."
Winter pace following summer patterns
As of July 31, DestiMetrics has data for the winter season months through Jan. 31. Based on that data, occupancy already on-the books for the upcoming winter through January is up 72 percent compared to this time last year with gains being measured in all three winter months that data is available. When compared to two years ago at this time, occupancy is up 5.5 percent with gains in all months except January—which is down 15.8 percent. Strong rates continue to pose no barrier to bookings as aggregated winter rates are up 24.8 percent compared to last year and 23.2 percent compared to two years ago at this same time.
Economic variables
Continuing to maintain its meteoric levels, the Dow Jones Industrial Average (DJIA) rose 1.25 percent in July to post its fifth all-time end-of-month closing in the past seven months. The DJIA is more than 8,600 points higher than it was last year at this time as financial markets were continuing recovery from the initial shock of the pandemic shutdown. The Consumer Confidence Index (CCI) barely moved during July, up a scant 0.2 points but it is the seventh consecutive monthly increase and the highest the index has been since before the onset of the pandemic.
"Strong earnings reports in many sectors drove much of the growth and that was supported by positive consumer confidence which in turn is driving sustained consumer spending," Foley noted.
Employers once again exceeded expectations to add 943,000 new jobs during July driving the national Unemployment Rate down sharply to 5.4 percent in July from 5.9 percent in June. For the third consecutive month, the leisure and hospitality sector led the way. Wages also ticked up higher than expected during July—up .04 percent for the month and bringing the increase to four percent for the year.
Keeping an eye on
Room Nights Available (RNA) continues to have an impact on visitors and locals. As property owners have increased or changed their usage, the number of available units for both transient rentals and workforce housing has declined. Fewer available units has the potential to raise rates on available rooms, reduce lodging tax revenue for towns, and take units out of the employee housing pool
The decline in available room nights also impacts the occupancy calculations. Although occupancy for 2021 is currently up 5.6 percent, that increase is almost exclusively the result of a 4.58 percent decrease in the number of rooms available for nightly rentals while actual nightly rentals are only up slightly.
Daily rates for the summer months are up 21.5 percent in a year-over-year comparison but they have slipped slightly in the past 30 days when they were up 24.1 percent as of June 30.
"Western mountain resorts are guaranteed all-time record highs for summer occupancy, room rates, and revenue this year—despite smoky skies and increasing concerns about the rise in the COVID-19 Delta variant," Foley observed. "While prospects for the coming winter are showing excellent early promise, mountain communities throughout the West are beginning to navigate the variety of challenges posed by post pandemic realities. Those include fewer rooms available for nightly rental, a sharp reduction in affordable housing for seasonal workers, and how to meet the expectations of guests and local residents with fewer employees," he concluded.
Share This Article