Mt. Hood Meadows Will Spread Out Demand To Accommodate Greatest Number Of Visitors This Winter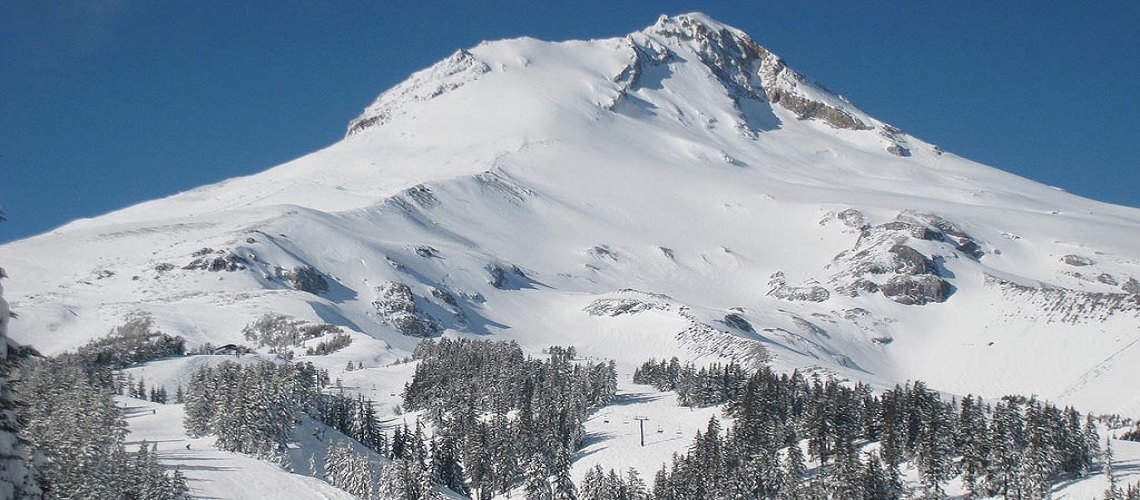 Mt. Hood Meadows will enter the 20/21 season with a plan to spread out visitation both by time of day and day of week, thanks to a redesigned dynamic ticketing program. The goal is to maximize the greatest amount of visitation possible, while maintaining COVID-19 safety protocols to protect the Meadows' team and guests. After reviewing hourly visitation data from the past three seasons, the resort has devised formulations to anticipate daily turnout, with a focus on peak day visitation patterns.
Projecting Visitation - Managing to 3,000 riders at one time by shifting demand

Looking at the average hourly ridership of peak days (weekends in January and February as well as during the Christmas holiday) it is easy to see that just by shifting the time guests arrive to a later part of the day, Meadows has more than enough lift capacity each day to accommodate the demand. There's a similar opportunity to shift some skier visits from weekends into midweek to spread out visits. The target for ridership at one time (number of people actually riding chairlifts any given hour) is 3,000, which is 60% of peak ridership over the past three seasons, and should provide a comfortable target for Meadows to manage to. That number could change as the season gets underway and the resort gets better at managing visitation.
Accommodate renewing pass holders without reservation
Meadows has reviewed pass holder visitation, and found that on an average January peak day, about 17% (less than one in five) of total pass holders are riding lifts at any one time. Meadows is confident that they will be able to accommodate all of last year's pass holders who want to renew their pass for this season, who have until November 8 to receive the discount offered for renewing. Pass holders will not be required to make a reservation in an effort to keep their experience as normal as possible. Certain products will be limited - such as new All Access upgrades and 5 time, 10 time or beginner progression passes. The only exception are for those renewing to the 5 time and 10 time passes by November 8.
Make Off-Peak passes more valuable
Meadows has added even more value to its Value pass - which is valid for lift access every day starting at 9 AM, except on the designated peak days, when it can be used starting at 2 PM (a change from last year's 3 PM peak day start time). Meadows also added that extra hour to night pass purchasers (valid from 2 PM - 9 PM Wednesdays - Sundays). This will allow an hour of daylight riding including on the upper mountain and Heather lifts, which close at 3:00 or 3:30 PM.
Manage day tickets by time of day and day of week through Dynamic Ticket Pricing
The central part of Meadows' plan is managing the amount of daily tickets available on any given day, as well as the time of day. This is a new part of their dynamic ticketing system that allows for purchasing a ticket that starts at 9 AM, Noon, 2 PM or 5 PM. The later the day part purchased online, the less expensive the ticket will be. In that way, Meadows is encouraging later day arrivals through discounting, and in fact, will be able to shut off sales of the 9 AM ticket on a certain days.

Daily lift tickets, lessons and rental equipment must be reserved and purchased online in advance.
Meadows is also incentivizing day ticket purchasers to visit midweek through discount pricing. By spreading out the demand both by time of day and day of week, Meadows will manage how many people will be arriving at the ski area, and accommodate flow and volume through its lodges and lift mazes.
A massive amount of data was crunched and analyzed to develop this plan and Meadows is confident the fundamentals will effectively manage flow and volume, including:
Managing to 3,000 visitors on lifts at one time
Projecting and accommodating pass holder turnout and limit day tickets
Spreading out the demand to different times and days and incentivizing off-peak visitation
All lessons and equipment rentals will need to be purchased along with lift ticket in advance (no day of availability)
Non-date specific tickets, such as Costco vouchers, will no longer be made available.
Meadows realizes though, that things can change throughout the season. There are still variables they will need to address such as potential operational impacts and changing behaviors brought on by the virus.
Meadows has posted a video to further explain its plan.
Share This Article