Listex Event Largest To Date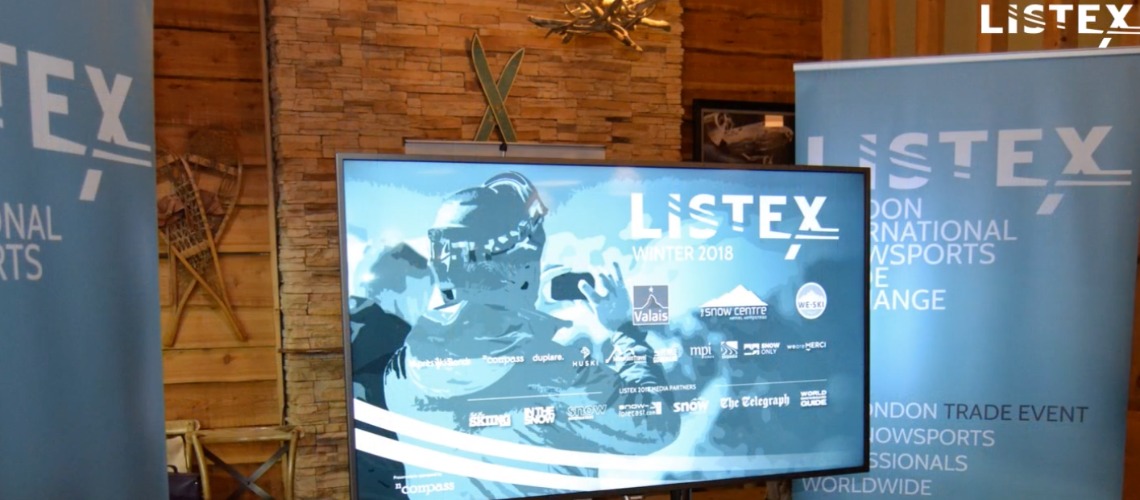 LISTEX Winter Exchange saw 200 attendees gather at the Snow Centre for two packed days of networking, contracting and sharing news and ideas for the season ahead.

This was the largest LISTEX to date with over 30 buyers from the UK and Europe, 20 media partners, 8 sponsors and many more suppliers and forum attendees from across the snowsports industry.

Missed a presentation? Don't worry all presentations from the LISTEX Winter Exchange our now available to view on the LISTEX website, scroll down for more details.

Images of the event can be downloaded here > LISTEX

Industry members and organisations can register now for LISTEX 2020 save up to £600.

The LISTEX Summer Exchange and Winter Exchange events for 2020 are available to book now, along with SASTEX - Summer Alpine Sports Trade Exchange - with all events available with super early bird deals saving up to £600 available for bookings made before October 31.

The theme for LISTEX and SASTEX 2020 is 'Sustainability'.

Forum sessions and speakers will explore ways for the snowsports and mountain sports industry to tackle the existential threat of climate change, and how to build sustainable, profitable businesses in a fast changing world. Speakers and sessions to be announced soon.

LISTEX Summer Trade Exchange – Wednesday 6 May 2020 £599 save £100
Two day LISTEX Summer Trade Exchange – Wednesday 6 May 2020 and SASTEX Thursday 7 May 2020 £1099 save £300
One day LISTEX Winter Trade Exchange – Wednesday 23 September 2020 £699 save £100
Two day LISTEX Winter Trade Exchange – Wednesday 23 September & Thursday 24 September 2020 £799 save £200
Three day LISTEX Summer Trade Exchange – Wednesday 6 May 2020 and two day LISTEX Winter Trade Exchange – Wednesday 23 September & Thursday 24 September 2020 £1199 save £500
Three day SASTEX Thursday 7 May 2020 and two day LISTEX Winter Trade Exchange – Wednesday 23 September & Thursday 24 September 2020 £1299 save £400
Four day LISTEX Summer Trade Exchange – Wednesday 6 May 2020 and SASTEX Thursday 7 May 2020 and two day LISTEX Winter Trade Exchange – Wednesday 23 September & Thursday 24 September 2020 £1799 save £600
Register here: www.listex.co.uk/registration

LISTEX 2019 FORUM PRESENTATIONS

View the presentations here: www.listex.co.uk/forum-2019
The LISTEX forum saw over 20 expert speakers and industry leaders together across 14 sessions to provide inspiration, insight and innovation to the snowsports industry, providing LISTEX attendees with the best possible information to be ready for the 2019/20 season and beyond.
LISTEX revealed the latest insights into the 'State of the Snowsports Market', with the most in depth consumer research ever conducted into the industry.
The LISTEX Dragons Den introduced some of the latest innovators in the industry, and caught up with some of the recent successes of past pitchers.
Brexit experts helped unpick the key issues for tour operators facing life after Brexit
Vicky Gosling OBE, CEO of GB Snowsports shared her view of how more skiers and snowboarders can be inspired by success at the highest level.
Dan Keeley of Snow-Camp and Areweok? Lead presentations and debate on how snowsports can positively impact both mental and physical health.
Marketing experts provided insight into the latest innovations in consumer marketing, digital transformation and how the most successful companies recognise, create and develop opportunities.
They looked ahead to LISTEX 2020 and the biggest challenge facing our industry, climate change and creating sustainable growth.
LISTEX would like to thank all attendees, sponsors and media partners
Share This Article