Spyder & Eastman Partner To Bring Revolutionary Performance Technology To Ski Apparel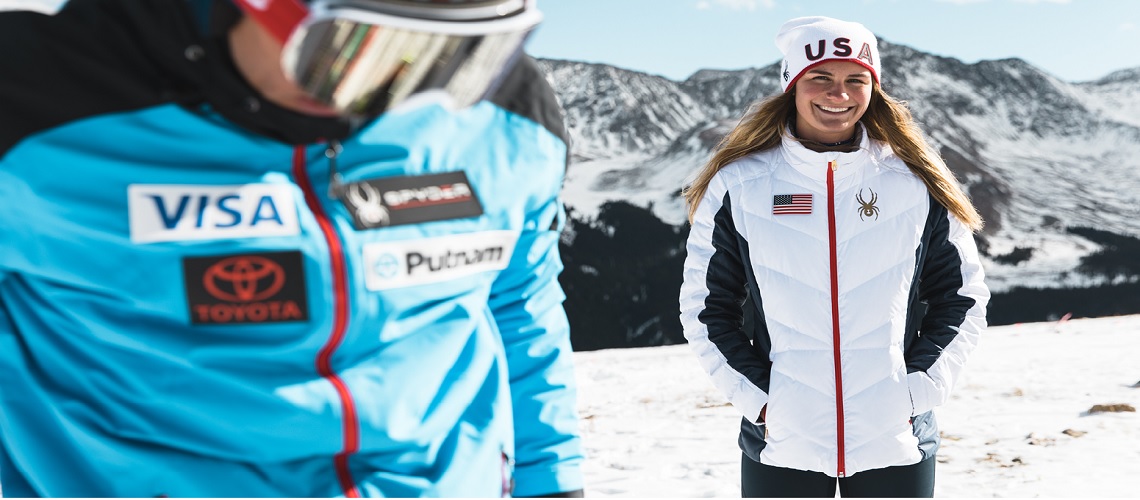 Spyder, a leading ski and performance brand, today announced a strategic partnership with Eastman Chemical Company to be the first brand to incorporate Avra, a new flat-shaped performance microfiber technology into Spyder's performance baselayer and mid-layer products. Avra performance fibers both wick moisture and dry up to 50% faster than conventional polyester fibers, solving for the weak link that has long plagued performance ski apparel.
The U.S. Ski Team first tested fabrics made with Avra as a baselayer worn inside their race suits during the 2018 competitive season. Following extensive athlete testing, Spyder brings Avra™ performance fiber technology to consumers for the first time this season through an exclusive collection that includes next-to-skin tops and bottoms as well as mid-layers. This advancement is a game-changer for the industry. Without baselayers that successfully manage sweat, even the most futuristic and lightweight waterproof-breathable ski apparel will not perform to their full potential.
"Spyder's history of pioneering new technologies in performance apparel made it the perfect strategic partner for the launch of Avra. Working with Spyder allowed us to test Avra with the U.S. Ski Team and receive insightful feedback from some of the most elite skiers in the world," commented Ruth Farrell, Director of Marketing, Textiles at Eastman.
Spyder has incorporated Avra™into a full range of baselayer and mid-layer products for men and women, including the Sunset zip turtleneck with retro resort graphics, Momentum long sleeve baselayer top, and wool-blended Elevation baselayer pants.
The unique performance aspects of Avra™come from its small size relative to the high surface area of the flat-shaped fiber. The tiny, ribbon-like microfibers provide a high ratio of surface area, which allows moisture to move quickly along the surface of the fiber and spread further, wicking up moisture from the skin and allowing it to evaporate quickly. This results in a cooling phenomenon known as "evaporative cooling." The flat microfibers are also highly flexible, which contributes to the soft hand feel and silky drape, allowing for superior comfort when incorporated into industry-leading fabric blends. Avra from Eastman is created with a proprietary spinning technology that is woven or knitted with other synthetic or natural fibers, infusing the qualities of Avra to the newly blended fabric.
"Baselayers are critical to completing the total package of performance and comfort on the mountain, but for many, they tend to be an afterthought. Wearing the best ski jacket with a poorly performing baselayer is similar to driving a racecar with under-inflated tires; it just won't live up to its potential," said Brady Collings, Vice President of Marketing for Global Brands Group Sports And Lifestyle Division. "Avra performance fiber technology is truly extraordinary, and Spyder's exclusivity with it is another example of how we look to lead the industry through partnerships that bring innovation."
To learn more and to shop the collection, visit Spyder.com or visit nationwide retail partners that carry Spyder to experience the new Avra performance fiber technology product first-hand.
Share This Article