What's New In Brides-Les-Bains For Next Winter 2019-20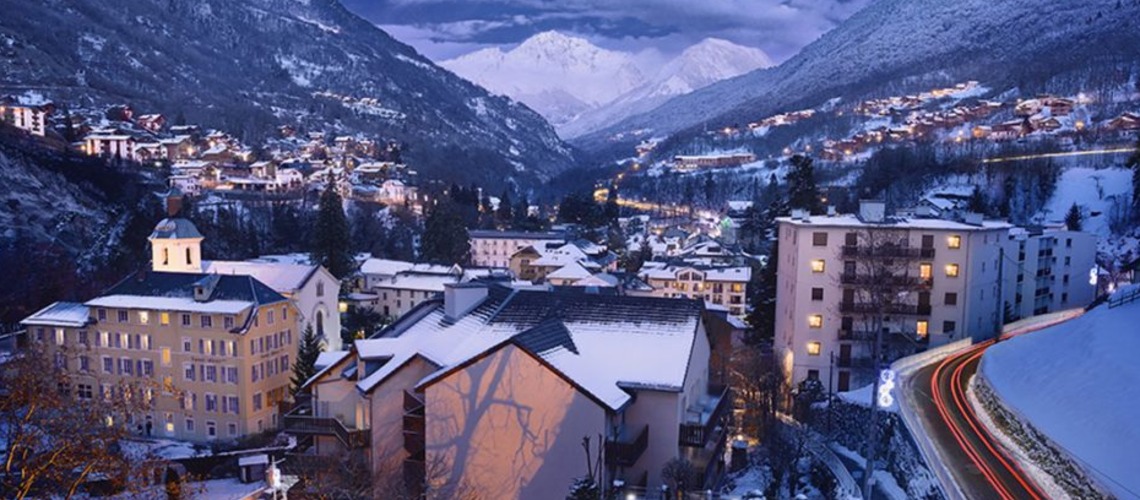 Brides-les-Bains, the 3 Vallées village where a winter sports holiday couldn't be easier. Everything here has been designed to let you experience the joys of skiing entirely at your pace, car-free!
SKI: ADVICE FROM LOCAL PROS!
Eating properly, the right physical preparation, avoiding mishaps… The village's health, physiotherapy, psychology and nutrition pros share their tips on how to have an incredible snow holiday in Les 3 Vallées. The Tourist Office offers all the guidance you could need for a well-being break.
HEALTHY, COCOONING & LOW PRICES
The village chefs are specialists in healhy eating and offer Their expertise in combining great food and a balanced diet for skiers! The majority of The resort's hotels offer healthy eating in winter, so guests return from Their stay in great shape. Another Brides-Les-Bains bonus is The price, with accommodation, food & drink, equipment rental and so much more all 30 – 50% less expensive Than in The higher altitude resorts. That's what a stay in Les 3 Vallées' sweet spot promises.
THERMAL SPA: BIG & BEAUTIFUL
This winter, we're making snowsports and relaxation one. After your day in Les 3 Vallées, enjoy 2,700m2 of treatment areas and pools in the Grand Spa Thermal. A 100% revitalising stay awaits
HEALTHY AND GOURMET SKI WEEK FROM 1ST TO 8TH FEBRUARY 2020
Drawing on its slimming expertise, the Savoyard resort is offering an 'Eskilibre and Gourmandise' week. Healthy eating cookery demonstrations, well-being workshops, health-based activities… A whole week of good-for-you activities in the snow! page 8 LIFE AFTER SKIING There are plenty of things to do before and after skiing… head to the only casino in the Tarentaise region, enjoy a drink to live music, go to an open-air concert…. In Brides-les-Bains, the fun continues long after the slopes close
EASY ACCESS TO LES 3 VALLÉES AND ZERO CARBON ON SITE
Easily accessible by train (4hrs from Paris), good value for money, low altitude (600 metres), simple, eco-friendly links to every run in Les 3 Vallées, the world's largest ski area… you can forget about your car, it's all located within a 200-metre walk. In Brides-les-Bains, skiing is easy on the pocket and on the carbon footprint.
GONDOLA LIFT IN THE VILLAGE
Forget all about your car in Brides-les-Bains. The Olympe gondola lift will take you straight up to Méribel's snow front - set in the heart of the village, it's open longer than any other lift in Les 3 Vallées: from 8.30am to 5pm 7 days a week. RESORT SHUTTLE BUS Getting to the Olympe gondola lift couldn't be simpler. A free shuttle bus runs from the resort's hotels and residences from 8.15am, with guaranteed return journeys from 4.30pm.
SKI LOCKERS AT THE FOOT OF THE GONDOLA LIFT
Skis and ski boots are kept warm and dry at the foot of the Olympe gondola lift. Individual secure heated ski lockers. 5€ per day or 20€ per week.
TRAVEL LIGHT
How can you travel light while skiing in all the latest gear? Quite simple – hire it! Choose your outfit from a choice of brands, select your helmet and gloves and you're ready to go. Everything will be delivered to your accommodation the day before you arrive. Available for men, women and children, from 16.65€ per day.
A GENTLE START
Every Monday morning, the Tourist Office team is on hand with hot drinks and top tips at the Olympe gondola lift departure station, so everyone can get to know Les 3 Vallées ski area.
SNOW GUARANTEE
More than 85% of summits are set at altitudes of more than 1800 metres. Good snow guaranteed.
50% OF THE RUNS ARE BLUE OR GREEN
Skiing isn't just for pros here! Half of the Alpine ski runs are either green or blue. The ski area also offers 110 kilometres of cross-country ski runs for anyone who wants to combine wide open spaces, snowsports and cardio! NEW: 3D DISCOVERY WITH AN INSTRUCTOR To make the most of the world's largest ski area and get to know its most hidden spots, set off in the company of a French Ski School instructor. 2 & 1/2 hour ski area discovery sessions are available every Sunday, one in the morning and one the afternoon. Exclusive to Brides-les-Bains. Rate 25€, minimum of 8 people (groups put together by the Tourist Office).
AN EVENING OUT
Fancy having a look around Méribel or going out for dinner there one evening? No problem! On Tuesday and Wednesday evenings, Brides-les-Bains charters a coach that makes two night-time journeys between 7:30pm and 12.30am
Brides-les-Bains is the only village that brings together thirteen hotel-restaurant chefs under a single dietary label. Delicious healthy food available every day.
STRAWBERRY-CHOCOLATE DESSERT ALTIS VAL VERT*** HEALTHY & ELIMINATION DIETS
There's no way you should miss out on a good Savoyard fondue during your snow break! But it's also good to switch things up and discover healthy, energy-filled, lighter meals. The village chefs, who are specialists in healthy eating, share their expertise in combining good food and a balanced diet for skiers! They can also adapt to suit elimination diets (gluten-free, vegetarian) on request.
NEW TWISTS ON GOURMET RECIPES
Chocolate mousse for six using just 10g of sugar, light aromatic beef stew, tartiflette or cassoulet with a twist… Every day, Brides-les-Bains' chefs strive to offer the best culinary techniques and products combining flavour and health.
GENEROUS CHEFS
Not only masters of cuisine, Brides-les-Bains' chefs are also great teachers - sharing tips and culinary techniques for making healthy balanced winter dishes. During the Eskilibre et Gourmandise week, from the 1st to the 8th of February inclusive, they'll be running free workshops. A chance to top up on healthy, tasty recipes.
Focus on three charmingly distinct hotels
L'ALTIS***, BAROQUE COCOONING
Each room is personalised with a clever mix of wood, metal and baroque furniture. The hotel was fully refurbished in 2014 and now offers two suites. A real 3-star gem run by the Chedal family, which includes former ski jump champion Manu. Every week, there's a theme night and local produce menu drawn up by chef Jean-Pascal Laugier. The hotel is equipped with a well-being area boasting a steam room, sauna and Jacuzzi.
GRAND HOTEL DES THERMES****, SCANDINAVIAN CHIC
With 100 recently revamped rooms exuding a Scandinavian feel, this is Brides-les-Bains' largest hotel. Its white, wooden furniture and soft colours are an invitation to unwind, while its swimming pool and 5 Mondes spa help keep the relaxation going even longer. This year, chef Thierry Giannini is launching vegetarian menus and healthy salads.
LES BAINS***, COSY CHALET
33 rooms with balconies, combining stone, blonde wood and warm, cosy fabrics. Feel immersed in the atmosphere of a mountain chalet from the moment you step inside thanks to the cosy lounge with its fireplace and gingham tablecloths. The well-being area boasts a steam room and sauna (including an anti-fatigue infrared sauna). Chef Emmanuel Hudry offers healthy set menus on request for guests in half-board accommodation.
ALTICIMES, 5 TOP-OF-THE-RANGE APARTMENTS
Located near the thermal spa, the new Alticimes residence offers 5 luxury three-room apartments (82m2). "Génépi", "edelweiss", "gentian"… each suite bears the name of a mountain flower with which it shares a colour palette. Light floods into these beautiful spaces, which combine a peaceful atmosphere with inspired design. Each apartment has a master bedroom with a terrace and is able to accommodate up to 6 people. The residence provides the following services: private indoor car park, equipped ski room (dedicated boot dryers and ski rack for each apartment), free Wi-Fi, end-of-stay cleaning, concierge service, left luggage, baby equipment available on request.
CYBÈLE
Set in a peaceful location at the entrance to the village, the Cybèle residence exudes a welcoming mountain chalet atmosphere, featuring luxury apartments for 4 or 8 people, each with a balcony. Apartments have their own ski locker, and a shuttle bus runs to the Olympe Gondola Lift.
LE GRAND CHALET
At the heart of the village, and just 200 metres from the Olympe gondola lift, Le Grand Chalet provides fast access to all services. From studio apartments for 2 people to apartments for 6 people, the residence offers practical apartments that open out onto balconies overlooking the thermal spa or the river. Ski locker and Wi-Fi included.
BRIDES-LES-BAINS: XXS ON PRICE, XXL ON COMFORT
Brides-les-Bains is cementing its reputation as a leader in ski breaks at ultra-low prices. Here, you can ski Les 3 Vallées, the world's largest ski area, and pay between 30% and 50% less for accommodation compared to high-altitude resorts. But in Brides, spending less on accommodation doesn't mean losing out on comfort. The village is also a thermal spa resort, which is a godsend for skiers. Here, you can enjoy comfortable and spacious accommodation designed for long stays. The majority of hotels and residences are between two and four stars and also offer well-being facilities.
A 300-DAYS-A-YEAR RESORT
Thanks to its thermal spa activity between March and October, Brides-les-Bains is open all year round. Hoteliers make their turnover in 11 months (not just the 4 winter months like their high-altitude equivalents). That means they don't need to adjust their prices to take their business seasonality into account. Even rarer is that these "fair prices" even apply in high season.
EVERYTHING IS LESS EXPENSIVE
The Brides-les-Bains bonus? Make savings on every part of your stay: bars and restaurants, equipment rental, free car parking, shuttle buses and entertainment. Brides-les-Bains offers a great deal in the world's largest ski area!
After the Christmas and New Year celebrations, replenish your vitality and energy at the Tourist Office-run 'Eskilibre and Gourmandise' week. From the 1st to the 8th of February, Brides-les-Bains' chefs and well-being professionals devote their time to turning winter sports holidays into health breaks!
ESKILIBRE AND GOURMANDISE HIGHLIGHTS – 1ST-8TH FEB 2020 A BALANCED MENU
The resort chefs will put their own twists on cooking flavours and styles, giving out tips for creating balanced winter dishes. They'll demonstrate how to make guilt-free gourmet recipes!
APRÈS-SKI SLOW DATING
Brides-les-Bains' main village square will welcome a well-being slow-dating event. Spend 15 minutes at each of the 5 workshops. On the programme: self-massage, reflexology, facial massage and blind-tastings to awaken your senses.
ZEN PARTY
Breathing techniques, cardiac coherence, stress-management, yoga, postskiing recovery… the resort invites its health and well-being professionals to share their knowledge with you so that we can all learn to live better every day
The peak of health at the foot of Les 3 Vallées! That's the promise flowing through this thermal village, which is home to a number of health professionals. Here are their tips for a top stay!
DOMINIQUE DRAI, PHYSIOTHERAPIST
A month or two before setting off for the slopes, strengthen your heart and most importantly your skiing muscles: quadriceps, hamstrings, triceps, calf, abs and dorsal muscles. Try to do some intensive sports activity such as speed-walking, cycling, swimming, running, skipping, lunges, running up and down stairs, sitting squats… for at least 30 minutes two or three times a week. Some additional proprioception work is also important for improving your balance and avoiding sprains and dislocations. Use cushions or a balance board, available to buy from sports shops.
LAETITIA DUPONT, NUTRITIONIST
On the slopes, carry a little metal box in your rucksack, filled with a mix of nourishing, healthy, gourmet snacks. Dark chocolate, dried raisins and almonds, nuts to give you energy when you're feeling peckish. You can also opt for a banana. They're a quick source of easily absorbed carbohydrates with biodegradable skin! To stop your muscles feeling stiff in your first few days, dilute a teaspoon of bicarbonate of soda in your water bottle. Radical!
BRUNO FRIGGERI, THERMAL AND EMERGENCY DOCTOR IN MÉRIBEL
Tiredness is one of the major causes of accidents on the slopes. After a lengthy journey to get there, guests often arrive late and go straight out skiing early the next morning. Winter sports are physically demanding. Skiing while tired is the easiest way to injure yourself. It's well worth skipping the first morning and using it to rest. The same goes for your last afternoon, when saying "come on, one last time!" before heading home could send you straight to casualty!
AURÉLIE RIBOUD, PSYCHOLOGIST
To get the most out of your time on the slopes, set aside some time to awaken your senses and focus on the "here" and "now". Breathe deeply and centre yourself on your skis, all the while remembering to leave behind any little problems or day-to-day worries.
Share This Article