Bluebird Mountain Launches Powderbee Avalanche Rescue Drone. Auto-hovers over Victim For Easy Location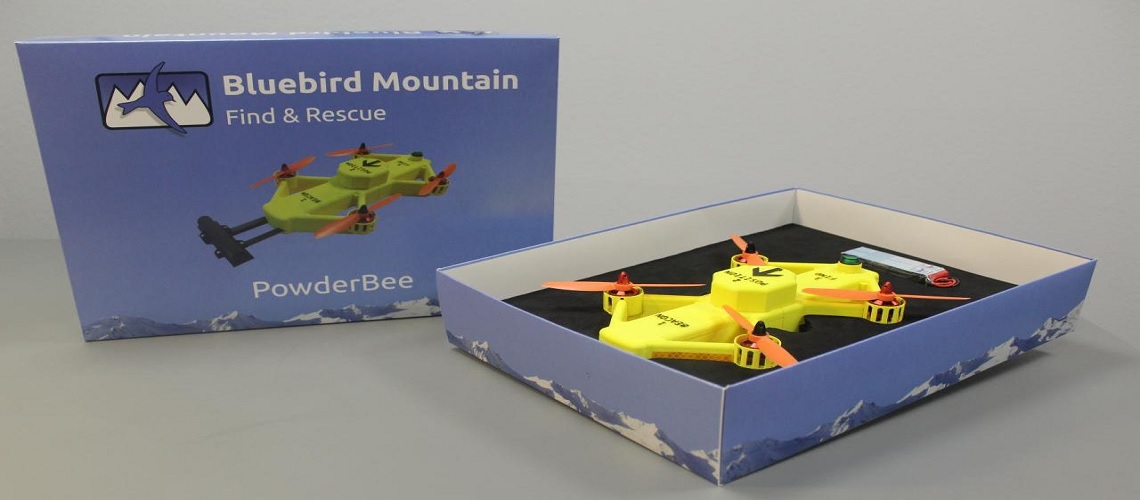 Bluebird Mountain was started in September 2015 when the four founders were finally tired of waiting for a better avalanche safety product. Passionate powder enthusiasts that they are, they always searched for the nature experience away from skiing resorts. However, the looming threat of avalanches always led to a lower fun margin than they hoped for.
With their academic backgrounds in Aerospace Engineering, Software Development, Marketing and Business and professional experience they decided to tackle the challenge themselves and started developing PowderBuddy. Not only are they planning to innovate the field of personal safety but also establish alpine and wintersport business in Hamburg, traditionally known as home to seafarers and adventurers.
Their new product PowderBee won an ISPO innovation award and is a compact drone designed to find a tranciever and to hover over any avalanche victim
PowderBee is your flying safety beacon for powder adventures. PowderBee keeps your group safe by supporting the search procedure in an emergency. The system is straightforward and integrates in the common search procedure: you move to the last point of sighting and turn your beacons into search mode. If you are not close enough to immediately begin the fine search, PowderBee comes into play.
You point PowderBee in the direction of the avalanche cone and simply press the start button. PowderBee starts and follows the common search pattern. When PowderBee finds a signal it automatically lands. The landing point is in very close vicinity of the victim. You now continue with the fine search from the landing point. While PowderBee searches for the signal your group has the time to calm down and organize the rescue process.
The current prototype demonstrates the functionality they want to achieve in the final product. It features a self-developed avalanche transceiver which is compatible with any beacon on the market. It is specifically designed to receive a signal in close vicinity of the buried person. It is shielded against the interference of the drone's electronic systems.
PowderBee keeps a steady ground distance with a special sensor to avoid avalanche debris. After activation the drone follows the standard search procedure: it flies meander over the avalanche cone until the reception of a signal. It is optimized for alpine conditions: high altitude, wind and cold.
During the development and with much appreciated feedback from the community PowderBee shapes up to be a cleverly devised product, made by wintersport-lovers for wintersport-lovers:
Acts as an additional person in the search at the low expanse of taking only 600 grams more with you
PowderBee knows the perfect search pattern and follows it without any error
Buys significant time by conducting the coarse search
Moves way faster over avalanche debris than a human ever could
Very flat form factor which fits in every backpack
Compatible to any avalanche beacon
Re-usability and testable: make yourself confident in integrating PowderBee in your emergency procedure
Designed to withstand low temperatures and it is not easily impressed by wind and weather
High visibility on rocky, snowy, cloudy or bluebirdy background
Share This Article