Aamodt Kilde Collects Sudtirol Ski Trophy Prize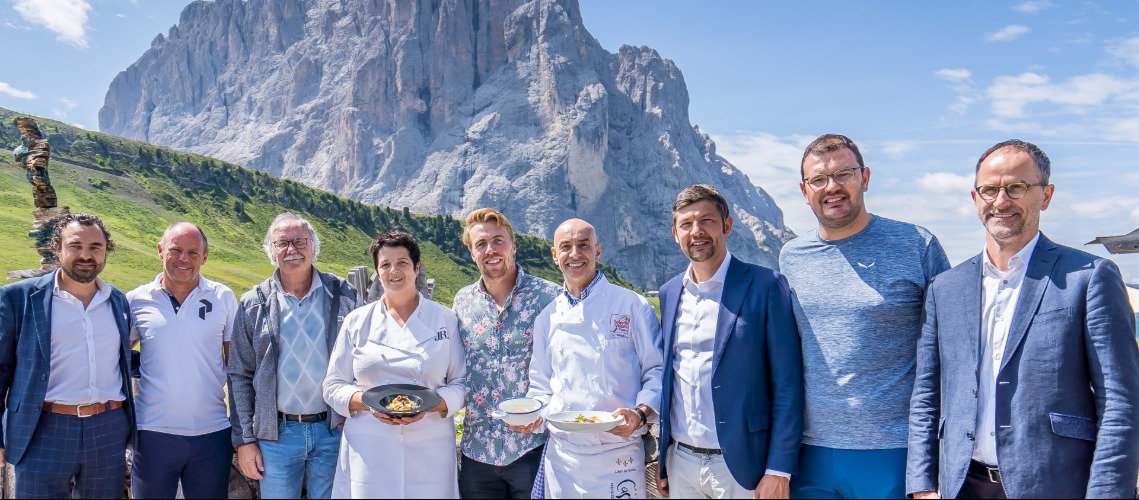 The Norwegian ski champion recently visited Val Gardena/Gröden where he was able to contribute to the creation of two dishes with Michelin star chefs Anna Matscher and Gerhard Wieser. Kilde, also won the Südtirol Ski Trophy in 2017. The initiative was organized by IDM South Tyrol.
Kilde has not only proved to be an excellent skier, but also a skilled cook. On the Saslonch Hut, in the immediate vicinity of the legendary track, a "Carbonara à la Kilde" was served to the present guests - the provincial councilor Daniel Alfreider, IDM president Hansi Pichler, IDM general manager Erwin Hinteregger, the president of the organizing committee of the World Cup in Val Gardena Rainer Senoner and Sergio Tiezza, member of the organizing committee of the World Cup in Alta Badia. The special carbonara, with juniper, speck, chestnuts and venison ham, has been prepared by Michelin star chef Anna Matscher and it has been followed by a "suckling pig breast à la Kilde" with potato caraway dough leaves, cabbage salad and bock beer mayonnaise based on a recipe by Micheli star chef Gerhard Wieser.
"It is the first time I have been in the Dolomites in the summer. I am thrilled because it is almost more beautiful than in the winter. I have a very special relationship with Val Gardena, here four years ago I reached my first podium in the World Cup and, last year, I was able to celebrate one of my three World Cup victories. Thank you so much for the invitation, I will definitely come back here also in the summer," said Aleksander Aamodt Kilde at the special awards ceremony. On the Gran Risa in Alta Badia, the Norwegian took seventh place last year, so far his best result in the parallel giant.
Norway is a regular to the Südtirol Ski Trophy
The "Hall of Fame" of the Südtirol Ski Trophy is located on the Saslonch hut. There, the authentic wooden busts of all previous winners will be exhibited. In addition to Kilde, the winner of the 2017 and 2018editions, there will also be a bust of Kjetil Jansrud, who won the coveted prize at the premiere in 2016. According to an idea of Provincial Governor Arno Kompatscher, the skier who collects the most World Cup points in the four men's World Cup races in Val Gardena/Gröden and Alta Badia will be awarded in his own South Tyrolean World Cup ranking.
This year the men's Ski World Cup will return to South Tyrol shortly before Christmas. In Val Gardena/Gröden there will be a Super-G (Friday, 20 December) and the classic downhill (Saturday, 21 December), as well as in Alta Badia a giant slalom (Sunday, 22 December) and a parallel giant slalom (Monday, 23 December).
Share This Article