100 Days Before Opening, Courchevel Is Getting Ready For An Outstanding Season.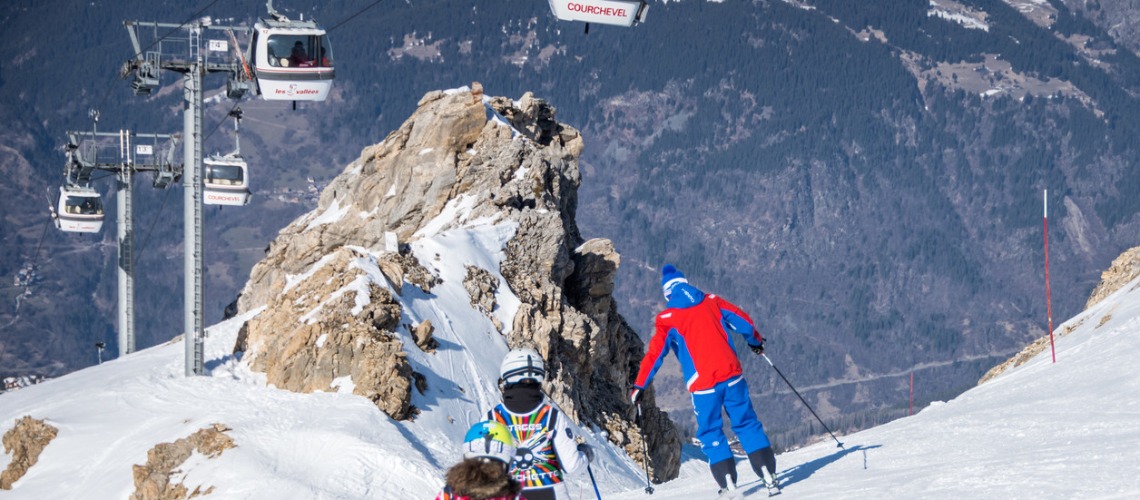 The countdown is on: 100 days before the opening, discover our winter news in this press kit! Courchevel is getting ready for an outstanding season.

A very promising winter season with two new ski lifts, redesigned snow fronts, a new multi services building of 18,000m2 in Courchevel Le Praz called Alpinium, the opening of the new hotel Ecrin Blanc****, connected by a private underground tunnel to Aquamotion, and still many international events. Do not forget to have a look at the Top 5 family activities!
NEW! Even more comfort
• A new 10-seater gondola lift The snow front in Courchevel Le Praz, the entry point to the ski area, has been completely reconfigured for this winter. Following a redesigned route, a new 10-seater gondola lift will connect Courchevel Le Praz to the centre of Courchevel 1850 in under 6 minutes. The departure station will be housed in the new Alpinium multiservice building and the arrival station will be just beneath Courchevel 1850's Croisette. The entire snow front has been redesigned to provide easier and more practical links for pedestrians, the top of the toboggan run has been reorganised and the Tovets chairlift has been moved to a slightly new position. 2,400 people/hr ( 955 before)
• A new 4-seater chairlift Les Grandes Combes chairlift now links the new 4-star Écrin Blanc hotel, opposite the Aquamotion aquafun centre, to Courchevel 1850. A new 1-kilometre blue run will also provide access to the area.
A new multiservice building Alpinium is a new multiservice building that blends perfectly into the landscape. The aim is to modernise and improve the resort's facilities, rearrange the snow front in Courchevel Le Praz and provide additional parking.
• A 2-storey car park for 500 cars.
• A 350 m modern multimedia library comprising a games room and art workshop.
• A sports ground that will be home to the 2023 Alpine World Ski Championships finish line, with a roof terrace viewing point.
• A new gondola lift and new lift arrival station connecting Courchevel Le Praz to the centre of Courchevel 1850.
• As well as: an indoor children's play area, multi-purpose hall, entrance lobby with skipass sales desk, ESF French Ski School desk, Courchevel Tourisme information area, toilets, ski lockers, a room for local association
ESF French Ski School A range of new developments
• A Made In Courchevel uniform The French Ski School Collection uniform was designed by instructors from the Courchevel 1850 French Ski School, for the ski school's instructors, in collaboration with CEPOVETT, France's leader in professional apparel: a ski school first. Worn in extreme weather conditions, these outfits needed to be adaptable so were designed to have multiple layers able to be worn on top of each other (down jacket interior, softshell outer layer…). Ultra-technical and attractive, this collection was tested and approved by ten ski instructors last winter. Bonus: to be eco-friendly, the uniforms will be recycled into ski gear accessories (rucksacks, belts…) available to purchase at the French Ski School shop.
• A French Ski School office is opening in Courchevel Le Praz Now you can book your ski lessons in Courchevel Le Praz, from an office housed in the Alpinium building.
• A new reception for the French Ski School's Piou – Piou Club in Courchevel Moriond Extending over 160m , this new area welcomes 3 to 5-year olds before their ski lessons and during breaks. With a dedicated reception, a large room for mid-morning and afternoon snacks, a ski room with boot warmers etc. embarking on an adventure with Piou-Piou couldn't be more comfortable!
The 2023 World Championships in the starting blocks In May 2018, the FIS entrusted the organisation of the 2023 Alpine Ski World Championships to Courchevel and Méribel. This flagship event will enhance the sporting image of our resort even further. Courchevel will host the world's best skiers on Les Jockeys runconnecting la Loze (Courchevel 1850) to Courchevel Le Praz. The opening and closing ceremonies will also take place in the resort, as will the qualifiers. As for Méribel, it will host the Ladies events, the parallels and the awards ceremonies.
A word from Perrine Pelen, appointed organisation committee director general in April 2019. "The World Championships will be an opportunity to showcase the sports DNA that's been part of the resort for so long now. Our goal is to make people want to be a part of this incredible skiing experience and to join us in a huge celebration. This will be the skiing world's flagship event of the next 15 years, and a chance to let Courchevel, Méribel, Savoie and France shine…"
Snowshoe escape Children are in good hands with Natur'Elle Rando's Laurence, who's been a mountain guide in Courchevel for 14 years. From 5-6 years old, little ones can experience the tranquil joys of snowshoeing, through the heart of a mysterious forest or alongside a mountain stream before it meets Lake Rosière. A warm drink, a snack, equipment and transfers, everything is taken care of! Parents can entrust their little ones to Laurence either to give themselves a bit of free time or share in this fun naturebased experience as a family.
Ensuring teenagers aren't left behind!
Ski schools are always vying to come up with the best way to help the whole family
enjoy their break to the max, especially teenagers. For example, First Tracks offers lso activities that complement skiing depending on the weather and time of year. At the Courchevel 1850 French Ski School, a new Top 6 Freeski lesson lets 13 – 18 year olds discover freestyle, freeride and thrills in small groups (6 maximum). At the Courchevel Moriond French Ski School, Team Rider courses are aimed at young
snowsports enthusiasts: boardercrossskiercross, safe off-piste skiing sessions for beginners, as well as jump sessions for beginners and improvers.
And on top of all that, Aquamotion passes for teens are included with every course. At Oxygène ski school, teenagers with an appetite for snow can take part in Pro-Rider group lessons. The aim: to gain more confidence and improve your technique on the slopes with moguls, boxes, slalom stadium and powder snow.
As well the Mountain Guides Office runs Wintercamps for 13 – 18 year olds. On
the programme: 3 days of off-piste skiing with an introduction to ski touring, while
acquiring the mountain safety basics.
Share This Article