Xinhua Silk Road: Winter Olympics-Themed Ice Park In North China Leads Green Development Through Ice Economy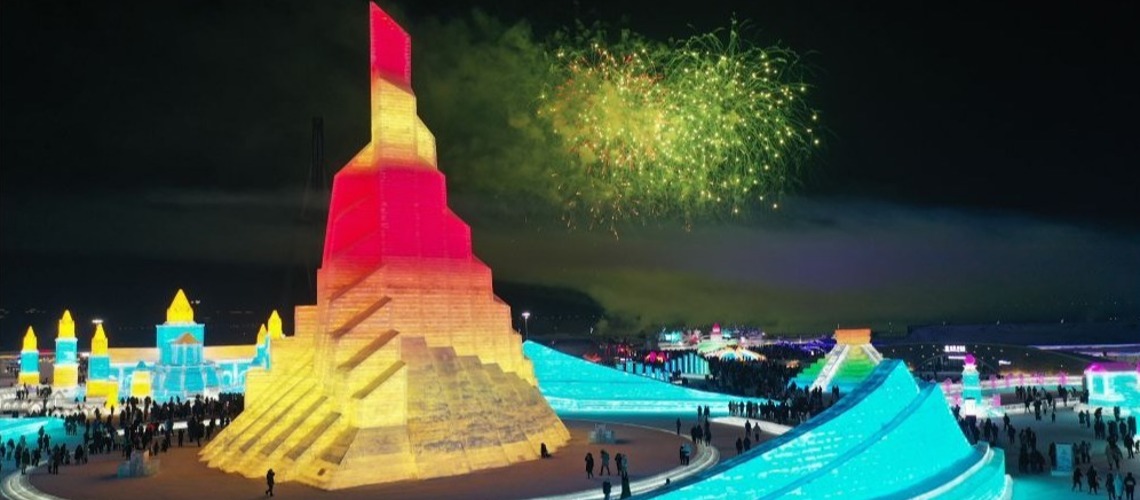 Harbin Ice and Snow World, a theme park located in northern China's Heilongjiang Province , characterized by Winter Olympics-style scenes this winter, is a miniature of Harbin, the provincial capital and strongly stimulates the ice economy for green development.
The city, which has developed a series of activities related to ice and snow such as tourism, art, fashion, economy and commerce, and sports, has integrated the culture of ice and snow in its urban economy.
In addition to ranking first in the top ten Chinese cities for ice and snow tourism in 2021, Harbin has made ice and snow tourism a visible driver of the local economy, thereby boosting the sectors of the economy, commerce, culture and sports of the city.
For example, the Harbin Ice and Snow World, originally founded in 1999 as a place of occasional entertainment for local residents in the cold winter, has now grown into a popular tourist attraction incorporating popular customs, the tourism, culture and related industries.
This winter, the Winter Olympics themed park created several thousand seasonal jobs for locals. After the summer sowing, making ice sculptures in winter generated significant seasonal income for local farmers.
Covering an area of ​​820,000 square meters, Harbin Ice and Snow World has 400,000 square meters dedicated to ice and snow landscapes, which uses 230,000 cubic meters of ice and snow in total and has 65 landscape groups of ice and snow and over 100 self-contained landscapes.
"There are too many entertainment choices, like ice biking, ice slide, ice castle and ski ring," said a theme park tourist, noting that it was hardly necessary 60 to 70 seconds to slide off the top of the 423 meter long ice slide that tourists could wait in the waiting room to warm up.
As a calling card for the city of Harbin, the park this year recreated elements of classical architecture from the host countries of the Winter Olympics, including Russia, France , Switzerland, Norway and the Italy, with ice sculptures to tell the stories of the Winter Olympics.
Share This Article