Winter Games NZ Wraps With Freeride Events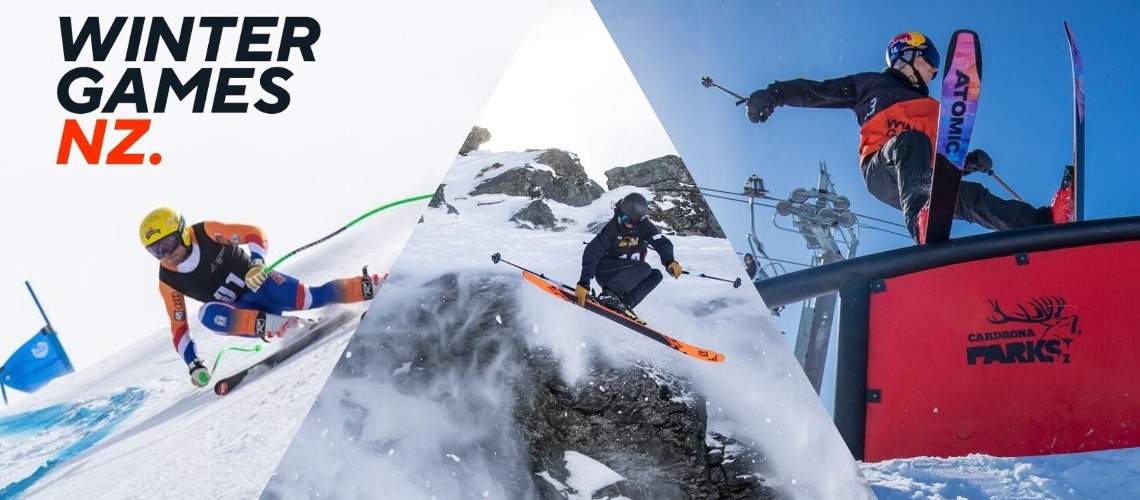 Freeride athletes took centre stage at the Winter Games NZ on Thursday with The North Face Frontier four-star competition delivering all the thrills and spills in this exciting big mountain event held at The Remarkables Ski Field in Queenstown. The 50-strong start list featured some of the world's best skiers and snowboarders, all ready to throw down in the fiercely steep and exposed terrain of the Alta Chutes.
Sanctioned as a Freeride World Qualifier Tour competition, The North Face Frontier four-star event has helped launch the international careers of some of New Zealand's best freeride athletes, including the current Freeride World Tour champion. Jess Hotter, who headlined the women's freeski category.
Sanctioned as a Freeride World Qualifier Tour competition, The North Face Frontier four-star event has helped launch the international careers of some of New Zealand's best freeride athletes, including the current Freeride World Tour champion. Jess Hotter, who headlined the women's freeski category.
With a strong Kiwi contingent featuring a host of past and present FWT competitors along with some international stars including a two-time Olympic medallist in the mix, it was always going to take something special to land amongst the medals at today's event.
The women's ski podium was certainly hotly contested and the judges had their work cut out for them deciding the final places faced with one of the classic freeride judging conundrums of freestyle tricks versus gnarly, steep lines. Three of the competitors landed backflips, which has never been seen before in a women's Freeride World Qualifier competition.
"By far the standout category today was the women's ski," said head judge Dion Newport. "It was the most insane freeriding from female competitors that I've ever seen, by far."
Separating first from second was a tough ask with Jess Hotter landing a perfectly executed backflip but the USA's Kelsey Wittels picking up huge points for attacking the course with an aggressive run right in the fall line. In the end it was the control and fluidity of Hotter's run that tipped the scales in her favour.
"I finally put down a backflip in competition so I'm really stoked, I'm so happy," said Hotter. "I tried backflipping on the Freeride World Tour in 2020 and I under rotated it so I've been wanting to do it ever since but the conditions on the tour this year did not call for that. This is my trick redemption."
Second-place finisher Wittels was also happy to get some redemption after an equipment failure in the two-star event on Monday saw her break a ski and crash out of podium contention. Putting all that behind her, she took the brakes off today.
"There's this big meaty cliff in the middle that I had my eye on so I tried to line it up. When you look over it, it just looks way too big but it's too late then so I sent it as big as I could," she explained.
Kiwi Jessie Violet, winner of Monday's two-star competition, was delighted to land her first-ever attempt at a backflip in competition to finish in third place today.
"Winning on the two-star definitely gave me confidence for today," she said. "It's really motivating for me to step up my skiing and be on that higher level. I had the goal for myself that I wanted to backflip in my run and I did that so I'm really happy."
Canada's Justine Dufour-Lapointe who is an Olympic medallist in moguls and now trying her hand at the freeride discipline, was the third female competitor to nail a backflip today, putting her in fourth place overall.
Women's snowboard was the first category of the day with British competitor Melissa Brandner first to drop and laying down the top scoring run straight out of the gate.
"The chute really reminded me of home," Brandner explained. "I live in northern Norway and we ride chutes like that a lot. That made me feel a little more comfortable, especially dropping first."
New Zealand's Maria Kuzma, a former Freeride World Tour competitor who has been a familiar face on The North Face Frontier podium over the years, finished in second place with Switzerland's Zoe Macgeorge in third.
First place in men's snowboard went to another local legend with 41-year-old NZ rider Roland Morley-Brown putting his experience to good use, showcasing impeccable riding along with some expert knowledge of the course to claim his sixth podium finish at this event since 2015.
"I spend pretty much my whole season up here hiking around in all these chutes, I love it here," he explained. "I'm the old dog so I definitely feel pressure to do well."
Ronan Thompson, winner of the two-star event, was delighted to claim his first podium at a four-star event, finishing in second place with a fast run incorporating backside and frontside 360s.
"Finishing on the podium is insane," he said. "The last time I did this comp I fell over. It was the same thing, I'd won the two-star competition beforehand but then I fell in the four-star so it's an absolute pleasure to podium today, it means the world."
Switzerland's Niklas Meindl rounded out the men's snowboard podium in third place.
Kiwi athletes went one-two in the final category of the day, men's ski, with Blake Marshall putting his local knowledge to good use, finding all the best nooks and crannies and skiing an aggressive line which earned him the top score.
"It went to plan," he said. "I was the first one to get into the waterfall section so I got some fresh snow. I've definitely skied that a lot of times, I know my way round there and it plays to my advantage."
Ski racer turned freeride competitor and coach Ben Richards (NZ) was feeling some nerves with several of his young students watching on from the bottom of the course.
"I was actually kind of nervous, I had to practise what I preach to them," he said.
His plan to channel his ski racing roots and ski a fast, fluid line almost backfired as he came in a little too hot and almost overshot most of the features he'd planned to hit.
"I was planning on doing a few more tricks but once I gained that much speed it was kind of hard to shut it down," he explained. I did the 360 at the top of the course but after that I pretty much just had to point it downhill."
Whether to plan or not, the judges liked the approach and awarded Richards second place with Henry Zakowski (USA) finishing in third.
Results:
Women's Ski | 1st Jess Hotter (NZL), 2nd Kelsey Wittels (USA), 3rd Jessie Violet (NZL)
Women's Snowboard | 1st Melissa Brandner (GBR), 2nd Maria Kuzma (NZL), 3rd Zoe Macgeorge (SUI)
Men's Ski | 1st Blake Marshall (NZL), 2nd Ben Richards (NZL), 3rd Henry Zakowski (USA)
Men's Snowboard | 1st Roland Morley-Brown (NZL), 2nd Ronan Thompson (NZL), 3rd Niklas Meindl (SUI)
The Cardrona STOMP Big Air presented by La Roche-Posay got underway at Cardrona Alpine Resort with skiers and snowboarders throwing down on the Big Air jump. With perfect weather conditions and a start list featuring World Champions and World Cup, X Games and Olympic Games medallists the stage was set for a heavy-hitting competition.
The two-day STOMP series, presented as part of the Winter Games NZ, incorporates two separate events: today's Big Air event in which competitors were judged on the style and technicality of their tricks, and the Park Jam which will be held in a purpose-built rail garden, designed to provide athletes with the opportunity to show off their creativity and style. The event is invitational and the innovative competition format has been co-designed with athletes to ensure they can showcase their incredible talent.

The Big Air competitors took four laps on the jump and were given a combined score for their best 'style' trick and best 'technical' trick. New Zealand Olympian Finn Bilous described what this brought to the competition.
"I think with the format change today the style component really changed things up from the traditional Big Air where it's usually just based on technicality and amplitude. I think it's easy to get caught up in the technical difficulty side and forget to put time into that style aspect. We've really seen a different result from what we might have anticipated if it had been a traditional Big Air. It's really cool to be a part of it and I'd like to see more of it in the future."

Canada's Max Moffat was the top scoring athlete in the men's skiing. More of a slopestyle specialist, Moffat was also a fan of today's experimental competition format.
"It's pretty unexpected to win, honestly. I don't really consider myself a Big Air skier but I'm super down with this format. You've got to bring both style and tech to the table which is super cool and it works better for me, I love it."
For his technical trick Max landed a double bio 1620 safety grab to Japan grab and for his style trick a cork 180.
Finn Bilous landed in second place in men's ski, managing to improve his score on his very last run.
"We only had one run left and my lowest score was for my tech trick so I went to improve that," he explained." I got the grab a bit better and managed to up my score and land in second place which I'm really stoked about."
Cardrona local Jackson Wells, a 2017 X Games medallist who has been retired from competition for the last two years, was enjoying being back in the bib today, and even happier to find himself finishing on the podium in third place.
Canada's Olivia Asselin was a last-minute entry in today's competition having only arrived in New Zealand two days ago. Crashing her first two attempts at the left double 1080 for her technical trick, she managed to put her fears aside and get the job done on her final attempt to finish in first place in women's freeski.
"It's my first time hitting the big jump this year so it was pretty scary," she said after the event. "I'm feeling really good about that last jump, I was pretty scared to do it again. I tried it twice before and crashed twice, I went a bit too big but I laced it on the last try."
Known for her progressive style in women's freeski, Asselin showcased this today, landing a rodeo 540 with safety grab to shifty for her style trick.
Megan Oldham (CAN) finished in second place with New Zealand's Ruby Andrews in third.
Four-time X Games medallist Miyabi Onitsuka (JPN) had plans to up a frontside double 1080 to a backside double 1260 for maximum points on her technicality score but struggled on the landing for her first two attempts. She finally stomped the frontside 10 on the third try and backed it up with a clean frontside 360 indy grab for the win in the women's snowboard category.
"I wanted to try the front double 10 and then back double 12 and I crashed but I'm so happy to win," she explained.
Mari Fukada was the second-place finisher in women's snowboard. New Zealand's Cool Wakushima finished in third place.
Australia's Valentino Guseli "couldn't be happier" to take the win in men's snowboard. "I guess I got up on the right side of the bed this morning," he said. His top-scoring technical trick was a frontside 1800 melon. Laying it all out for style points, Guseli went for "a trick I like to call my own, called a stalefly, I've never seen anyone else do it. It's a backside double cork 1080 grab stalefish and on the second dip you tweak it like a method."
Japanese riders rounded out the podium with Hiroaki Kunitake in second and Taiga Hasegawa third.
STOMP Big Air Results
Women's Freeski | 1st Olivia Asselin (CAN), 2nd Megan Oldham (CAN), 3rd Ruby Andrews (NZL)
Men's Freeski | 1st Max Moffat (CAN), 2nd Finn Bilous (NZL), 3rd Jackson Wells (NZL)
Women's Snowboard | 1st Miyabi Onitsuka (JPN), 2nd Mari Fukada (JPN), 3rd Cool Wakushima (NZL)
Men's Snowboard | 1st Valentino Guseli (AUS), 2nd Hiroaki Kunitake (JPN), 3rd Taiga Hasegawa (JPN)
In the second event vibes were high as the field of world-class skiers and snowboarders dropped into the purpose-built rail garden looking to showcase their most stylish and creative tricks.
The jam format meant that competitors had two hours to take laps through the rail garden hitting their choice of rail features with a rolling ranking system determining the top three placings in each category for male and female, skiers and snowboarders.
The athletes enjoyed the relaxed feel of the event, treating it much like a fun session hanging out with friends rather than a high-pressure competition.
"It takes away the competition pressure, you have less nerves and can just go with the flow a bit more," explained Kiwi competitor Luca Harrington.
Max Moffat (CAN), who took out first place in the men's freeski Big Air yesterday, was back on top form today, consistently stomping his tricks and impressing the judges with his variety.
"I definitely did not expect the weekend to go how it did," said a delighted Moffat. "I've had such a blast. I grew up doing rail jams, they're one of my favourite things ever, it's such a blast to get into one today. I was surprised to win again, it's such an honour. I love being here in New Zealand, it feels like a second home, it brings out the best in me."
Ferdinand Dahl (NOR) was a close second, landing some of the gnarliest tricks of the day, but taking a few runs to nail down the execution. Kiwi Finn Bilous finished in third place, with a good variety of tricks and some creative highlights including his rodeo 720 tail tap.
While not a podium finisher, Jackson Wells (NZL) was the competitor who arguably made the most creative use of the course, jumping clean over the judging tent not once but twice, the second time with a backflip.
The women's ski category saw an interesting battle for the top spot between Kelly Sildaru (EST) and Olivia Asselin (CAN). 10-time X Games medallist Sildaru, who has spent several seasons training at Cardrona from a young age, eventually edged ahead, able to land more clean runs than the Canadian and with a greater variety of tricks in her repertoire. Anni Karava (FIN) finished in third place.
"It's pretty much my first week on snow after four months," said Sildaru. "I've really enjoyed it. I just came here to have fun and enjoy skiing and that's what I did."
Valentino Guseli (AUS) also backed up his win in the men's snowboard Big Air yesterday, taking out first place in the Park Jam today. Displaying all round riding prowess, he made full use of the course, throwing down technical tricks on the quarter pipe feature as well as showcasing technical rail work.
"After yesterday I didn't want to be complacent," said Guseli. "I wanted to put a show on for the crowd, I just wanted to do my best snowboarding and I was happy to get pretty close to that. Everyone had their own little twist on different features, it was cool to see. To get two wins is awesome."
Dane Menzies (NZL) looked unstoppable out on the course, making 12 laps of the park, the most of any competitor. The judges awarded him second place for consistently putting down good clean runs incorporating some standout tricks and some big transfers.
It was a close finish between local riders Cam Melville Ives and Rocco Jamieson, both displaying strong riding throughout the event and individual strengths. Both scored highly for their rail tricks and Jamieson had some strong stall tricks on the wall ride feature, but Melville-Ives just topped that by going bigger on the transfer as well as on the quarter pipe with a frontside double 1080.
Two-time World Champion in slopestyle, 26-year-old Laurie Blouin (CAN) was a clear winner in the women's snowboard, showing her class and experience with a full bag of technical rail tricks.
"It was a super fun day and the level was really good today," she said. "It was nice to have fun and it's good to be back here in New Zealand."
15-year-old NZ rider Lucia Georgalli, one of the youngest competitors of the day, was delighted to finish in second place, with Mari Fukada (JPN) in third.
STOMP Big Air Results
Women's Freeski | 1st Kelly Sildaru (EST), 2nd Olivia Asselin (CAN), 3rd Anni Karava (FIN)
Men's Freeski | 1st Max Moffat (CAN), 2nd Ferdinand Dahl (NOR). 3rd Finn Bilous (NZL)
Women's Snowboard | 1st Laurie Blouin (CAN), 2nd Lucia Georgalli (NZL), 3rd Mari Fukada (JPN)
Men's Snowboard | 1st Valentino Guseli (AUS), 2nd Dane Menzies (NZL), 3rd Cam Melville-Ives (NZL)
Share This Article