Val Di Fassa, Gut-Behrami Wins Again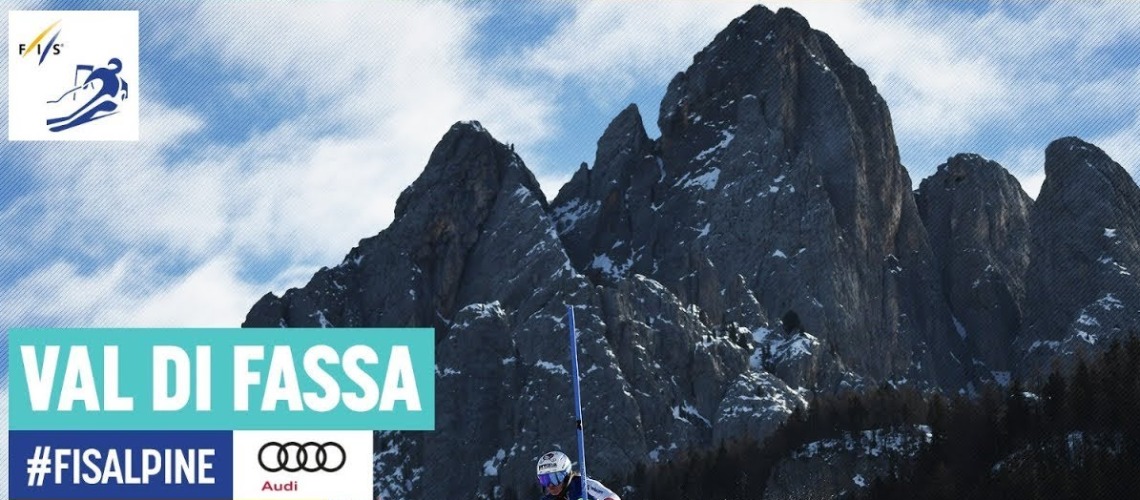 Fresh off a successful two weeks at Cortina d'Ampezzo, Italy highlighted by world titles in giant slalom and super-G and a bronze in the downhill, Switzerland's Lara Gut carried the momentum to Val di Fassa to grab the victory by a mere two one-hundredths of a second ahead of Austria's Ramona Siebenhofer. Swiss Corinne Suter rounded out the podium in third, .26 seconds back.
Today was the World Cup debut for Val di Fassa as a host as the athletes enjoyed the challenge of conquering a new course. The Italian resort hosted the 2019 FIS Alpine Junior World Championships and was ready to spring in as a replacement venue after the Olympic Test Events in Beijing had to be cancelled due to the pandemic.
The new course, coupled with the extremely warm temperatures provided a large variation in results for the racers. All of the top-five finishers today had bib numbers no higher than seven. And outside the top-five finishers, the time difference grew wider with a half second difference between fifth place finisher Breezy Johnson and sixth-place finisher Kajska Vickhoff Lie.
With the win, Gut-Behrami took over the lead in the overall World Cup standings, now holding a 29-point lead over Petra Vlhova, whose ninth-place finish today wasn't enough to keep her in the lead.
Under the sunshine in Val di Fassa, Italy—where the Americans had a successful showing at the 2019 World Junior Ski Championships Breezy Johnson led the way for the Land Rover U.S. Alpine Ski Team, in fifth place.
Boldly starting bib one, Johnson was sendy from the start but ran into a little trouble in the top section of the course. She crossed the finish line with a time of 1:24.29, which looked promising for a moment, seeing as though her winning training run yesterday—the fastest time of the two training runs—was 1:24.77. She finished just .10 seconds off of the podium, as Germany's Kira Weidle snuck into fourth .03 ahead of Johnson. Even so, Johnson took the positives away from the day and will carry them into tomorrow's second downhill.
"I felt like my run today was alright, there were just a couple of spots where I kind of messed up...and they ended up being pretty big mistakes," Johnson reflected after the race. "I obviously got a little bit late coming into that pitch, and even though I won that split it was not the best today. Fifth place is still a really great result, it's still something I'm very proud of. I'm just going to keep fighting and working and cleaning things up for tomorrow."
It's worth noting that Johnson has never chosen bib one before. The top-10 ranked athletes get to pick their start number, based on a random draw, for odd numbers one through 19. It's an advantage to run a bit later to be able to see how the course is running for the first few athletes, so Johnson would typically pick five, seven, or nine. Not today. With an 11:45 a.m. CET start—a later than usual start for downhill—Johnson knew the light could affect her if she went later. "We looked at video at 11:45 and at 12 noon, and it ain't gonna get any sunnier, or any faster," she shared Thursday evening. "I might as well send it No. 1. I've never done it before, but I don't think it will change my approach."
After Friday's downhill, Johnson and Suter are now tied for second in the overall downhill standings with 330 points behind Italy's Sofia Goggia (480)—who is unfortunately sidelined for the rest of the season with an injury. Johnson, who hasn't finished a downhill out of the top-five this season, knows she'll need to fire on all cylinders on Saturday in order to stay in the running for the title—something only two other Americans have done. Of course, former teammate Lindsey Vonn (a record eight times), and Picabo Street—whose ability to send it reminds many fans of Johnson. Johnson is confident and knows she can win, and the race to the Crystal Globe will be a thrilling one to watch, right until the end at the World Cup Finals in Lenzerheide, Switzerland.
Laurenne Ross, who has been steadily progressing throughout the season after returning from injury, skied the best she has this season, finishing in the points in 23rd. Bella Wright also started for the Americans, and ended up just outside of the points in 31st, as there was a tie for 29th. Teammate Jackie Wiles unfortunately returned back to the States to get surgery, following a minor knee injury sustained prior to the FIS Ski World Championship downhill at Cortina d'Ampezzo, Italy.
Share This Article