USST's Sunshine Jemison Snags Second Golden Ski Award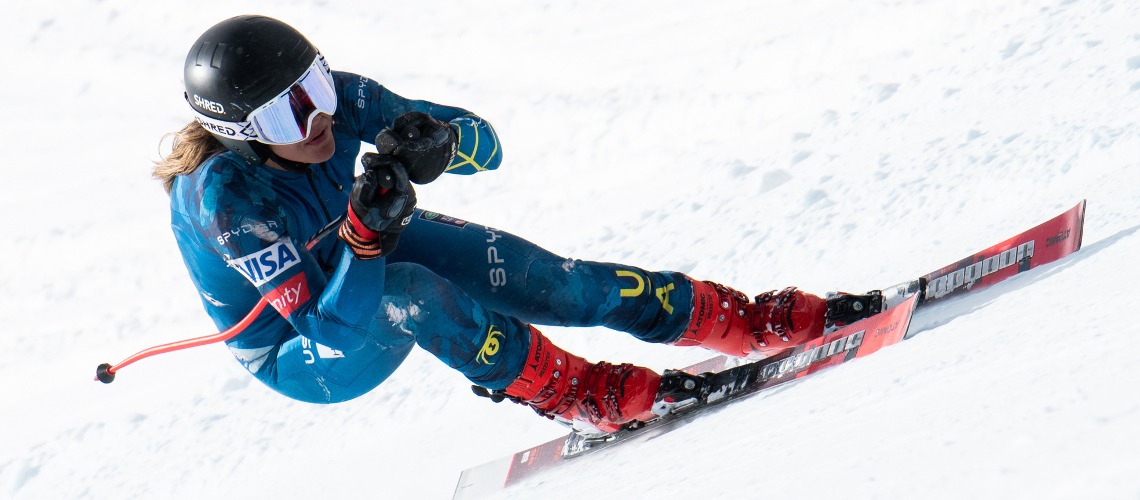 U.S. Ski Team athlete and 2022 NorAm Overall Champ Ava Sunshine Jemison, pictured here standing atop the podium in Sugarloaf, Maine, has been named Golden Ski Award winner for the second-straight year.
Each season the New England Ski Museum presents this award to the most promising male and female junior alpine racers in the Eastern U.S. Their awards will be presented at a reception to be held at the New England Ski Museum at New Hampshire's Cannon Mountain, Friday, June 10th, from 5 to 7pm.
Ava Sunshine Jemison
This is the second time Ava has won this coveted award. She showed impressive results during her first season as a U.S. Alpine Development Team athlete. Highlights included top-10 NorAm finishes in all five disciplines, including a win in slalom and one in alpine combined, which culminated in her winning the NorAm Overall title. In January, she won the giant slalom at the Italian National Championships, rounding out an excellent European swing that included multiple podium finishes. Ava also earned a silver medal in super-G at the World Junior Ski Championships in Canada and finished in the top-ten in the slalom and alpine combined as well. Over the course of the season, her world rank improved from 430 to 56 in slalom while her giant slalom world rank improved from 263 to 129. Ava's hard work, dedication, and stellar results have earned her a nomination to the 2022-23 U.S. Alpine Ski Team B Team.
John Kerbaugh
At the age of 16 in his first year of FIS racing as an U18 competitor, John started strong. At early regional slalom events at Sunday River he sliced through the field and moved up about 100 spots each day. A few weeks later, still starting at the back of the pack, he managed a top-10 finish in an Eastern Cup giant slalom, and he grabbed his first FIS win just a few days after that. By the end of December he was ranked second in the world for his age in giant slalom. He continued to progress throughout the year scoring Nor-Am points in alpine combined and finishing just outside the top-30 in NorAm slaloms on back-to-back days. In March, John became a national champion for the first time at the U18 National Championships in Vail, winning both runs of the giant slalom and taking the overall title by nearly one second. John finished the season with more strong results in giant slalom and slalom. He ended the year ranked third in the world for his age in giant slalom, and 12th in slalom.
The Golden Ski Award has been presented to the top junior male and female skiers in the East since 1969, the year after the modern World Cup circuit started. Many of the Golden Ski winners have gone on to World Cup and Olympic gold as well. In 1975, the Golden Ski was "lost." In 2007, the New England Ski Museum was given some artifacts, and in that donation was the original Golden Ski. ESWA revitalized the honor. "The Golden Ski Award is the oldest honor given to junior alpine ski racers that exists today," says Jim Gregory, Chair, of the New England Ski Museum's Golden Ski Award Committee. "We are proud this year to honor Ava Sunshine Jemison, for the second time, and John Kerbaugh, two extraordinary athletes. We look forward to watching them pursue their goals and set the bar even higher in the sport we all love so much."
Previous Golden Ski Award Winners:
1969: Tyler Palmer, Karen Middleton
1970: Charles Bent, Karen Middleton
1971: Rod Taylor, Judy McNealus
1972: Laurent Gaudin, Jody Palmer
1973: Jerry McNealus, No female winner
1974: No award
1975: Scott Light, Holly Flanders
1976-2007: Award Lost
2008: Bump Heldman, Julia Ford
2009: Nolan Kasper, Julia Ford
2010: Ryan Cochran-Siegle, Julia Ford
2011: Ryan Cochran-Siegle, Mikaela Shiffrin
2012: Ryan Cochran-Siegle, Mikaela Shiffrin
2013: Kieffer Christianson, Mikaela Shiffrin
2014: Sam Morse, Alice Merryweather
2015: Drew Duffy, Nina O'Brien
2016: Ben Ritchie, Cecily Decker
2017: George Steffey, Patricia Mangan
2018: Jimmy Krupka, Abigail Jewett
2019: Ben Ritchie, Claire Thomas
2020: Ben Ritchie, Zoe Zimmermann
2021: Ben Ritchie, Ava Sunshine Jemison
Share This Article