Tenson Returns To UK Market After 25 Years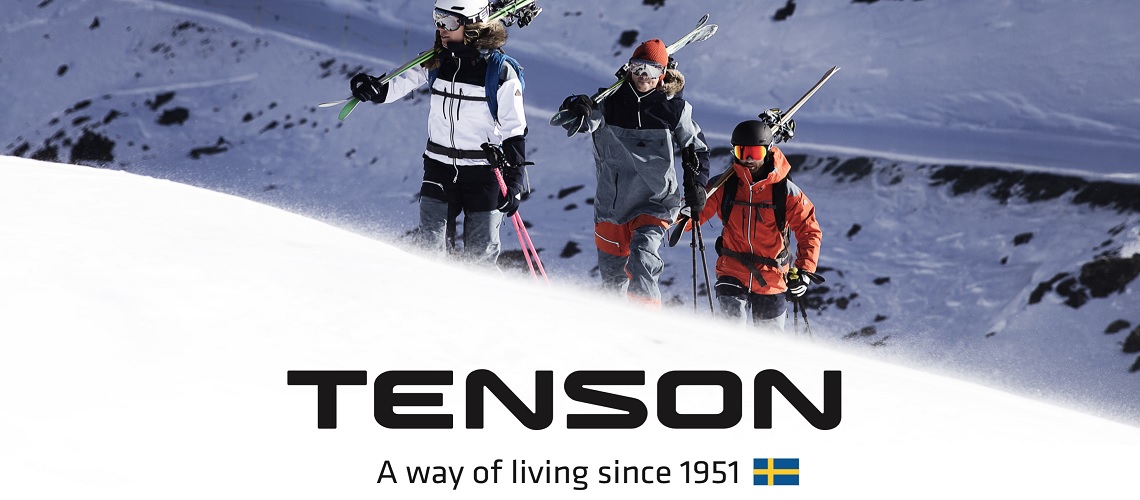 After 25 years, the iconic Swedish outdoor brand Tenson is back with a bang, showcasing a brand new ski wear range that promises to thrill the UK market.
Swedish brand Tenson is making a serious investment in the UK market and has appointed The Great Outdoors Agency to promote its new ski wear range. This will be the first time in 25 years that UK stockists will have the chance to offer their customers high performance, highly technical outdoor gear from this iconic brand, a name with a clear focus on outdoor adventure as a way of living.
Tenson is brand with a backstory, rich with heritage, and synonymous with exceptional quality, technology, and performance. Ski wear is their flagship range, super-high-end technical gear made with MPC Extreme, Airpush and Dermizax technology, incorporating superior zips and seams – functional garments that are waterproof, breathable, flexible, and regulate natural body heat. The result? Optimised skiing experiences - even in the most extreme and wet conditions.
Tenson's vision is to become the No.1 brand in Europe for functional outdoor wear that promotes an authentically athletic "way of living". They already have a presence in 25 countries - the next move is to re-enter the UK and France, and strengthen their prominence in Benelux and Scandinavia.
"Great outdoor brands inspire, encourage, energise and give people the practical tools to live their dreams. Tenson is an exciting brand to be working with, their "way of living" ethos resonates with our own brand belief that "life is an adventure", we can't wait to bring them to prominence again within the UK market." Rachel Bowden, Director, The Great Outdoors Agency.
To do this, Tenson is making a serious investment into the UK market with the help of specialist outdoor retail marketing company, The Great Outdoors Agency, on PR and Content Marketing, and with Nick Anderson, Country Manager UK on retail sales. On the agenda are plans to sponsor a number of ski athletes to promote the brand, and get their high performance ski wear range into high profile UK stockists, and specialist ski stores. They will also be exhibiting at the action sport tradeshow - Slide (stand B01), in January 2018.
Manufacturing garments that last, regulating the use of chemicals, and shipping by boat are just some of the environmentally responsible steps that Tenson take to reduce their impact on the environment. Their ambition is to increase the number of fluorocarbon free items in their coming collections starting with the Winter 2018 collection. This is an important reflection of their love for nature and belief that the world around us should be enjoyed in a responsible way.
The Great Outdoors Agency help outdoor, lifestyle, wellbeing and sports brands grow their business in the UK Outdoor Retail Market. Their mission is to bring more diversity to the UK outdoor retail market by championing brands who create innovative, distinctive and genuinely interesting products.
"We look at all routes to market and do not exclude any option. We have a 360 view of all channels and as multidiscipline marketers, we work across all available channels and media to connect brands with trade and consumers. We use the right channels to derive a return. This can include: content, PR, trade shows, influencers, email, e-commerce, Amazon marketplace, competitions, SEO, Google Shopping." Rachel Bowden, Director, The Great Outdoors Agency.
Tenson's work for more sustainable clothes begins with the drawings at the design table. Long lasting apparel is a combination of high quality fabrics and a design that endures the test of time - apparel that stands the test of time is a good way to reduce the carbon footprint and minimize consumption. To minimize their carbon footprint Tenson have adapted a policy that states the use of train and boat for all their cargo as the primal way of transport. At every level of the production chain, they encourage their partners to do the same. Other responsibilities they take on board include: Fair working conditions and CSR
to ensure a fair production line, regulating the use of chemicals, caring about animal life
- all down used in garments originates from no living animals, Merino wool is from farms which are guaranteed mulesing free, the leather on the details are residues from the food industry, and they use only synthetic fur in garments, hang tags are made of recycled paper and the metallic buttons are Oeko-Tex certified and free of lead.
Share This Article