TechnoAlpin Switzerland's New Building Work In Full Swing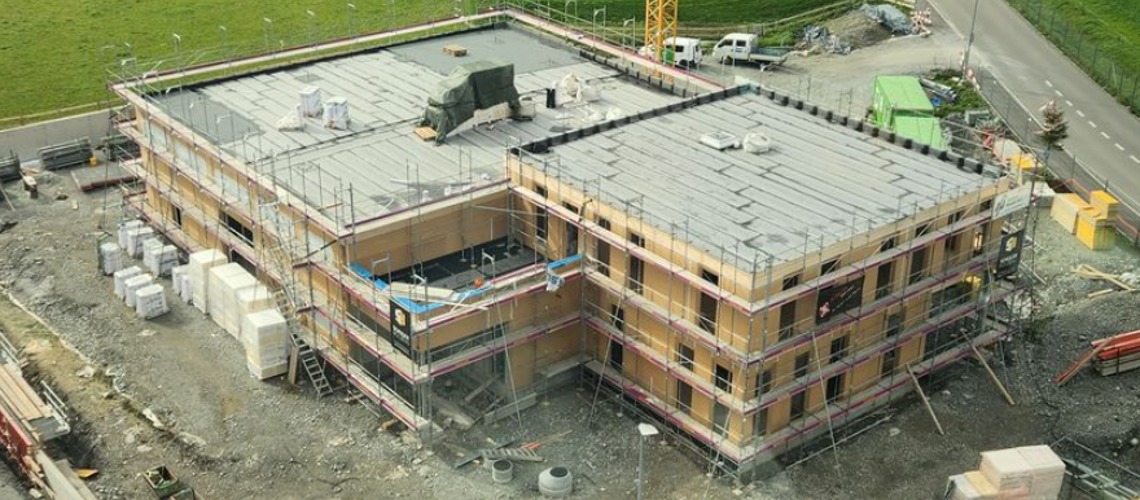 In 2022 TechnoAlpin Switzerland celebrates its 25th anniversary and in the same year a new building for the branch is built. Work on the new building is currently in full swing.
On June 27th – only four months ago – the starting signal was given for the construction of the new headquarters in Schattdorf (Canton Uri). Since then, a lot has happened on the 3,000 square meter site: immediately after the groundbreaking, the earthworks began and then the facade scaffolding was erected. In the course of the old Japanese technique Yakisugi, according to which the building is constructed, sustainable architectural highlights are created from fire-preserved wood.

The exterior doors and windows of the office and warehouse building were installed at the end of September. "So far, the schedule has been optimally adhered to, we are on course," says branch manager Patrizio Laudonia happily.

The interior work will begin in the next few weeks: lifts will be installed, the floor heating will be laid and doors will be installed before the furnishing and painting work can be carried out shortly before completion. "The building will probably be ready for occupancy in spring 2023, so that all employees can move from our current location in Flüelen to Schattdorf," says Laudonia.
Share This Article