TechnoAlpin Austria Celebrates 25th Anniversary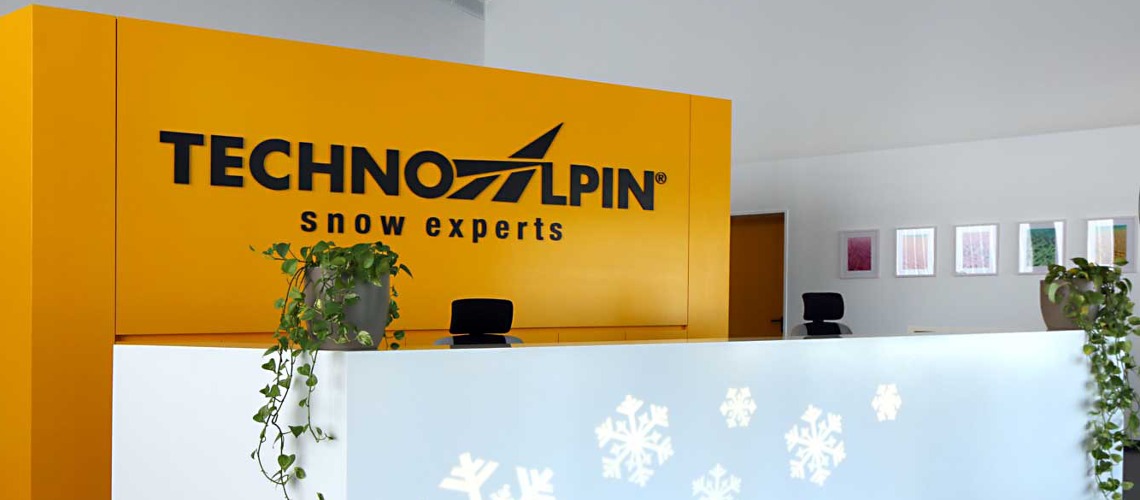 TechnoAlpin Austria is celebrating its 25th company anniversary this year. Five years ago the company moved to its new headquarters in Volders. Since then, Tyrol has been the center of the international spare parts management of the TechnoAlpin Group: 2,400 ski areas in 50 countries around the world are looked after from here. TechnoAlpin Austria generates almost 25 percent of international sales.
TechnoAlpin is the world's largest provider of innovative snow-making solutions. The company plans and builds turnkey snow-making systems for ski areas in 50 countries around the world. TechnoAlpin also focuses on indoor snow-making solutions, as most recently in the "Silent Light Wunderkammer" in the Swarovski Crystal Worlds. The subsidiary "EmiControls" offers solutions for fire fighting and dust binding. With "Engo" the technology leader for ice resurfacing machines is also part of the group.
TechnoAlpin Austria was founded 25 years ago as the first international branch of the TechnoAlpin Group in Innsbruck and today generates around 25 percent of international sales. "I have been moving to ski destinations all over the world for over 30 years," explains Erich Gummerer, CEO of TechnoAlpin. "In doing so, I keep getting confirmation that Austria, with its flagship ski areas, is the top reference in the world of skiing. We are very proud that we have a longstanding partnership with so many of them. "
400 new customers and expansion of the Volders site
Since moving into the new company headquarters in 2016, Tyrol and the Volders site have also played a central role in the corporate strategy: Since then, international spare parts management for the entire TechnoAlpin Group has been handled from here. "In Volders we have found optimal conditions to meet the logistical challenges. We are in the central Innsbruck area with an optimal infrastructure and close to numerous customers, "explains Matthias Illmer, CEO of TechnoAlpin Austria.
This means that 2,400 ski areas in 50 countries are looked after, around 400 more than five years ago. 6,500 different items are stored in Volders. At peak times, TechnoAlpin handles up to 2,000 shipments a month from here to 35 countries around the world. The office and storage space has been expanded by 50 percent since moving in in 2016. 30 people are employed in Volders.
Setting the standards - since 1990
An essential part of spare parts management is defect analysis, which forms the basis for quality management and research and development work. "The geographical proximity to our customers in Austria also plays a special role. The intensive exchange is of fundamental importance for our development work, "explains Juris Panzani, Product Manager at TechnoAlpin.
Numerous innovations that are now standard in snowmaking can be traced back to TechnoAlpin. For many years, the focus has been on developments to improve energy efficiency and resource consumption with digitization. "Today we can determine exactly how much snow a ski area produces and has on the slopes and thus make precise snow production forecasts. This increases the efficiency, but also the planning security significantly. "
For Anton Mattle, State Minister for Economic Affairs, TechnoAlpin is "an innovative, internationally very successful model company that has been loyal to the promising Volders location for five years and thus safeguards local jobs. This cannot be taken for granted and it deserves great praise and recognition. The company profile with the planning and production of snow-making systems in ski areas all over the world fits perfectly with Tyrol as the home of winter sports and the heart of the Alps. Congratulations on the 25th company anniversary - we look forward to many more years in which know-how 'made in Tyrol' will be carried out into the world. "
Abg.z.NR Franz Hörl, Chairman of the Cable Car Association in the Austrian Chamber of Commerce, congratulates on the 25th anniversary. "Since it was founded, TechnoAlpin Austria has been a reliable partner for all friends of alpine winter sports in our country. Because every descent becomes an unforgettable experience only when the perfect snow ensures the right turn. Over the past 25 years, TechnoAlpin has always managed to keep its finger on the pulse, reliable in practice and consistently innovative. This professional continuity and motivation for constant further development deserves respect and best wishes for the future. "
Mayor Maximilian Harb is pleased that TechnoAlpin, an international company, opened its Austrian location in Volders five years ago. "Our community benefits not only from the income from the municipal tax, but also from the snow security gained from TechnoAlpin technology in our ski and local recreation area "Glungezer". "
Share This Article