TechnoAlpin: Announces An Energy Efficient Development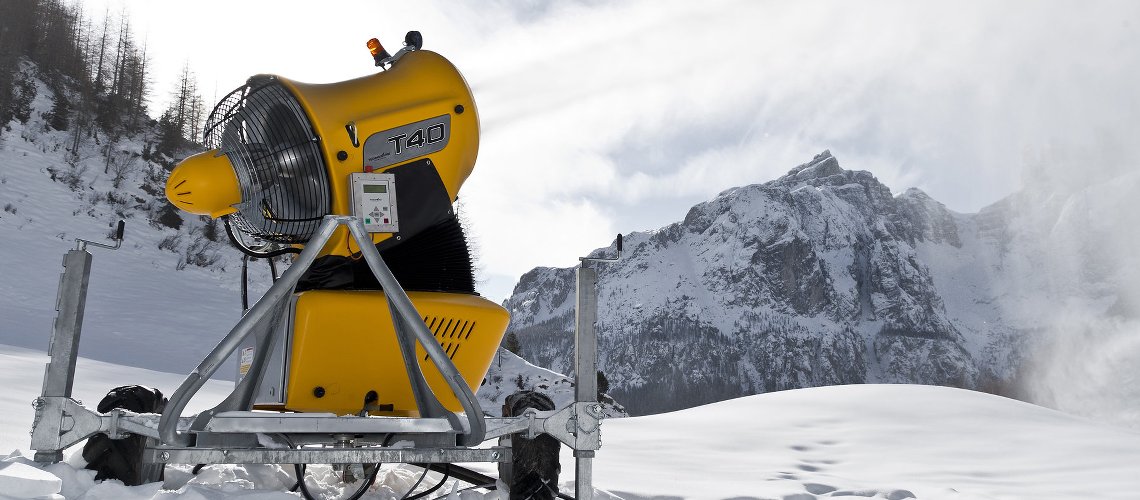 No other sport has such a close association with nature as skiing. This is why the undisputed leader in technology is constantly at work in a bid to increase the efficiency of all the components and to promotethe environmentally friendly use of resources. In recent years, the market leader from Bolzano has been able to optimize snowmaking technology in every respect.
The prime example of the increase in energy efficiency is the way in which the fan guns have developed over time. The market launch of the M20 fan gun with its oil-free compressor and impressive snow output was back in 1999. 2012 saw the arrival of the most powerful machine to date, the TF10, which produces 30% more snow with similar energy consumption.
As the development work has intensified over time, however, the total amount of energy required by fan guns has also been optimized. This is particularly evident in the revolutionary TR8 which consumes 30% less energy than the M20. In addition to the machine, the equipment fitted on the fan guns made by the leader in snowmaking technology has also been improved out of respect for nature and the environment, with the oil-free compressor being joined by LED headlights and warning lamps and reusable plastic covers.
The fan guns have not been the only focus of this move towards energy efficiency in recent years but also the snow lances made by TechnoAlpin. The changeover from the Rubis Classic to the latest generation of the Rubis Evo enabled a reduction in air consumption by up to 70%.
The resource efficiency of the snow production process is enhanced by the use of the ATASSplus control software to manage the snowmaking systems. With the SlopeManager on board, it is possible to display the water, energy and air consumption and the average temperature of all the slopes. The consumption levels are also combined with the current snow depths on the slope, thereby enabling optimum management of the resources.
All this is only possible thanks to the consistently high level of investment in research and development. And this is exactly what makes TechnoAlpin the global innovation leader.
Share This Article