TechnoAlpin: Alpinal Pipes, A Guarantee Of Excellence For Snowmaking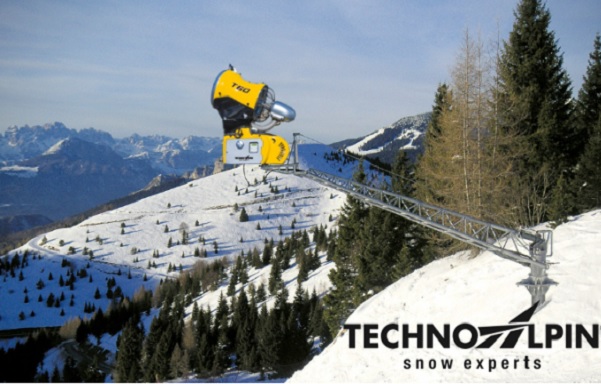 To ensure the optimal and efficient operation of the snowmaking equipment supplied to its customers, TechnoAlpin gives the utmost care to the design of its equipment, snow guns, valves, software, as well as the selection of other components of the systems which must present the highest quality standards. This is particularly the case for one of the most important elements of a snowmaking system: The network of pipes for the water. The pipe network distributes water from the pump station to the snow guns, so it performs a crucial function and must be very efficient and easy to install.
For many years, TechnoAlpin has chosen to work with the products of the leader of ductile iron in Europe, Saint-Gobain PAM, for its snowmaking system: The Alpinal line. Alpinal pipes and fittings are produced by the German factory of Saint-Gobain PAM, located in Saarbrücken Brebach. The group manufactures over 700,000 tons of ductile iron pipes in Europe. The close cooperation between Saint-Gobain and TechnoAlpin makes it possible to offer the most advanced products to meet the increasingly demanding design needs of snowmaking installations, particularly in terms of accessories: sleeves, fittings, clamping rings.
This is the case, for example, with the connection sleeve, or U-piece, an essential component that makes it possible to answer several problems in the design of a water system for snowmaking:
Repairing existing pipelines by making it easy to reconnect network sections;
Installation of MMB or MB "Tee" fittings for network branching;
Connection, if necessary, between pipes of different manufacturers, always according to EN 545;
In general, the Alpinal range has many advantages: The elements are made of ductile iron, a material perfectly suited for use on mountain terrain because of its great strength, longevity and tolerance to operating pressure. The outer and inner covers of pipes and accessories offer great protection to ensure the best possible longevity, against corrosion for example.
In addition, the restrained socket systems of the Alpinal line (Novo-Sit and Tis-K) are easy to use in the field. Thanks to the locking mechanism, they also do not require the installation of a concrete thrust blocks when laying the pipes. These are the connections that will absorb the forces and maintain the pressure of the entire network (up to pressures of 100 bar). They also allow a large angular deflection to adapt to the constraints and the shape of the ground. The Alpinal line, pipes and fittings, is sufficiently expanded to meet many configurations: The components are available from DN80 to DN 300 in PFA 100 to DN 400 PFA85 to DN 500 PFA 75.
With the Alpinal line, TechnoAlpin offers the most adapted and efficient solution for snowmaking system designed for its customers in order to ensure the best snow conditions on their ski areas, season after season.
Share This Article