Suter Wins Lake Louise Super G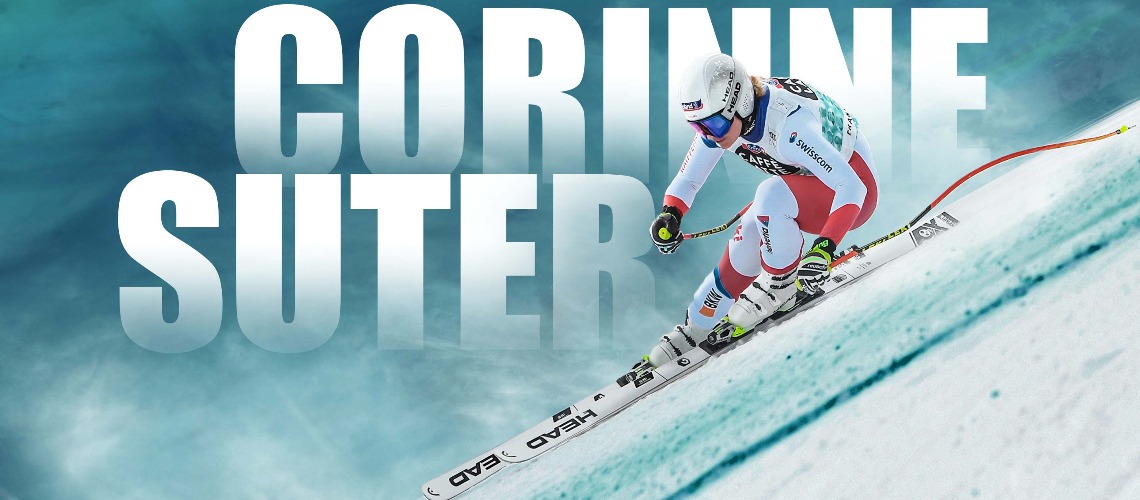 At the last North American race, the women's Super-G on Sunday in Lake Louise, the HEAD Worldcup Rebels celebrated a triple victory with Corinne Suter, Cornelia Hütter and Ragnhild Mowinckel. After a break of almost two years, Nina Ortlieb made a remarkable comeback with second place in the downhill in Lake Louise on Saturday. James Crawford and Alexis Pinturault were also able to celebrate podium finishes in Beaver Creek.
"The first triple victory this season is of course great - especially in Lake Louise, where the material is also very important," emphasizes HEAD racing director Rainer Salzgeber. "We also had the opportunity to win in the downhills. Unfortunately, the conditions with the wind were a strong factor. When, like Corinne Suter, you score 240 out of a possible 300 points over a weekend, that's brilliant. Before the season, she took over Stefan Berthold, Kjetil Jansrud's service man, and they really harmonize very well. Nina Ortlieb's comeback was excellent. She wanted to come back last season but gave her body more time and that may have been the right decision. Atle Lie McGrath's drive was outstanding. It was his first Super-G and the first World Cup race on this slope. This shows its great potential. He drove the passages like a race for the first time, others drove down umpteen times. He invested ten days in the USA and also drove downhill. It's nice to see that it has paid off. The results in North America show that we are making good progress with the material. That will also work well in Europe!"
First, second and third place for Corinne Suter
For Corinne Suter it was an almost perfect weekend in Lake Louise. Her fifth World Cup victory, the second in a Super-G, was preceded by a second place on Friday and a third place on Saturday in the two downhills. On Friday, the Swiss missed victory by just four hundredths of a second.
"You have to go and find your limit. I think this season will be a very, very tight season. There are so many girls who are skiing so fast and can win. You have to push in each race," said Suter.
The Swiss skier had a good feeling about the super-G before it even started.
"I just try to ski my best. I knew it was a very good course that I liked after inspection. I was thinking it was faster and I just tried to do my best. It was a tight race again but today I was the lucky one," said Suter.
Cornelia Hütter twice in the top 3
Cornelia Hütter was third on Friday and missed victory by just six hundredths of a second. "My skis went so well today, it was really cool to ski. I was a bit overwhelmed while driving because it just went back and forth. That was real racing today," analyzed the 30-year-old Austrian, who was unable to tackle the second race on Saturday because of a headache, but who finished second in the Super-G on Sunday – just two hundredths of a second behind Suter. Norway's Ragnhild Mowinckel celebrated third place in the Super-G.
Huetter also put together great results in Canada this weekend. The Austrian made the podium in the first downhill race before being a late scratch in the second downhill due to concussion-related symptoms. Those symptoms were no joke.
"After my concussion in Crans-Montana, I had a few days with my eyes and my brain. I don't know how to describe it, it was like they are not connected. The feeling of my eyes is slow to my brain," said Huetter.
Those headaches did not slow her down on Sunday as she almost took the top spot in the super-G.
"Today I felt much better. Yesterday I had the afternoon and day off. I had a few hours of quiet and not hurried like it is here when we are skiing. I think it was a good decision (to skip the second downhill race)," said Huetter.
Nina Ortlieb back at the top of the world
Impressive the comeback of Nina Ortlieb: The Austrian was sixth in the first descent on Friday and finished second in the second descent on Saturday - her best result in this discipline! Nina Ortlieb was only 34 hundredths of a second behind winner Sofia Goggia. "I'm a bit speechless. The run went well, I gave everything. I did well. I'm proud of myself today," said the 26-year-old happily at the finish. A third place finish in Crans Montana downhill in 2020 was her best downhill finish to Lake Louise. Also in 2020, she clinched her only World Cup victory to date in Super-G in La Thuile. In January 2021, Ortlieb suffered a serious knee injury while training for the descent in Crans Montana. Since then, the Austrian had not contested any more races.
Share This Article