Sun Valley's Main Base Area Lodge Severely Damaged In Fire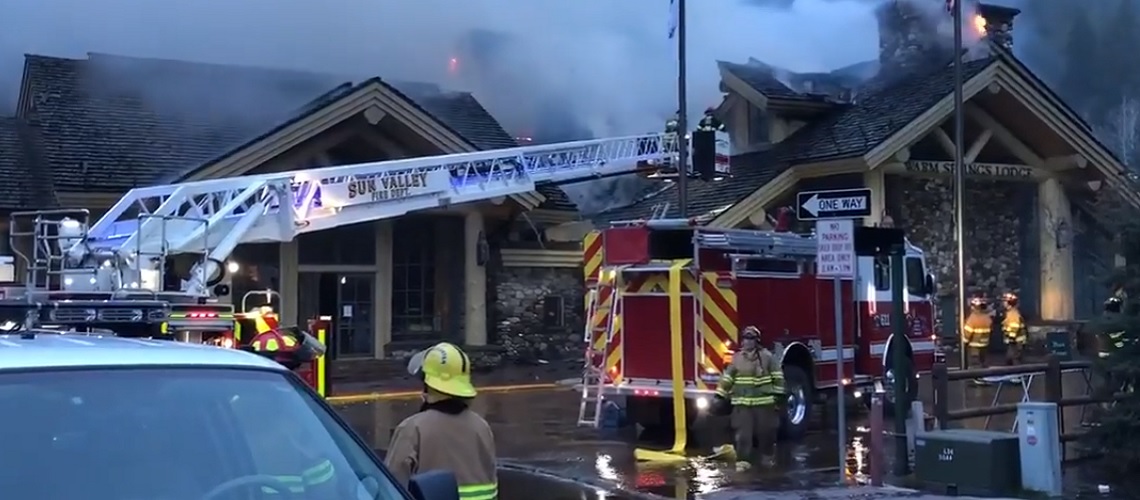 At approximately 11:20 p.m. on Wednesday, April 18, 2018, the alarm system at Warm Springs Day Lodge at the base of Bald Mountain was triggered. Ketchum Fire Department was dispatched at approximately 11:20 p.m.
Ketchum police were first to arrive and reported 30-foot flames above the building. Ketchum, Sun Valley, Wood River, Hailey and Bellevue fire departments were all on scene assisting with the suppression.
Approximately 63 firefighters battled the fire with eight engines, two ladder trucks, and one pumper tanker.
At this time the fire is contained, there are still hot spots and suppression efforts will continue.
There were no employees in the building, and no firefighter injuries have been reported.
It is too early to determine the full extent of damage to the building, but it is significant. The cause and origin of the fire are under investigation. The investigation will involve the Ketchum Fire Department, Idaho State Fire Marshal, and the Bureau of Alcohol, Tobacco, and Firearms (ATF). It is standard practice for the ATF to participate in a fire investigation when there is a commercial structure with over 1 million dollars in damage.
Ketchum Fire Chief Mike Elle is strongly encouraging people to stay away from the area. It is an active fire scene.
Share This Article