Solden Opens Tyrol's Longest Mountain Cart Route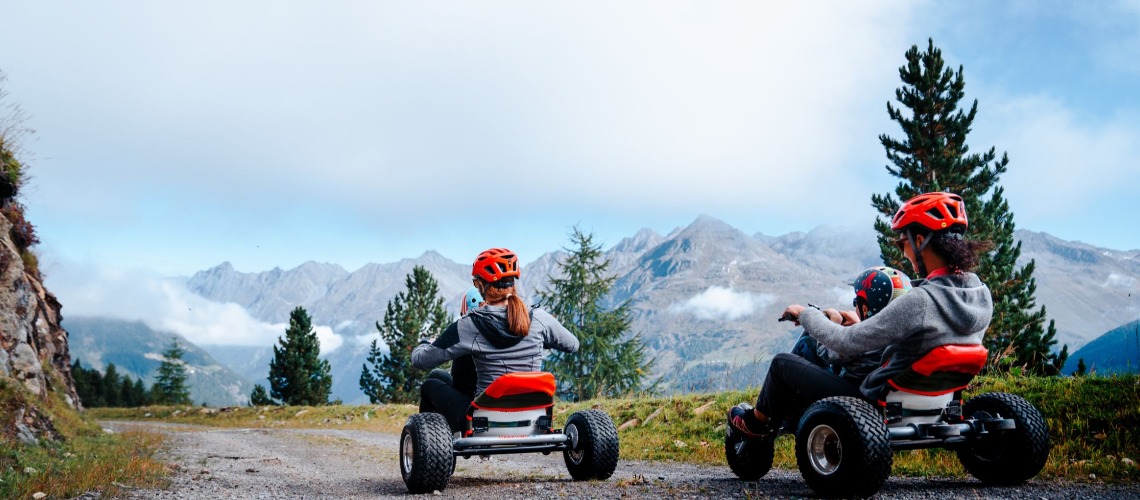 Fast-paced driving fun for all generations has been guaranteed since the beginning of July with a new summer offer in the Ötztal. The route leads over 7.3 kilometers from the middle station of the Gaislachkoglbahn down into the valley. Clever synergy effect: Existing infrastructure is used with the route of the toboggan run.

Non-insiders can describe the vehicles with a low center of gravity and a meter width as a kind of off-road go-kart. In order to unleash their true action potential, however, the mountain carts need suitable terrain. In Sölden, the existing winter toboggan run was slightly adapted for this purpose and made suitable for summer. This means that locals and guests can now enjoy Tyrol's longest mountain cart route. This leads over 7.3 kilometers from the middle station of the Gaislachkoglbahn (2,170 m) down to the valley (1..366 m). Recreational athletes can comfortably reach the start in just a few minutes with the cable car. The vehicles can be hired there, including protective equipment and the appropriate safety briefing. The leisure activity is available for people of (almost) all ages, because the mountain carts are easy to master: from children from 10 years and 130 cm up to the grandparents' generation (young co-pilots from 6 years old ride on their laps). The low center of gravity gives security. Two brakes allow you to stop quickly or, for more experienced contemporaries, pure drifting fun in the curves. The project was implemented by three local sports retailers in cooperation with the Sölden mountain railways and Ötztal Tourismus.
Ideal route
"Our track in Sölden has the best conditions for mountain carts. It is relatively flat, but has enough steepness to make driving fun. The width of the route of two and a half meters also allows overtaking maneuvers and gives the opportunity to let other mountain cart fans pass", explains David Glanzer, chairman of the Sölden local committee. He is the initiator of the project, which is launching a new summer offer and existing infrastructure was integrated at the same time. Only minor adaptation work was required for the summer use of the toboggan run. In addition to the application of gravel, the route also received additional impact mats. This model has already proven itself at the BIKE REPUBLIC SÖLDEN. A total of 90 mountain carts are available in Sölden. Three local sports retailers take care of the rental and the associated logistics. With the Gaislachkoglbahn of the Sölden mountain railways, guests can easily reach the starting point at the middle station.
Further information: www.soelden.com/mountaincarts
Share This Article