SkiStar 's Hemsedal, Are, Trysil & Salen Ready For Summer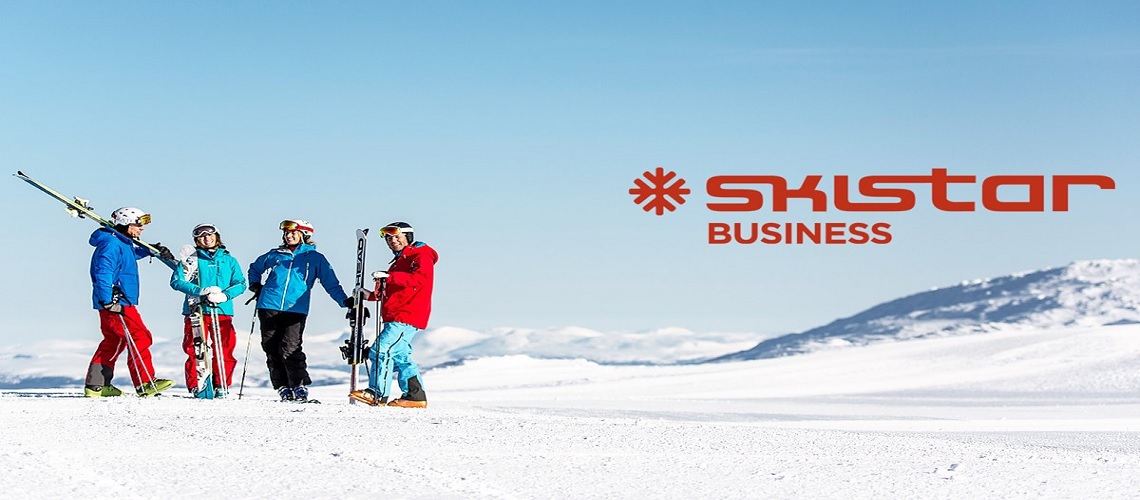 Summer is just around the corner and in Hemsedal SkiStar and the whole destination are ready for another season with lots of visitors and a wide range of activities and events. Here are full details of things to do and tips for making your mountain experience memorable this summer.
Opening 1 July
Lift-accessed biking and activities in the mountains
The Hollvin Express summerlift opens on 1 July. From the top of the lift you can now ride a continuous, 8-kilometre flow trail – one of Scandinavia's longest and most varied. The flow trail is named Silverstone.
There is also a new flow trail for those eager to just stay in the mountain, with a 2.5 km trail round-trip starting from the Fjellcafé.
The Mountain Cart from the top of the Hollvin Express is also a popular activity for young and old alike. Open every day when the lift is running.
Try climbing and rappelling. The adults can also help with safety. The climbingroute difficulties varies and the rappel is down a 25-metre rock face. The climbing area is located in the heart of the Ski Centre right next to the Fjellcafé.
Easy, flexible bike rental
Bikes can be rented in advance at skistar.com in the same way as accommodation and other activities. SkiStar Shop bike rental is open daily from 1 July until 14 August, then from Friday to Sunday until 25 September and daily in week 39 and 40.
In need of supplies or to add some equipment for your biking experience, the SkiStarShop Concept Store is open from Monday to Friday until 30 May and daily from 30 May to 9 October.
A wide range of high quality accomodation for a comfortable stay
SkiStar Hemsedal offers a wide range of accommodation. From cabins and apartments to the popular SkiStar Lodges. Visit skistar.com for details of all the available accommodation.
Høyt & Lavt climbing park
Opens 4 June. Open 10 am - 4.15 pm every weekend until 19 June and 10 am - 4.15 pm daily from 20 June to 7 July. Open 10 am - 6 pm daily from 8 to 31 July. From late summer and autumn: open every weekend and daily during the autumn break until the climbing park closes for the season on 16 October. Weekends until 20 June, except Sunday 12 June. From 20 June to 7 July, all guests can climb daily from 10 am to 4.15 pm. From 8 to 31 July, the climbing park is open from 10 am to 8 pm.
In Trysil the summerlift Fjellekspressen and Magic Moose open on 17 June, the same weekend as the popular Utflukt trail biking festival (16-19 June). The lift capacity is doubled and can carry twice as many bikes this year. Fjellekspressen is open from 10.00 am to 4.00 pm every day from 17 June to 4 August.
From one to three flow trails accessed by the lift
Magic Moose, the popular 7.5-kilometre blue flow trail is joined by two new flow trails this summer, thus there are three times as many flow trails to enjoy. The new flow trails, one red and one blue, also start at the top of Fjellekspressen. These two new trails are due to open during the first part of July.
Full details of biking activities in Trysil this summer
Find out more about mountain biking in Trysil here
Easier, more flexible bike rental
As of this summer, bike rental at Sport Lodgen in Trysil is available at skistar.com and may be rented in advance the same way as accommodation and other activities. Bike rental is also possible on site at both Radisson Blu Mountain Resort & Residences and Radisson Blu Resort this summer.
Hoyt & Lavt climbing park
Opens 21 May; open 10.00 am - 4.15 pm from 27 to 29 May and then every weekend until 20 June, except Sunday 12.
From 20 June to 7 July, all guests can climb daily from 10 am to 4.15 pm. From 8 to 31 July, the climbing park is open from 10 am to 8 pm.
Here is the full list of things to do, along with all the information you need for a memorable mountain experience this summer.
Opening 3 June:
SkiStar's Climbing Park and SkiStar Bike Park Trail in Sälen open on 3 June. The climbing park is open from Friday to Sunday until 24 June and then daily until 14 August, see https://www.skistar.com/en/ski-destinations/salen/summer-in-salen/opening-hours/

The climbing park has two new trails:
- Stjärnfallet, red level
- Fjällfen, green level
- 1 new zip line
Biking:
SkiStar Bike Park Trail – Experiumtorget (Svansjön):
The SkiStar Bike Park Trail area at Experiumtorget, Svansjön continues to expand and two new trails will open in midsummer: Mystery Shopper and Fun Ride. Another large asphalt pump track is also being built and is expected to be ready during summer 2022.
- Fun Ride is a loop approximately 1 km long, with a number of challenging, timber-built technical obstacles suitable for the whole family.
- Mystery Shopper green is a 1.5 km machine-built trail.
- Pump track is a 1200 m2, blue-level track.

SkiStar Bike Park Downhill – lift-accessed biking and lift-accessed hiking:
All our downhill trails have been updated and will be given a good facelift before the summer. Sälenfjällen has also been working on improvements to many of its hiking trails, which can be reached easily on foot or with the lifts open in the summer.

Lifts:
The Experium Express at Experiumtorget will also be open in summer 2022, almost doubling last year's SkiStar lift capacity.
- Gustav Express, 24 June to14 August
- Experium Express 24 June to 14 August and Friday to Sunday 19 August to 25 September
SkiStar camps and guides/courses:
New! SkiStar Olympic Youth Camp with Nils van der Poel and Jesper Tjäder, among others: day camps focussing on sustainable sports for young people aged 11 to 14, 26 to 30 June
- Teen Camp Bike: for children and young people who want to discover cycling in all its forms, three-day camps, week 26-32
- Learn to ride: group lesson for anyone wanting to learn downhill mountain biking
- Private biking guide: also available for anyone wanting a private downhill lesson
- Valle Kids Club: last summer was a success and Valle and his activity leaders can't wait to meet all young adventurers, both old and new, once again in summer 2022. New! This summer, three-year-olds will also get the chance join in with Valle's Kids Club adventures on two- or three-day camps in weeks 26-32.

The SkiStarshop Concept Store is moving to new premises:
This summer, the SkiStarshop Concept Store will move from Sälfjällstorget to completely new premises in the Lindvallen shopping area. The official opening will be held on the midsummer weekend.

Events:
17-19 June Tjejmilen trail race Lindvallen
1-3 July 3+3 orienteering competition Högfjället
2-3 July JÄRV Sälen adventure race Lindvallen
5-6 Aug AIM Challenge Lindvallen
12-14 Aug CykelVasan Sälen mountain bike race Lindvallen
20 Aug UltraVasan ultra run Lindvallen
20 Aug Vasastaffet Sälen-Mora relay race Lindvallen
25-28 Aug Life Enjoyment Weekend Lindvallen
2-3 Sep Sälen Mountain Marathon Lindvallen
15-18 Sep She Rides Autumn Camp Lindvallen
14-16 Oct Mountain fun & training with Kristin Kaspersen Lindvallen
More info: https://www.skistar.com/en/ski-destinations/salen/summer-in-salen/summer-events/

Restaurants:
In addition to Sälenfjällen's summer restaurants, SkiStar is also working with HUSKI, Sia Glass and SCAN to increase the range of meals, coffee & sweet treats on offer at the Svansjön climbing park in Lindvallen.

Accommodation and other information:
Accommodation can be booked at skistar.com; Experium and SkiStar Lodge Experium, Lindvallen will be open; SkiStar Lodge Hundfjället will be closed.
Padel tennis will be available in Lindvallen and Adventure Golf at the SkiStar Lodge Experium.
Scandinavian Mountains Airport
- BRA plans to operate 12 flights from Ängelholm to Sälen on Wednesdays and Saturdays between 6 and 26 July. Read more on BRA's website: https://press.flygbra.se/posts/pressreleases/bra-lancer-summer-line-till-salen-fran-ange
All information about summer at SkiStar Sälen can be found here:
https://www.skistar.com/en/ski-destinations/salen/summer-in-salen/
After a fantastic winter with plenty of snow, they're now working especially hard on clearing the bike trails in Åre Bike Park so that they're ready when they open on 3 June.
Active holidays are increasingly popular and biking is a natural part of that, so Åre Bike Park will be open right up until 2 October. This year there will be new attractions for guests, including a renovated and improved green trail, Serpentinen, which starts at the top of the VM6 lift. A new blue trail, Vinkelvolten, and a new red trail, Flemming Fartland have also been created as part of the renovation. The new trails will provide a smoother biking experience, no matter what your level. During the peak of our season, in weeks 29 to 31, the lifts will be open for longer every day. Opening hours during this period are 10 am to 5 pm. You can find lift opening hours, bike maps etc. here
New trails are also being developed at Åre Bike Park in Björnen. An uphill trail, Stångången, has been built next to last year's hit, Graniten. The new trail is 1.2 km long and allows mountain bikers to ride loops of Graniten and Stånggången, without going into Björnen.
Besides Åre Bike Park in Björnen, guests can also enjoy last year's popular new attraction, SkiStar's Climbing Park & Zipline. A brand new starting area with three blue climbing trails is currently being built here. These new trails will complement the existing trails as they are slightly lower.
There will be a brand new camp for teenagers this summer: SkiStar Teen Camp Bike Downhill. Teen Camp Bike DH is aimed at anyone who is keen to try downhill mountain biking or develop their skills. As before, SkiStar Teen Camp Bike, learn to ride will also offer group lessons for anyone who'd like to try downhill biking and private biking guides will be available for those wanting a private lesson in downhill biking.
There are also new developments for hikers on Åreskutan this summer. A brand new viewing point is being built at the cabin up at the mountain station, with accessible paths to make it easier for disabled people to enjoy the view from the mountain.
Besides longer opening hours at Åre Bike Park, all events will be back again properly after the pandemic. The season's events will kick off even before the lifts open on 3 June, with Workout Åre, from 27 to 29 May, which will be held at the Copperhill Mountain Lodge this year. You'll find listings for all this summer's events in Åre here.
Another major new attraction in Åre village is the 210-metre asphalt pump track,which guests were given a sneak preview of last autumn and which will be ready to use right from the start of the season. The pump track is located at the Alpine National Arena. The Pump Track World Championships will be held at the track during the Åre Bike Festival from 6 to10 July.
The marina west of the Holiday Club is also getting a facelift for the summer and now has a new skate park, also previewed last autumn, next to it. Also new this season:
- Kayak machine: open for kayak rental 24/7 from 23 June.
- Summer Camp: 4 July to 7 August, activities and clinics for adventure-seeking young people and families.
After biking, running, walking or other adventures, just strolling around the village is an activity in itself. With its restaurants, shops and bars, Åre is always open and well worth a visit.
Share This Article