Ski Area St. Vigil To Be Italy's Pioneer For Eco-Fuels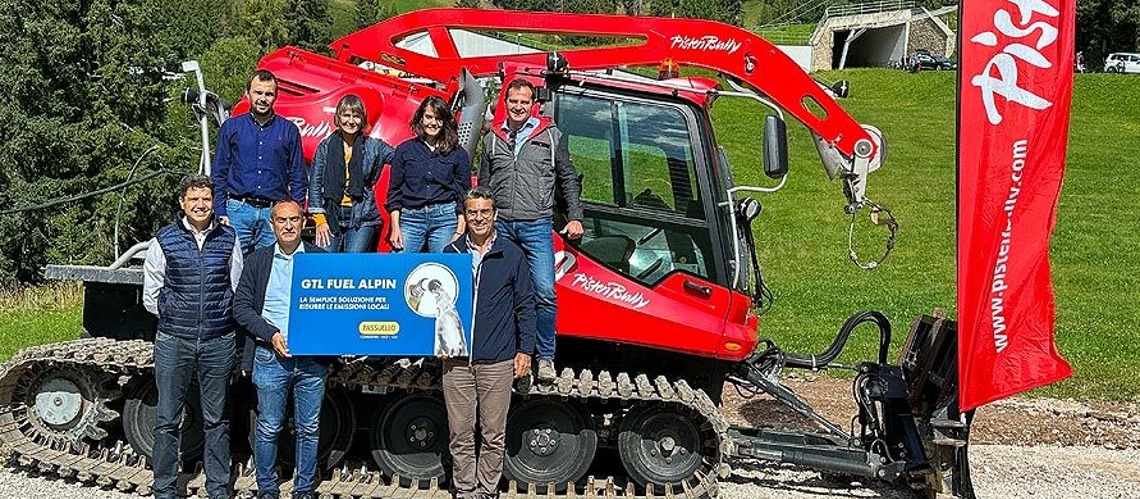 The Kronplatz ski area is a breathtaking winter and summer destination between the picturesque Pustertal and the dolomitic Ennebergertal in South Tyrol and is part of the world's leading ski pass network Dolomiti Superski. Surrounded by majestic peaks and an enchanting alpine landscape, Kronplatz offers a unique combination of world-class skiing, family-friendly hikes and traditional charm. To ensure that Kronplatz can continue to meet the expectations of locals, tourists and, above all, the needs of nature, the St. Vigil in Enneberg AG cable cars have decided to switch to a cleaner fuel. In the future, their vehicle fleet will use GTL (Gas-to-Liquid) Fuel Alpin instead of diesel.
"The introduction of GTL Fuel Alpin is an important step towards a sustainable future. Environmentally conscious and sustainable action has been our main goal for many years. We have been ISO 14001 certified since 2009. For this reason, we are proud to be able to offer a solution , which improves air quality and at the same time ensures the performance and reliability of the vehicles," says Georg Mutschlechner, President of the St. Vigil in Enneberg AG cable cars.
Information about the St. Vigil cable cars in Enneberg AG
The St. Vigil in Enneberg AG cable cars, together with 10 other companies, belong to the Kronplatz ski area and are therefore a member of Dolomiti Superski, the largest ski association in the world. Every year around 390,000 visitors are transported to Kronplatz and Piz de Plaies on the 9 cable cars of the St. Vigil in Enneberg AG cable cars. But it's not just the cable cars that impress guests; perfectly groomed slopes also delight all ski fans. The variety of slopes offers a wide choice for beginners, occasional skiers and experts. In order to offer visitors the best possible quality of slopes every day, a large number of snow groomers, construction machines, excavators, etc. are required. The St. Vigil in Enneberg AG cable cars have a total of 11 snow groomers (and 1 spare caterpillar), which are used in the evenings in winter and optimally maintain the slopes for the next day. The majority of the fleet is powered by diesel, with the well-known effects.
Choosing a cleaner fuel
The vision of the St. Vigil in Enneberg AG cable cars is primarily to promote the relaxation and well-being of guests and the protection of nature. In order to combine both values ​​in a gentle and sustainable way in the future, a solution was found to replace the diesel fuel previously used. Cleaner and more sustainable mobility in just one step: GTL Fuel Alpin fuel makes significant progress in reducing emissions and air pollution.
"As president of the Skirama Kronplatz consortium, I am very pleased with the positive initiative of the St. Vigil in Enneberg AG cable cars, which is using the new GTL Fuel Alpin fuel for its fleet. The use of this innovative fuel undoubtedly represents significant added value for the whole Kronplatz ski area. Our priority is to offer our guests unique experiences in harmony with nature," emphasizes Zeno Kastlunger, President of the Skirama Kronplatz consortium. "The use of this alternative fuel by the St. Vigil in Enneberg AG cable cars shows that a clean and responsible energy solution can be the basis for a more sustainable future."
With Passuello GmbH to reduce environmental impact
"At Passuello GmbH, together with our customers and partners, we are committed to reducing the environmental impact of fuels. Our mission is to offer increasingly environmentally friendly products that at the same time ensure the efficiency and performance of fleets. We are experiencing a transition phase and are waiting for the < Fuel of the future>, which does not yet exist. Therefore, we immediately accepted the request of the St. Vigil in Enneberg AG cable cars to import GTL Fuel Alpin to Italy, as this fuel reduces local emissions, is odorless and light in case of spills is biodegradable," says Anna Passuello, managing director of Passuello GmbH, which has been supplying fuel for road transport and heating in South Tyrol and the province of Belluno for over fifty years.
Features of GTL Fuel Alpin
GTL Fuel Alpin is an alternative fuel made from natural gas that burns cleaner than conventional diesel. Using GTL Fuel Alpin instead of diesel offers several advantages:
Reducing pollutant emissions, including nitrogen oxide (NOx), particulate matter (PM), carbon monoxide (CO) and unburned hydrocarbons (HC);
Suitable for use in mountain areas even in very cold temperatures with a cold filter plugging point (CFPP) of maximum -30°C;
No additional investment required: GTL Fuel Alpin is a drop-in fuel that can be used in existing diesel engines without modifications, new infrastructure or vehicle investments;
Easy to handle: GTL Fuel Alpin is classified as non-toxic, odorless, easily biodegradable and low risk as it is a paraffin fuel;
Lower noise combustion in some engines, resulting in more even combustion;
Better ignition performance due to a higher cetane number (between 74 and 80).
Advantages of GTL Fuel Alpin
The benefits of GTL Fuel Alpin not only affect air quality, but also vehicle performance. Due to its optimized combustion properties, the fuel helps extend engine life and increase fuel efficiency. These positive effects not only contribute to reducing emissions, but also to reducing fleet operating costs. "Reducing local emissions is a top priority for us and our partners," says Anna Passuello. "We are proud to be the first in Italy to be able to supply GTL Fuel Alpine fuel. The path we have taken together with the St. Vigil in Enneberg AG cable cars is just the beginning of a journey towards environmental protection we without empty promises,
Kässbohrer also promotes the development of alternative drives: open to new technologies
For over 50 years, PistenBully has stood for groundbreaking technologies with the aim of offering ski resorts the best slopes for customers and tourists. "You can rely on the quality of the snow groomers manufactured in Laupheim/Ulm (D), as well as the fact that sustainability and resource conservation have top priority," emphasizes Florian Profanter, Managing Director of Kässbohrer Italia Srl.
Into the future together - with the PistenBully
Examples of vehicle concepts: Back in 2012, Kässbohrer brought the world's first diesel-electric snow groomer onto the market, which was delivered in 2014 as the first hybrid model in Italy to the St. Vigil cable cars in Enneberg AG. Thanks to the use of low-emission fuels such as GTL Fuel Alpin, local emissions can be drastically reduced with every PistenBully. No engine adjustment is required. GTL Fuel Alpin can be mixed with commercial diesel or used 100%. Further solutions for the sustainable management of the slopes of the future are planned in a targeted and technology-neutral manner.
Environmentally friendly slope management in one system
In order to be successful in the future, long-term strategies and holistic concepts are required. Kässbohrer has long been the leading provider of comprehensive services for sustainable slope management, helping its customers work more efficiently and conserve resources like never before - with intelligently coordinated vehicles, technologies, training, tools and services.
Clean and fun skiing for operators and winter sports fans
"One thing is certain," says Florian Profanter, "the demand for sustainable concepts in the mountains is becoming ever stronger. Acting in this way not only protects the environment, but also ensures satisfied guests and therefore high profitability. That's why we're interested for clean, production-ready units. Kässbohrer is and remains the right partner for efficient slope preparation and environmentally conscious skiing enjoyment in the future."
Share This Article