Silvaplana Ready For FIS Freeski & Snowboard World Cup Finals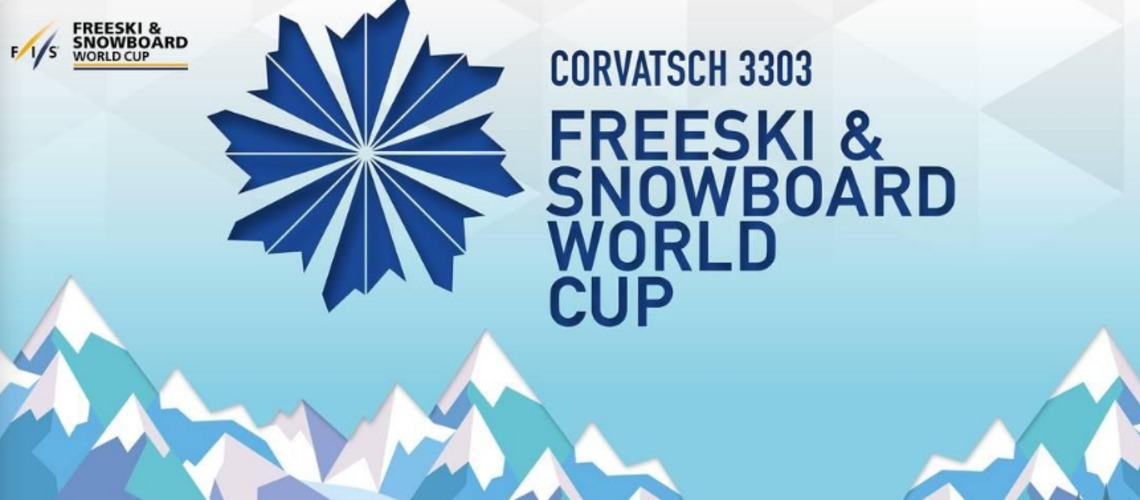 The world's best freeskiers and snowboarders are on their way to Silvaplana in Switzerland to join the last Slopestyle World Cup of the season. It's the 8th edition of the Freeski World Cup (March 26th – 27th) at Corvatsch park while it's the premiere for the Snowboard World Cup (March 27th – 28th). The short-notice addition of Snowboarding which was originally planned in Czech Republic was a no-brainer for Corvatsch AG, as they just handed in the application for the Ski-Freestyle and Snowboard World Championships 2025. This week it's all about important event titles, a prizemoney of CHF 100.000 in total (CHF 50.000 for each sport) and last but definitely not least the small crystal globes for the final Slopestyle World Cup standings 2020/21, a pre-Olympic season.
The Slopestyle course built by Kobi Würsch and his park-crew in the Corvatsch Park (2.702 meters above sea level) is ready to get hit by the crème de la crème of freestyle riders spiced with Olympic Champions and newly crowned World Champions. The course promises some great action kicking off with a rail section with various options followed by a quarterpipe and another rail feature, before it goes into the kicker-line with three big jumps finishing with a transition feature or rail option.
Freeski

– Freeskiers are very familiar with Silvaplana, as they return here regularly since almost a decade. As last event before the upcoming Olympic season all eyes are on Tess Ledeux (FRA) and Colby Stevenson (USA) who both currently lead the Slopestyle World Cup standings after winning the World Cup in Aspen last weekend. Eileen Gu (CHN), who has just been crowned as the 2021 World Champion in both Slopestyle and Halfpipe will be in attendance too. Mathilde Gremaud (SUI), freshly decorated with a Silver medal in Slopestyle at the World Championships, as well as Megan Oldham, third on the women's podium last week and title defender here in Corvatsch, will try to impress judges. Colby Stevenson travels to Switzerland with lots of self-confidence not only from the World Cup victory but also a Vice-World Champion title. Swiss Andri Ragettli, who is the new 2021 Slopestyle World Champion, unfortunately got hurt just a few days later competing at the Big Air. So Andri is not able to defend his Corvatsch title from 2019. Will Kim Gubser be able to uphold the honour of the host nation?




Snowboard

– Most snowboarders know Corvatsch Park from the annual Progression Days in autumn. The contest this week is a first and riders are grateful to end their winter season here. Among the top riders travelling straight from the US are Olympic Champion Anna Gasser (AUT) who just claimed a Slopestyle victory at the World Cup last weekend. Marcus Kleveland from Norway who had a very successful last few days becoming the 2021 Slopestyle World Champion, earning a Bronze Medal at the Big Air and on top winning the Slopestyle World Cup in the US, is probably the rider with the biggest smile and confidence arriving in Silvaplana. Marcus stated: "

I was in Silvaplana in December actually. I'm sure that they'll get a good course for us to ride. All my skiing friends from the national team had been there, it looks amazing."

It's also both Anna and Marcus who are sitting atop the Slopestyle and the Park & Pipe overall standings of this seasons FIS Snowboard World Cup tour, but their competitors will not make it easy for them and the excitement level is hight for the third and final Slopestyle World Cup of the season. Watch out for the strong Swiss team with Engadine-local Nicolas Huber, Moritz Boll and Moritz Thönen. Strong riding is also expected from the young German riders who had an impressive season led by Leon Vockensperger and Annika Morgan.
Share This Article