Seefeld Wraps Up Successful FIS Nordic Ski World Championships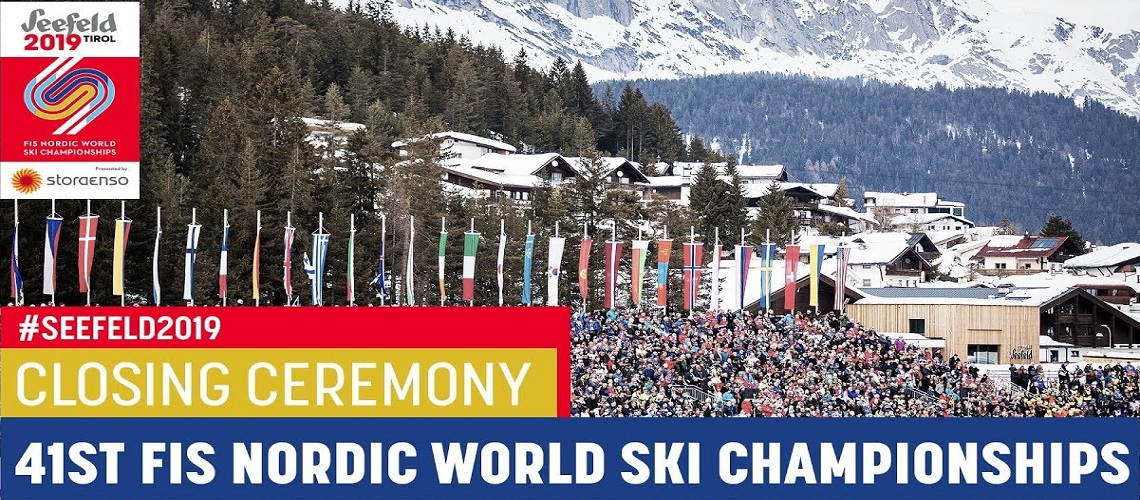 The FIS Nordic World Ski Championships 2019 in Seefeld (AUT) concluded on Sunday, 3rd March after a very successful 12 days of Cross Country, Ski Jumping and Nordic Combined action.
Altogether, 12 different nations won medals, with Norway dominating the medals table taking an impressive 25 total medals, of which 13 were gold. The Norwegians were strong particularly in Cross-Country Skiing, taking home 18 of their medals in the discipline, including earning every gold medal in the men's competitions. Germany and host Austria also both had strong success, particularly in Ski Jumping and Nordic Combined making it onto the podium with nine medals each.
In Cross Country, the top athletes individually were Therese Johaug (NOR) with three gold medals and one silver and her teammate Johannes Hoesflot Klaebo, with three gold medals Ingvild Flugstad Oestberg (NOR) also earned four medals with three silvers and one bronze, while Martin Johnsrud Sundby and Sjur Roethe each earned two gold medals and one bronze. Alexander Bolshunov also had a solid showing earning three silver medals for Russia, while Swede Frida Karlsson earned a medal of each colour with her teammate Stina Nilsson taking home two golds and one silver.
In Ski Jumping, Austria and Germany were the top teams as the two nations earned 11 of the 18 total medals up for grabs. Additionally, it was a historic event for the ladies' ski jumpers as Seefeld 2019 marked the debut of the ladies' Team Event, which was won by the Germans ahead of Austria and Norway in a closely contested competition.
Germany also enjoyed a comeback in Nordic Combined as Eric Frenzel returned to his winning ways with two gold medals in both the Individual Gundersen large hill and the Team Sprint large hill. The Norwegians were also strong in Nordic Combined, earning four medals.
Thursday, 28th February brought the most visitors to Seefeld with a nearly 30,000 spectators packing the stadium to cheer on the Cross Country ladies and Nordic Combined athletes, closely followed by the final weekend which also saw massive crowds. In total, the Seefeld Organising Committee exceeded their ticket sales goal with more than 200,000 total tickets sold and thousands of fans attending side events throughout the town, including the medal plaza.
FIS President Gian Franco Kasper said, "Seefeld 2019 presented the world with an excellent World Championships. From the Nordic Mile, which provided fans with a fully entertaining experience, to the well-prepared courses and jumping hills for the teams and athletes, to the professional media facilities and services, Seefeld 2019 left no stone unturned to deliver a memorable World Championships for everyone involved."
Seefeld 2019 President Peter Schröcksnadel said "We had a great World Championship with many exciting competitions. We are very satisfied with the execution of 22 medal decisions. Besides the wonderful weather we can remember beautiful TV pictures, a lot of cheering spectators and a peaceful and friendly atmosphere. Despite one negative incident, it was a wonderful advertisement for winter sports. I would like to thank all volunteers and helpers for their work which contributed to the success of these Championships. Our motto was: 'hand in hand – let's celebrate a Nordic Ski Festival' and we succeeded."
Seefeld Mayor Werner Friesser added, "Here in Seefeld, we celebrated a wonderful sports festival with lots of enthusiasm for Nordic ski sport. Everything went exactly as we planned: the execution of all events, the collective interest of the cheering crowd up to the sustainable mobility concept. The beautiful weather was just the icing on the cake. The FIS Nordic Ski World Championships in Seefeld set many new priorities which will remain here long after the Championships are over."
The Austrian weather cooperated very well during the two weeks with mild temperatures for the spectators and minimal wind for Ski Jumping. Sunny skies highlighted most of the competition days, creating a festive atmosphere throughout the town and down in Innsbruck at the Bergisel Jumping Hill.
Away from the competitions, there was plenty to do as well. From the Nordic mile, which was lined with stands offering information, entertainment, activities and refreshments providing visitors with a festive experience as they made their way on the short walk to and from the newly renovated train and bus stations in the town centre to the venue, to the Medals Plaza located halfway along the Nordic Mile, making it easy for everyone to enjoy the full Seefeld 2019 experience. It was also an environmentally friendly World Championships as presenting sponsor Stora Enso implemented a series of initiatives to enhance the already strong commitment in Seefeld to the environment.
The FIS Nordic World Ski Championships 2021 will be held in Oberstdorf (GER).
Share This Article