Red Bull Raid Returns To Squaw Valley In 2020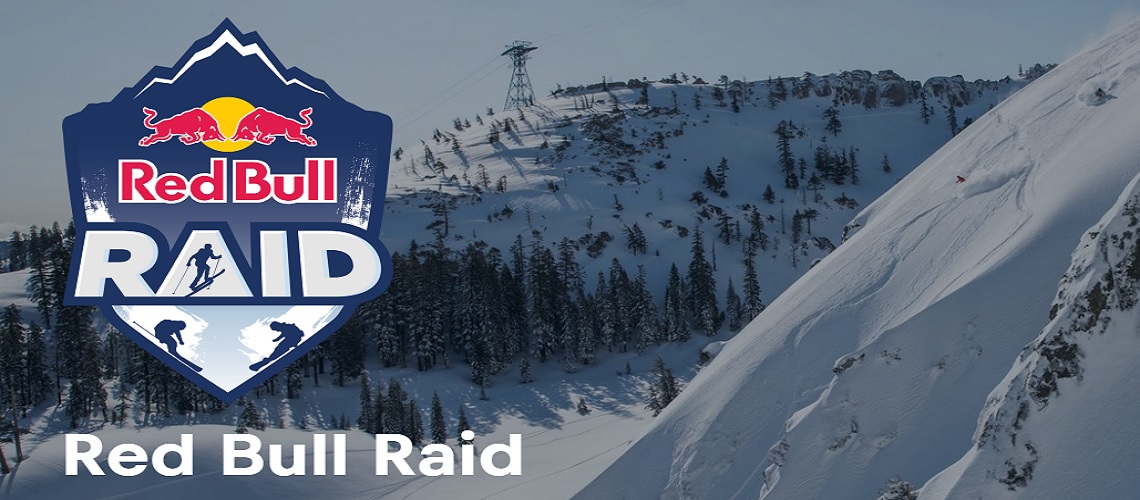 Red Bull Raid, the only freeride event in the United States that blends the endurance aspect of competitive uphill ski mountaineering with the technical, progressive style of big-mountain riding, will return to Squaw Valley April 3-4, featuring a newly introduced weather window over the two days to optimize conditions and travel needs for athletes. With 75 of the finest backcountry enthusiasts and all-mountain athletes from across the country convening at iconic Squaw Valley to compete for the crown, the event looks to again push progression at the intersection of man-powered ski travel and big-mountain freeriding.
After a sterling first year that reimagined the core concept of a big-mountain event, Raid is coming back bigger and better in 2020, expanding its competitor field from 60 to 75 and increasing the event window to two days. The longer event window will help better the chance of perfect conditions for a field that includes icons such as Red Bull athlete JT Holmes–as well as a slew of local and visiting rippers–to properly showcase their abilities.
Each of the two heats in the event will consist of two portions: A timed uphill race and a technically judged big-mountain freeriding contest. Each heat can be awarded a maximum of 200 points–100 for the timed uphill race and 100 for the downhill portion of the event.
The 100 points for the uphill section of each heat will be awarded based on who is able to most quickly navigate a Le Mans-style mass sprint start, transition into their touring gear, skin up the face of the competition zone, and transition to being ready for the downhill–that means skins put away, splitboards assembled, and bindings no longer in walk mode. The fastest finisher will be awarded 100 points, with each subsequent finisher given one pointless. The 100 points for the downhill section of each heat will be awarded by a panel of three judges based on the difficulty of the line each participant rides, and the control and style with which they ride it.
After the first heat, there will be a cut to the competition field and the remaining contestants will repeat the same process until first through third place winners are announced in four categories–men's and women's ski and men's and women's splitboard. Winners will take home cash prizes as well as new skis and splitboards and the entire event will finish with an awards ceremony and a good old-fashioned après celebration on the KT Base Bar.
Participant registration opens shortly, so stay tuned redbull.com/us-en/events/red-bull-raid-2020 . Registration is first come, first served and participants must be 18 and over on the event day.
Schedule:
Two-day weather window of April 3rd through April 4th. Event day will be called no later than Monday, March 30th at 3:00 pm
Thursday, April 2
9:00AM – 4:30 PM Athlete Registration
9:00 AM – 3:00 PM Athlete Course Inspection
5:00 PM – 5:30 PM Mandatory Athlete Meeting (if contest day is called for Friday)
Friday, April 3
9:00 AM – 3:00 PM Athlete Inspection Day or Possible Event Day (refer to Saturday schedule for contest schedule if it runs Friday)
5:00 PM – 5:30 PM Mandatory Athlete Meeting
Saturday, April 4
7:30 AM Tram load with athletes
8:00 AM start of heat one ascent
8:30 AM start of first heat descent run
11:00 AM start of second heat descent run
12:30 PM finish of heat runs
1:00 PM start of finals ascent
1:30 PM start of finals
3:00 PM finish of finals
4:00 PM – 4:30 PM Awards and After Party on KT Deck
Rules:
All participants must register online. No on-site registration. Helmet and touring gear required. You must be 16 years or older on or before the event day to participate. No Exceptions. All participants must show a valid ID upon on-site check-in. All participants must stay within the bounds of the competition venue. Athlete bibs must be visible at all times during the competition. Bring the big sticks, leave the lycra at home!
Share This Article