Peak Resorts Reports Record Season Pass Sales, Staff Changes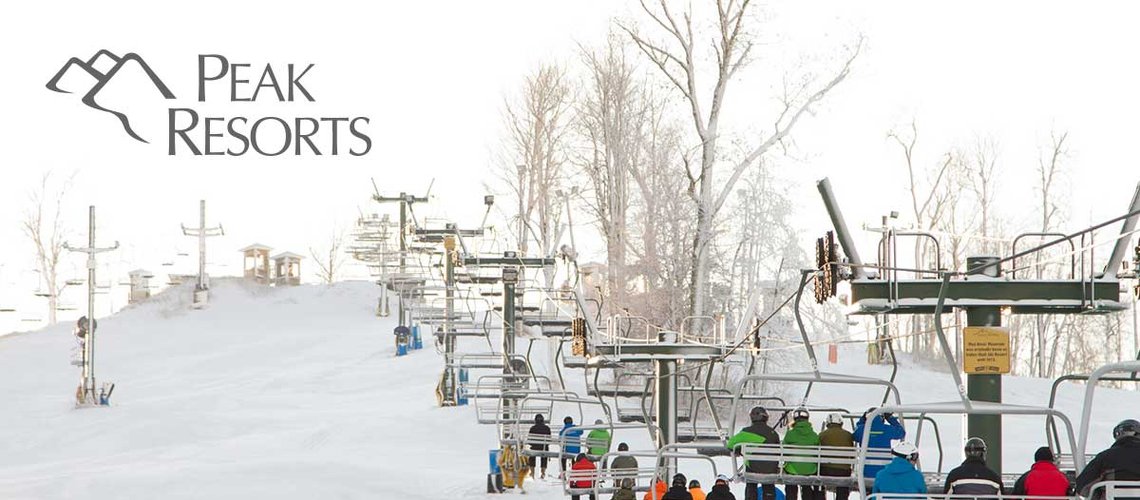 Peak Resorts, Inc. has reported record season pass sales for the 2018/2019 ski season through December 17, 2018. Company-wide season pass sales – including season pass sales to customers of the newly acquired Snow Time properties for the 2018/2019 ski season – are up by approximately 36% on a unit basis and by approximately 38% on a revenue basis, compared with the prior year. In addition, 34% of Snow Time season pass holders upgraded to a Peak Pass.
Peak Pass sales are up by approximately 18% on a unit basis and by approximately 20% on a revenue basis, compared with the prior year. Sales of the Drifter Pass, Peak Resorts' unlimited season pass option for 18 to 29-year-olds, are up 27% on both a revenue and unit basis over the prior year.
Timothy D. Boyd, President and Chief Executive Officer, commented, "The 2018/2019 ski season is off to a great start, as we set new records company-wide on sales of our season passes. This momentum is driven by the great guest experiences we are offering at our mountains, with superb conditions, world-class facilities, and increasingly varied dining and retail offerings. Overall, sales of our Peak Pass have now far exceeded our results from last year. In addition, strong continued growth in sales of our Drifter Pass clearly demonstrates that our most price sensitive guests value the experiences and access made possible by our multi-mountain pass offerings and the proximity of our resorts."
Now in its third winter season, the Peak Pass features a total of five pass options valid at 10 mountain locations across four Northeast and Mid-Atlantic states: Mount Snow in Vermont; Attitash, Wildcat and Crotched Mountain in New Hampshire; Hunter Mountain in New York; and Jack Frost, Big Boulder, Liberty Mountain, Whitetail Resort and Roundtop Mountain in Pennsylvania.
"We are delighted to continue to provide market-leading season pass offerings at our Northeast and Mid-Atlantic resorts and believe that our continued investments in snowmaking and in improving the on-mountain experience have created an even more compelling reason for our guests to come visit," added Boyd. "From Mount Snow to Liberty Mountain, and from Hunter to Wildcat Mountain, Peak Resorts' properties have become the leading range of day and overnight drive-to destinations for skiers and riders across the Northeast and Mid-Atlantic. Our guests appreciate the individual character of each of our mountains, the care we take to offer the most consistent skiing and riding conditions, and the unrivaled customer service and experiences which keep them coming back to our mountains time and time again. We are excited by the potential for the 2018/2019 ski season and beyond and look forward to what the future has in store."
Peak Resorts has also created several new key roles and appointed new personnel at the corporate and managerial levels to better facilitate operations at its growing portfoli of resorts in the eastern United States.

Jason Boyd has been appointed senior vice president of operations, mid-Atlantic, overseeing Peak's five Pennsylvania properties. Josh Boyd has taken on the same title in the Midwest, overseeing the company's seven ski areas in Ohio, Missouri, and Indiana.
Peak also tapped Scott Romberger to be the VP of finance for the Mid-Atlantic region, another new position. Romberger is the former president and CFO of Snow Time, Inc. He now reports directly to Peak Resorts CFO Chris Bub.
Eric Flynn has been appointed to the newly created role of vice president and general manager of Liberty Mountain, Whitetail, and Roundtop in Pennsylvania. Flynn was previously the GM of Liberty Mountain.
In the Midwest, Joshua Faber is the new vice president and general manager of Mad River Mountain, Ohio. Jake Campbell has been named VP and GM for Boston Mills, Brandywine, and Alpine Valley, all also in Ohio.
In the Northeast, Jason Perlmutter has been promoted to the position of vice president and general manager of Crotched Mountain, N.H. He was formerly the director of lifts, safety, and compliance at Mount Snow, Vt., Peak's flagship property.
Mount Snow was the site of several shakeups. Thad Quimby, senior director of marketing and events at Mount Snow, will assume the newly created role of senior director of CRM & digital strategy for all 17 Peak Resorts properties. Jamie Storrs, Mount Snow communications manager, will move into the new role of senior director of communications for Peak Resorts.
And after serving as the events manager at Mount Snow for nearly 10 years, Tim Dolan has been promoted to director of marketing and events for the resort. Kelsey King has been elevated to the new role of interactive marketing manager.
Share This Article