onX Backcountry Maps Bluebird Backcountry Resort As Exclusive Navigation Partner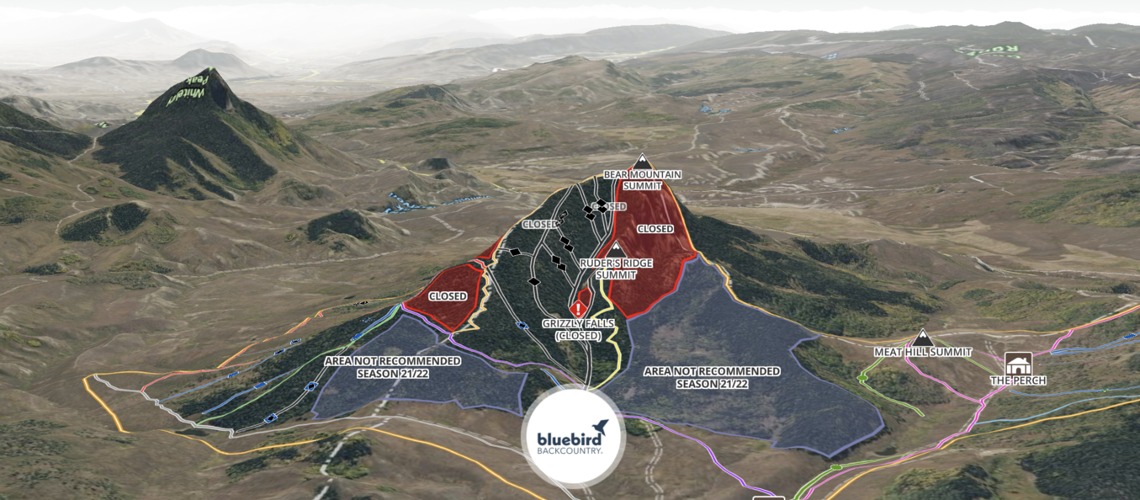 onX Backcountry, a navigation and discovery app for outdoor enthusiasts, has partnered with Bluebird Backcountry to digitally map the resort's in-bounds backcountry ski area. Bluebird Backcountry's trails and terrain are now available in Snow Mode for all onX Backcountry users. The backcountry resort's personnel, including ski patrol, educators,and avalanche management, will also exclusively utilize onX Backcountry to make decisions on wayfinding, route planning and more, while also providing professional feedback and content for all app users.
onX Backcountry empowers trailblazers and powder seekers of all levels to find new outdoor experiences and relive old favorites. Unlike other apps on the market, onX Backcountry combines industry-leading GPS tools with expert-curated adventure content. Members can enjoy access to 770K+ trails and nearly 30,000 guide-book adventures for an annual cost of $29.99. Because off-the-beaten-path experiences are at the heart of what onX does, the company also leads initiatives to protect and expand access to public land and promote stewardship opportunities. For more information about onX Backcountry, visit onxmaps.com/backcountry.
"Learning to navigate backcountry terrain is critically important, so partnering with a resort whose mission is to create a backcountry environment where it's safer to recreate and learn all the best skills - without all the risks - was a no-brainer," said Joe Risi, Senior Marketing Manager at onX Backcountry. "Novice and advanced skiers alike can practice using the app both before and during their snow-packed adventures at the resort, and become pros in backcountry navigation."
onX Backcountry's Snow Mode gives backcountry skiers and snowboarders the ability to route plan prior to heading outdoors, as well as navigate terrain offline and make game-time decisions onsite. Users can view the Bluebird Backcountry landscape in a variety of ways including the app's 3D view, satellite imagery, topographic maps, and beyond. They can also customize routes by dropping waypoints for further exploration, and share plans with friends for an epic day on the mountain. Other features like Slope Aspect, releasing late January, and SNOTEL data can help users navigate intelligently and find the deepest powder.
"Safety while recreating in the snow is the backbone of our business and teaming up with onX Backcountry will further reinforce our promise to provide a fun and educational space for our visitors," said Erik Lambert, co-founder of Bluebird Backcountry. "Our guides, patrollers and instructors enjoy using the navigation system, and our students have benefitted from it. By teaming our knowledge and expertise of the area with the navigational system of onX Backcountry, users of Bluebird Backcountry and the professionals running it can minimize risk and just enjoy some skiing!"
Bluebird Backcountry (Kremmling, Colo.) is an in-bounds backcountry ski area designed for learning and backcountry exploration in a low-risk, patrolled environment. Bluebird offers 1,200+ acres of avalanche-managed backcountry ski terrain, creating a space for snow enthusiasts of all ages to try, learn, practice, and hone their backcountry skills. In addition to day and season passes, Bluebird Backcountry offers a lesson progression of avalanche education, as well as specialized clinics, mentorship opportunities, and the entire AIARE curriculum. Unlike most ski areas, they host camping in the parking lot, allow dogs on the slopes, and serve free bacon mid-mountain. Terrain ranges from low-angle green and blue runs to extreme gullies.
Bluebird Backcountry is now open for the season. All Bluebird Backcountry skiers from this season and all past seasons willreceive a one-month free access trial to onX Backcountry's PremiumMembership. AIARE avalanche participants of Bluebird Backcountry will also have the option to receive a one-year Premium Membership. For more information visitonxmaps.com/backcountry andhttps://bluebirdbackcountry.com/bear-mountain/
Share This Article