Olympian Nolan Kasper Wins White Mountain Dual Challenge At Waterville Valley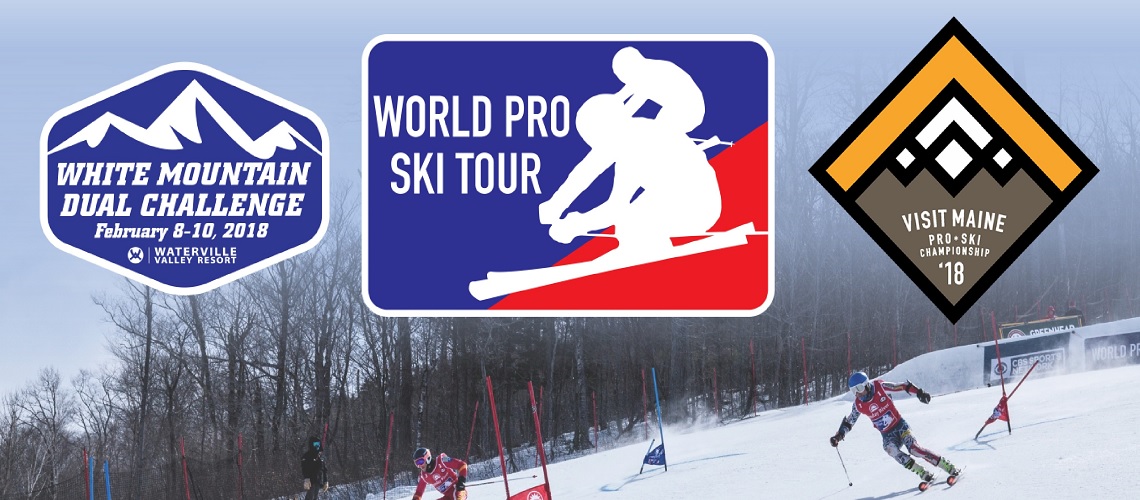 Nolan Kasper, age 28, of Warren, Vermont, won today's race on the World Pro Ski Tour at Waterville Valley, New Hampshire, before he heads to South Korea for the Olympic Games to compete in the slalom competition on February 22. He edged out Canadian skier Morgan Megarry, 24, of Collingwood, Ontario, for the win in the final round. Third and fourth place went to Michael Ankeny, age 27, of Wayzata, Minnesota, and Robby Kelley, age 27 of Starksboro, Vermont.
"It was great to see such a big crowd of enthusiastic supporters today at Waterville Valley for this event. Like all the racers here today, I am thrilled to see that the World Pro Ski Tour has come back after being dormant for so long," said Kasper.
Competing in his first World Pro Ski Tour event Kasper was favorite going into the finals. After qualifying he said "I had a great time on the hill today and I am looking forward to figuring the course out more tomorrow. The dual slalom format is unique and I'm glad that I am in good position for the finals."
Dubbed the White Mountain Dual Challenge, the race was the first stop of the World Pro Ski Tour featuring 32 ski racers from around the U.S., Canada, Finland, Sweden, and France. Next stop for the tour is Aspen, Colorado, March 9 and 10, followed by the final race of the series at Sunday River, Maine, March 30 and 31.
The races will air on CBS Sports Network on April 1 at 1 p.m. for Waterville Valley; April 8 at 2:30 p.m. for Aspen, and April 15 for the Sunday River event.
White Mountain Dual Challenge, February 8 - 10, 2018, first stop of World Pro Ski Tour :
Nolan Kasper, Warren, Vermont, age 28

Morgan Megarry, Collingwood, Ontario, Canada, age 24

Michael Ankeny, Wayzata, Minnesota, age 27

Robby Kelley, Starksboro, Vermont, age 27
In qualifying Michael Ankeny from Wayzata, Minnesota, a member of Team Slalom Tokyo Drift, was top.
"I had experience from the World Pro Ski Tour last year that I drew on today," said Ankeny. "Some of the other competitors were overestimating the jumps, but I knew that I could stay aggressive and take a tight line. I have been in Europe for a month or so, and it was great to get back to the U.S. and ski fast against a great group of guys on the first day of the tour today."
The World Pro Ski Tour event featured top American, Canadian, and European competitors on Tommy's World Cup Run at Waterville Valley. The dual slalom course challenged the racers and the two five-foot tall jumps took some competitors out of the course.
The top New Hampshire qualifier was Michael Boardman of Pelham, a Colby College graduate in 2017. Boardman has traditionally been a giant slalom specialist but the dual slalom format of the World Pro Ski Tour suited his style. "I loved my first experience on the World Pro Ski Tour because the athletes are incredibly fast, and the atmosphere is so much fun. The format is a bit of a hybrid between slalom and giant slalom, which was good for my skill set. I was surprised at how fast I was, and I hope I can keep it going tomorrow."
Share This Article