OIA Conference & AGM. Early Bird Deadline This Friday. Speakers Annpounced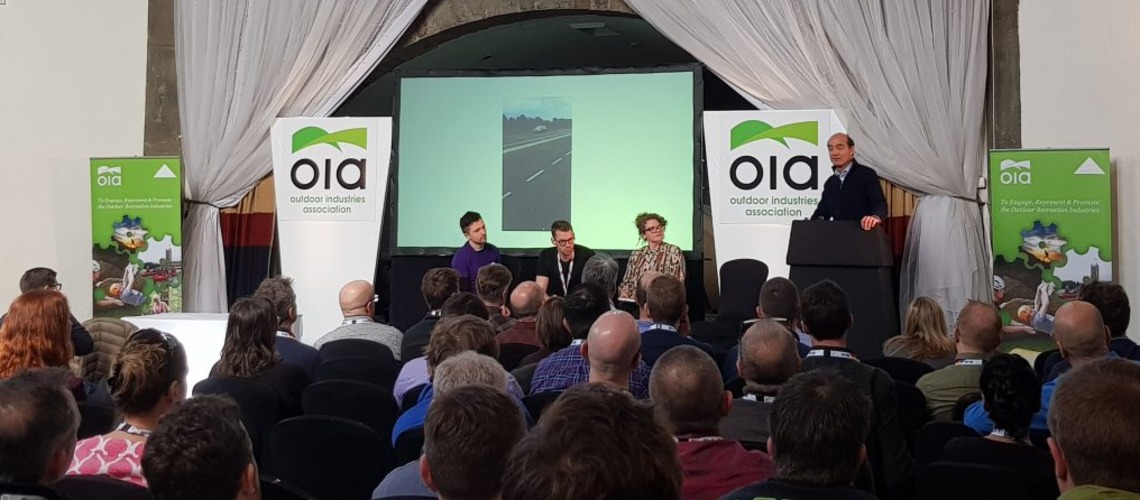 The OIA's annual Conference & AGM is a key event in the outdoor industry calendar and a great opportunity to network with industry colleagues. Whether you are from the retail or distribution sector, manufacturing, an education or activity provider, or from the charitable and non-profit sector this is an event you cannot afford to miss!
During the two day event you will gain insights from influential keynote speakers into key areas that influence the entire industry while having the opportunity to meet like minded delegates from a variety of organisations associated with the outdoor market. You'll also get the chance to participate in a series of outdoor activities of your choice. Cycling This year's event will take place on the 7th and 8th September 2022 at the Crowne Plaza Royal Victoria Hotel, Sheffield.
A historic hotel in Sheffield city centre with 105 newly refurbished bedrooms, an elegant restaurant, gym and conference centre. In it's own grounds the hotel has 250 car parking spaces on-site. Sheffield's shops, theatres, museums and Ponds Forge water sports complex are within walking distance of the hotel.
Delegate places for the OIA's 2022 Conference & AGM have been selling fast and the OIA is advising that any potential delegates to book as soon as possible to avoid disappointment. Take advantage of the EARLY BIRD booking price which ends Friday 15th July! Book here
KEYNOTE SPEAKERS
Lisa Yamai LISA YAMAI CEO, Snow Peak
ABOUT LISA Snow Peak's journey began in 1958, when founder Yukio Yamai (Lisa's Grandfather), an accomplished mountaineer, created his own line of superior climbing gear out of the discontent for the current gear on the market. Since that time, Snow Peak have pushed the boundaries and explored what it means to be an outdoor lifestyle creator. In 2014, Lisa Yamai, joined Snow Peak to lead the design and development of our first ever apparel line with the outlook on creating functional and stylish clothing which intersects both urban use and outdoor life.
SUZANNE SHAW – "MUSIC TO MARATHONS"
ABOUT SUZANNE Singer, actress and TV personality Suzanne Shaw became a member of the chart- topping band 'Hear'say' in 2001, selling over 1.5 million records and holding a world record for the fastest selling non-charitable single. She won series 3 of 'Dancing on Ice', was series regular Eve Jenson in the popular UK soap opera 'Emmerdale', and has numerous West End and touring theatre credits. From the age of 19, Suzanne has lived under the scrutiny of the media, which in-turn played a big part in her 19-year battle with her mental health.
After years of unhealthy living and anti-depressants, Suzanne had finally had enough of living this way and went on a mission to find her 'happy' again. At the start of 2020, Suzanne completely changed her lifestyle – quitting alcohol, changing her diet to plant-based, taking up running and studying nutrition, mindfulness and coaching. Determined to change the perception of mental health, along with the overwhelming pressure and information from the fitness and diet industry, Suzanne documented an honest account of her journey through her online platforms and was overwhelmed by the response from her audience and the media. Since then, Suzanne has thrived within the wellness industry and made quite the name for herself in the running community.
In May 2020, she ran for 19 hours, covering 60 miles, all to raise awareness for the 19 people who take their own lives every day in the UK and raising money for the suicide prevention charity, 'Samaritans'. This has led to her becoming a public speaker, speaking and running workshops at the National Running Show, Festival of sport and in schools around the UK. With her ultra-running, plant-based eating and sober living, Suzanne has worked hard to grow and engage with her social media audience and has a respectable following of over 250,000 over her social media accounts. She is also the founder of 'The Happy Health Club'; an online community for people to enjoy learning more about the benefits of sober living, nutrition, movement and mindfulness without being overwhelmed with crazy goals or too much information. In only a short space of time, The Happy Health Club has now become a wonderful wellness community in its own right, gaining brilliant results in helping people take a break from alcohol, eating a wider variety of fruit and veg and working on mindfulness.
Suzanne continues to push her limits and demonstrates through her lifestyle and challenges that we are able to achieve anything with the right mindset. Suzanne's brand new podcast 'Dare To Be Happy' is available to download on all podcast platforms.
WILL PIKE – "YES I CAN, IF!"
ABOUT WILL Will became a paraplegic in 2008 when he was injured during the Mumbai Terror Attack. After spending six months being rehabilitated at the Spinal Injury Unit in Stanmore, he returned home to London and began life as a disabled person. Will returned to work in 2010, securing a position as a Copywriter at the London advertising agency, Leagas Delaney. In 2012, Will and his father successfully spearheaded a campaign to change the law and ensure that all Victims of Terrorism Overseas would be eligible for financial compensation. In 2016, Will produced and starred in a film to highlight accessibility problems on the high street called 'Yes I Can, If'. The film received over one million views on Facebook and went viral. Will harnessed the success of the film to talk about disability in the mainstream media, appearing on programmes such as Good Morning Britain and The Victoria Derbyshire Show. In 2017, Will contributed to 'Back To The Taj Mahal Hotel', a feature length documentary that revisited the experience of surviving a Terror Attack in which nearly 170 people died. Will attended the premier at the International Documentary Festival in Amsterdam.
In 2018, Will joined the Spinal Injuries Association as a Peer Support Volunteer and regularly visits Stanmore to speak with patients in the Spinal Injury Unit. He won Volunteer Of The Year at their annual awards event. In May 2019, Will presented the BBC Radio1 Podcast, 'Spinal Injury: A Life Changing Crisis'. In November 2019, Will delivered his first keynote speech at the Masculinity In The Workplace event. His half hour talk, entitled, Masculine Pride Before A Fall provided the audience with an insight into Will's experience of terrorism, disability and adversity.
PHIL YOUNG – "THE OUTSIDERS PROJECT"
THE OUTDOORS IS FOR EVERYONE. Yet outdoor culture and access to rural landscapes still remain elusive to many people from marginalised communities. Join Phil Young, director of the Outsiders Project, as he presents the findings from their new report 'Beyond Representation: The Future of Diversity and Inclusion in the Outdoors
Having been Involved in sports and culture all his life via skateboarding, snowboarding, bikes, surfing, and running, Phil set up the Outsiders Project with view to raise awareness of the lack of diversity in 'Outdoors with the ambition of making the outdoors, across Europe, a safe and welcoming space for everyone.
A longtime advocate for diversity in the outdoors, as well as his 'day job' as a respected producer and director, Phil is also the co-founder of Colour Collective, one of the founding members of Black Trail Runners and a co-founder of the cross brand initiative 'OUTO'.
INSIGHTS & PARTNERS
CHARLES ROSS – "SUSTAINABILITY"
Charles started his career as an Outward Bound Instructor, but gave that up when he returned to a wet, dark, windy, & cold UK. Fortunately it coincided with the transition of the Outdoor industry to AthLeisure roots. He started his career in retail at Rohan, became a mature student, then got volunteered to teach Performance Sportswear Design & has ended up with some Ingredient Suppliers. He is meant to focus on teaching the PSD pathway at the Royal College of Art, but is more visible at Performance Days & the Functional Fabric Fair. His work has always had the theme of the next generation of materials, especially in relation to progress in sustainability. Others highlight his best ability as dumbing things down so everyone else can understand the issues.
SIMON MCGRATH – "THE CAMPING & CARAVANNING CLUB SURVEY RESULTS"
Head of Communications and External Relations, The Camping & Caravan Club
PAUL DONOVAN
AdventureSmart
DAN RAVEN-ELLISON – "SLOW WAYS"
Founder and Chief Exploration Officer of Slow Ways
Dan Raven-Ellison is Founder and Chief Exploration Officer of Slow Ways, the grassroots phenomenon to create a national network of walking routes that connect all of Great Britain's towns, cities and national parks. His work focuses on challenging himself and others to see the world in new ways. He does this by combining creative exploration, geography and communication to tackle social and environmental challenges. Dan is a guerrilla geographer, National Geographic Explorer, OS GetOutside Champion and is the founder of the National Park City movement. He's also a co-author of the Mission:Explore children's outdoor activity books and produces short films, including " The UK in 100 Seconds". You can connect with Dan on Twitter at @DanRavenEllison.
NICK HALL – "EMPLOYEE OWNED TRUSTS"
Managing Director, GoApe
RICHARD PYNE – "EMPLOYEE OWNED TRUSTS"
Commercial Director, Paramo Directional Clothing
JONATHAN CAPPER
Managing Director (Technical), Lyon Equipment
MIKE SEAMAN
CEO, Raccoon Events
Mike will be sharing some consumer insight and feedback from the National Outdoor Expo 2022 and the developing vision for the National Outdoor Expo 2023.
Mike is the CEO and founder of Raccoon Events, a multi-channel media business that provides content and connections for people who love being active outside.
Mike is the CEO and founder of Raccoon Events, the company behind the National Running Show, The National Snow Show, The National Cycling Show, The National Outdoor Expo and OutsideAndActive.com. He is a keen runner who loves ultramarathons and generally being outdoors at any opportunity.
Raccoon Events operate media properties that deliver year-round content and advice to specialist, self-identifying consumers that share a love of being outside and active. They also organise large-scale exhibitions that are well-timed, community-driven, tightly focused and passion-led. They bring buyers and sellers together to see cutting edge innovations in a fun and exciting way.
PAUL DAVIES
CEO, British Mountaineering Council (BMC)
Initially hired as Interim Executive, Paul stepped up as the interim CEO in November 2020 and quickly impressed and gained the respect of the BMC as a whole. Having more than 20 years' experience in the elite sport world and a lifelong passion for the outdoors, Paul easily settled into the role of CEO despite having to immediately deal with difficulties caused by the pandemic.
From starting as an Exercise Physiologist working for the British Olympic Association, Paul took a number of roles before becoming Performance Director for England Netball and then moving on to British Wheelchair Basketball. The next few years Paul opted to work more flexibly as a consultant, supporting sports in the development of their strategic plans and on their Talent Pathways and Elite Programmes.
Paul has led and managed England Netball and British Wheelchair Basketball to multiple unprecedented successes effected with processes of significant change, created modern cultures of performance and professionalism, and authored and executed company-wide business strategies. One of Paul's most memorable highlights was seeing England Netball complete a series whitewash of the Australian team in the Winter Test Series 2013.
Paul also has a long-standing passion for the outdoors. A keen climber in his 20s and 30s, his favourite climbing areas included Yorkshire and Gogarth, until work and family took him away from the hills. He still enjoys hillwalking, and especially solo wild camping trips.
BEN SEAL
Head of Access & Environment, British Canoeing
Ben is an experienced and passionate advocate for the outdoors, sport and physical activity. Over 10 years in Sports Development at local, regional and national level. Confident presenter, communicator and leader. Experienced in developing strategy, managing change, managing teams and public relations at the highest levels.
Current role involves leading a major campaign on behalf of 88,000 members; Public relations, influencing policy within Government, liaising with Peers, Ministers, MP's & Civil Servants; overseeing the development of British Canoeing Paddling Trails and the PaddlePoints website; managing a varied portfolio of places to paddle sites, owned or leased by British Canoeing.
MARK CROSBY
Head of Ramblers Operations
Mark has over 18 years experience in the charity / third sector, working for the National Trust, VSO and Oxfam, with a strong focus on developing and implementing strategies to grow people's connections with great causes, through volunteering, community involvement and participation.
OIA BOARD
ANDREW DENTON – OUTDOOR INDUSTRIES ASSOCIATION
As well as welcoming delegates, opening and closing the conference and AGM, Andrew will be presenting the OIA's Annual Review and apart from presenting his own sessions he is the main moderator for the whole event.
Chief Executive, Andrew Denton will take centre stage to deliver the conference agenda and explain what the OIA had been doing over the last 12 months.
Andrew has been working in the outdoors since 1984, starting his career in outdoor education and then moving on to a series of senior management & ownership roles in businesses such as Rohan, Mountain Equipment, Sprayway, the Outdoor Sports Company and now ownership of several indoor climbing walls.
He is best known as the modern founder and co-owner of the international technical brand Mountain Equipment where he built the brand over 17 years and then sold in 2003 to The Bollin Group. Andrew has been CEO of the OIA since August 2011.
NICK GILES, OBE
Chairperson, OIA
In October 2013 Nick took on additional responsibility for retail business at OS and in September 2015 also took on the executive responsibility of Director of Marketing & Communications. He became a Non-Executive Director of Dennis Maps Ltd in December 2015. Nick now leads all consumer activity within OS with the focus on helping more people to get outside more often.
In May 2018 Nick also became a Board member of the UK Outdoor Industries Association and is now the Chair of the Association.
Nick is an avid outdoor enthusiast, an enthusiastic mountain biker and is passionate about the benefits of an active outdoor lifestyle.
In January 2022 he was awarded an OBE for his work in improving the health of the nation.
ANDY GREEN – "OIA SUSTAINABILITY UPDATE"
Commercial Director, SportPursuit
Andy is Commercial Director at SportPursuit, the UK's leading flash sale site for outdoor and sports enthusiasts. He has worked in the Outdoor trade for 20 years now having previously been Merchandise and Logistics Director at Outdoor & Cycle Concepts.
Andy passionately believes in the physical and mental benefits of participating in sports and the outdoors and is keen to bring this passion to the Development Board. He spends his spare time outside, trail running, hiking and skiing.
Share This Article