Norway Takes Another Parallel SL Title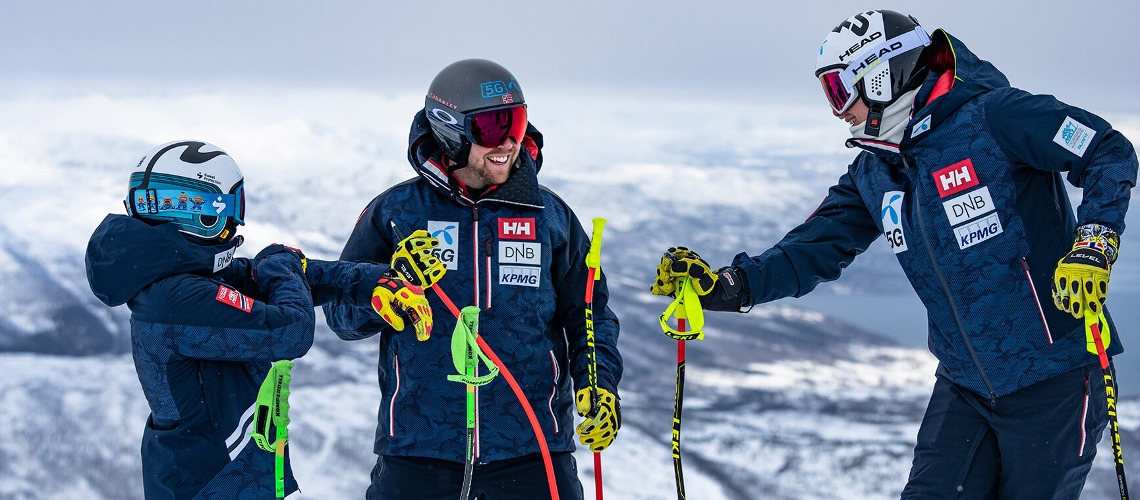 Norway confirmed their pedigree as the big beasts of parallel slalom skiing, coming from behind to beat five-time champions Switzerland to the Mixed Team title at the World Cup Finals in Soldeu.
With a lineup boasting the current women's parallel giant slalom world champion Maria Therese Tviberg plus the women's and men's world championship bronze medallists, Thea Louise Stjernesund and Timon Haugan, Norway blew through the field to upgrade the Mixed Team World Championship silver they won in Meribel Courchevel last month.
In the semi-finals Norway faced reigning Olympic champions Austria and proved far too good. Led by Haugan and Stjernesund the Vikings secured a comfortable 3-1 victory.
It was not so straight-forward in the Big Final but again their two form skiers came to the fore. Stjernesund, who earlier laid down the fastest women's time of the day, was typically aggressive out of the gate and only increased her advantage over Switzerland's Camille Rast.
But Switzerland are not the most successful nation in the history of this event for nothing. Two of their most exciting young talents, Livio Simonet and Andrea Ellenberger, stepped up to give the defending World Cup Finals winners a 2-1 lead going into the final race.
Knowing he needed not only to win but to claw back a time deficit, Haugan, who fell out of the gate in the 2023 World Championship final, found his very best when it really mattered this time.
"It felt great and a big redemption for Meribel when we got second," the Norwegian said after powering to a time of 21.70 seconds, enough to leave Semyel Bissig and his teammates behind.
"I am very happy and like Thea (Stjernesund) said, you feel the responsibility for the team and you don't want to let them down. Then it feels even better when you succeed. It was a great day."
Stjernesund then gave an insight as to perhaps why the Norwegians have emerged as the nation to beat in these events.
"With this flat terrain you really have to work and push and as Norwegian team we train a lot of physical training during the whole year and on this type of courses we get more out of it I think," a delighted Stjernesund said.
For the Swiss, it was second place won, rather than a title lost.
"Today the Norwegian guys and the women were just too strong," Simonet said. "All four were just massively better than us. They deserved to win it and they also showed it in the World Championships that they deserved it. We are happy to be in p2 (second position)."
Austria took third, defeating Germany, the 2022 Olympic silver medallists, in the Small Final. While an Italian team containing individual world champions Marta Bassino and Federica Brignone, were the surprise early casualties.
Before attention turned to the final weekend of the season and the men's and women's individual technical races, the Norwegians underlined just why this event is a favourite for many.
"I think it's really important to bring as many people as possible to the arenas and I never see as many people as on the team events and the parallels," Stjernesund said, before her teammate Haugan added his perspective.
"It's a cool event for us and also for people to watch," he said simply.
Share This Article