New Colorado Ski Resort Opening 15 February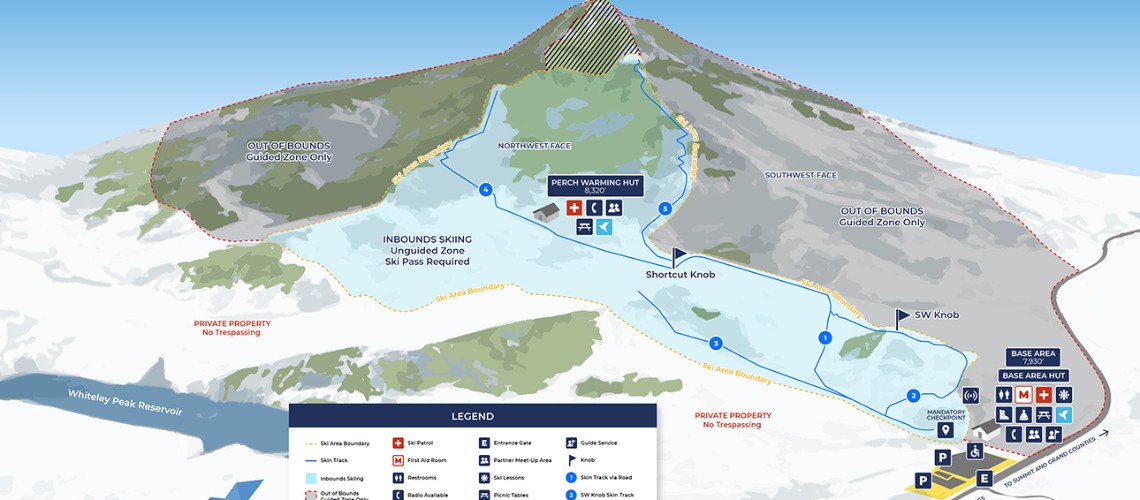 Bluebird Backcountry will open Whiteley Peak in Colorado this month, the world's first ski resort without any form of motorised transport and the first resort to open in Colorado in 15 years.
Located one hour drive north of Silverthorne, the resort will offer uphill access to around 1,200 acres of backcountry terrain. Guests will be able to enjoy wide open meadows as well as more challenging areas thick with Aspen trees. All backcountry experience levels are welcome and the resort will offer lessons for first-timers in addition to backcountry-specific safety clinics. To keep the experience remove and serene, Bluebird Backcountry will only allow 300 skiers through the resort each day. Whiteley Peak will open on 15 February for a test season until 15 March.
The 2020 season will take place at Peak Ranch, between the towns of Kremmling and Steamboat Springs (roughly 2 – 2.5 hours from Denver). The centerpiece of the ranch is 10,115-foot Whiteley Peak, which will be open to the public for the first time. It's a striking mountain with open meadows, aspens, wildlife, and incredible views.
You'll be able to explore 300+ acres of avalanche-evaluated terrain unguided; another roughly 1,200 acres may be accessed with a guide hired through Bluebird Backcountry.
A backcountry ski area. What does that mean? It means creating a welcoming and avalanche-evaluated environment for skiers and snowboarders to adventure and learn.
Imagine the comforts of a traditional ski area: great snow and terrain, gear rentals, backcountry lessons, ski patrol, food/beverage, and a warming hut. But no chairlifts! Skiers will ascend using easy-to-follow uphill skin tracks, and then descend fun downhill trails. Educators and guides will be on hand to provide opportunities for skiers to learn about their equipment, avalanche safety, efficient travel, and much more.
The property is entirely unimproved, and the skiing will be variable and adventurous more than manicured or groomed. Guests will find challenging areas that are brushy and thick as well as enjoyable skiing in open meadows and old-growth aspens. Limited skier visits will provide an alternative to crowded resorts and offer a more natural and remote experience where guests can explore and learn, spot wildlife, and take in grand views.
How much skiing is there? The entire zone is 1,500 acres. Guests may ski in bounds on roughly 300 acres of avalanche-evaluated terrain unguided; another roughly 1,200 acres may be accessed with a guide (limited availability) hired through Bluebird Backcountry.
Is your location at Peak Ranch permanent? Bluebird Backcountry has leased Whiteley Peak for a trial season this winter with hopes of establishing a permanent location at the ranch or elsewhere in years to come.
The team is based around Jeff Woodward, Co-Founder and General Manager and Erik Lambert, Co-Founder and Chief Marketer
Jeff has been snowboarding since his awkward teenage years in New England. He discovered backcountry skiing in Tuckerman's Ravine while attending Dartmouth College and has been hooked ever since. With an MBA and entrepreneurial background in the energy and tech industries, Jeff brings business acumen and a unique start-up approach to the ski industry. Jeff loves sharing his passion for the outdoors with others, and he's excited for Bluebird Backcountry to make backcountry skiing more accessible to everyone.
Erik started skiing at age 1 and discovered the backcountry nearly 20 years ago. His time in the outdoor industry spans more than a decade and includes positions as marketing director at the American Alpine Club and digital editor at Alpinist and Backcountry magazines. In 2016 he founded Bonfire Collective, a marketing agency that serves ski areas, guide services, and professional organizations that include the American Mountain Guides Association and Professional Ski Instructors of America. Erik believes that Bluebird Backcountry will fill critical gaps in backcountry education and help revive the soul of skiing.
Share This Article