Meet Corty, The Official Mascot Of Cortina 2021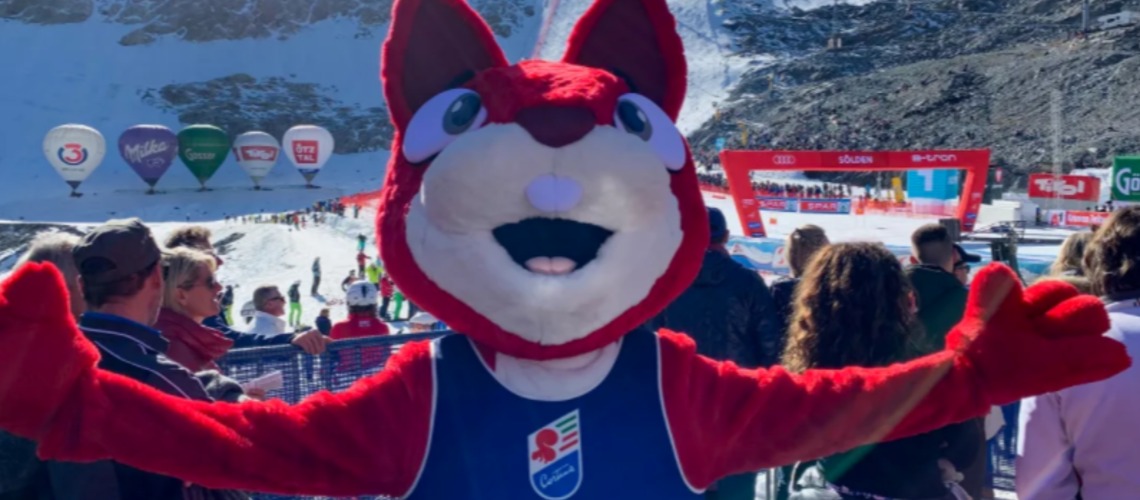 He's here!
The newest member of the Alpine Skiing community was introduced in Soelden at the FIS Alpine Forum, as Corty the red squirrel made his first appearance as the official mascot of the FIS Alpine Ski World Championships 2021 in Cortina. He was officially unveiled at the major Italian Winter Sport Show, Skipass in Modena on 1st November
The red squirrel is one of the iconic symbols of Cortina d'Ampezzo and is even integrated into the town's logo. Corty dressed as an alpine skier and wears the bib of the next FIS Alpine World Ski Championships. It will play host to many events scheduled in Cortina, starting from the Fashion Weekend next December.
But Corty is also ready to set off for a long journey 'Cortina 2021 on Tour – Season 1' with several stops in many venues of the White Circus and final destination in Cortina for the Audi FIS Ski World Cup Finals. Corty couldn't resist taking its first steps already: after attending Skipass's ribbon-cutting ceremony, the World Championships mascot remained in Modena to cheer for for the athletes of the big air competitions and participated in FISI initiatives, e.g. the award ceremony of the Italian Alpine Ski Championships and the celebration of the Italian athletes.
The soft toy of the Cortina 2021 mascot is produced by Trudi, a company of the Giochi Preziosi Group, and will be sold to the public in the second part of the winter season. Thanks to Corty, a partnership of great value was established with Giochi Preziosi-Trudi, which has become Techinal Supplier of Fondazione Cortina 2021. In addition to the Cortina 2021 mascot, Giochi Preziosi will also create a board game and daypacks for adults and children. Giochi Preziosi, leading company on the Italian market in the traditional toys sector, is therefore joining the exciting journey that will lead to the Audi FIS Ski World Cup Finals next March and that will culminate with the FIS Alpine World Ski Championships in 2021.
"We are proud to have started a valuable partnership with Giochi Preziosi-Trudi, which will produce our mascot Corty, the squirrel of the World Championships – said Valerio Giacobbi, CEO of Fondazione Cortina 2021 – We are convinced that we can ensure maximum visibility for the next FIS Alpine World Ski Championships also thanks to this important collaboration, entering into the hearts of children and young people, who are the future of this sport. This 'travelling companion' will be with us until 2021 and will become the symbol of Cortina's ability to organise world sporting events in the best possible way, with special attention to environmental sustainability and to the legacy to the community and the local area, and with an extra touch of creativity and charm that only Italy can offer".
Welcome Corty to the Alpine family!
Share This Article