Magglingenbahn Wins European Solar Prize For Revolutionary Energy Concept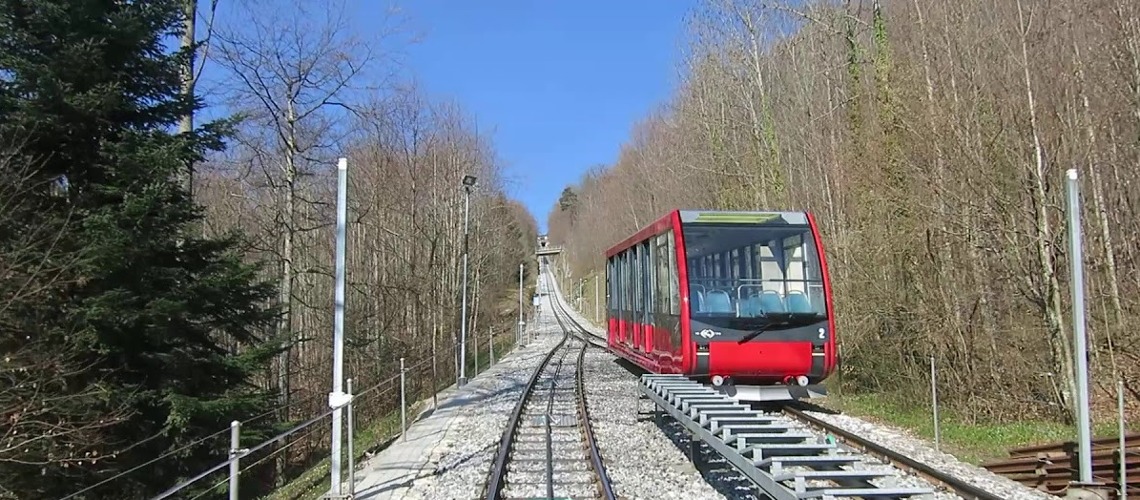 The European Solar Prize 2021/22 in the mobility category goes to the Magglingenbahn with its revolutionary energy concept. The prize has a high international reputation and is awarded in ten different categories.
EUROSOLAR, founded in 1988, is based in Bonn. The association represents the goal of replacing non-renewable resources quickly and completely with renewable energy and sees a renewable energy supply as the decisive prerequisite for the preservation of the natural foundations of life. Since 1994 EUROSOLAR has awarded the European Solar Prize to pioneering projects in regenerative practice from all over Europe.
The Magglingen Railway's energy concept is a world first. Solar energy from the roof of the mountain station of the cable car and the energy generated when braking are stored. This means that the Biel transport company (VB) covers around 30% of the total energy consumption of the Magglingen Railway.
It is a unique and revolutionary energy concept, which was developed in cooperation with the Lucerne University of Applied Sciences and was celebrated as a lighthouse project by the Federal Office of Transport last year. Now an international award follows. "People or institutions who are innovative in promoting renewable and decentralized energy supply deserve a stage," says EUROSOLAR. "And with this award you can show how progressively and committed you are working for the energy transition."
The VB are proud to have won this award and thus to make an important contribution to the achievement of the climate goals of the city of Biel. The Biel–Magglingen Funicular (German: Magglingenbahn; French: Funiculaire Bienne–Macolin) is a funicular railway in the bilingual city of Biel/Bienne in the Swiss canton of Bern. The funicular links Biel/Bienne with Magglingen/Macolin in the Jura mountains above the town. The line is operated by the FUNIC company, who also operate the nearby Bienne–Evilard Funicular
The line has the following parameters:

| | |
| --- | --- |
| Number of cars | 2 |
| Number of stops | 2 (at terminals) |
| Configuration | Single track with passing loop |
| Track length | 1,693 metres (5,554 ft) |
| Track gauge | (?) |
| Rise | 442 metres (1,450 ft) |
| Maximum gradient | 32% |
| Maximum speed | 6 metres per second (19.7 ft/s) |
| Travel time | 9 minutes |
Share This Article