KTI-Plersch Makes Ski Slopes And Cross-Country Ski Trails Operate Despite Summer-like Temperatures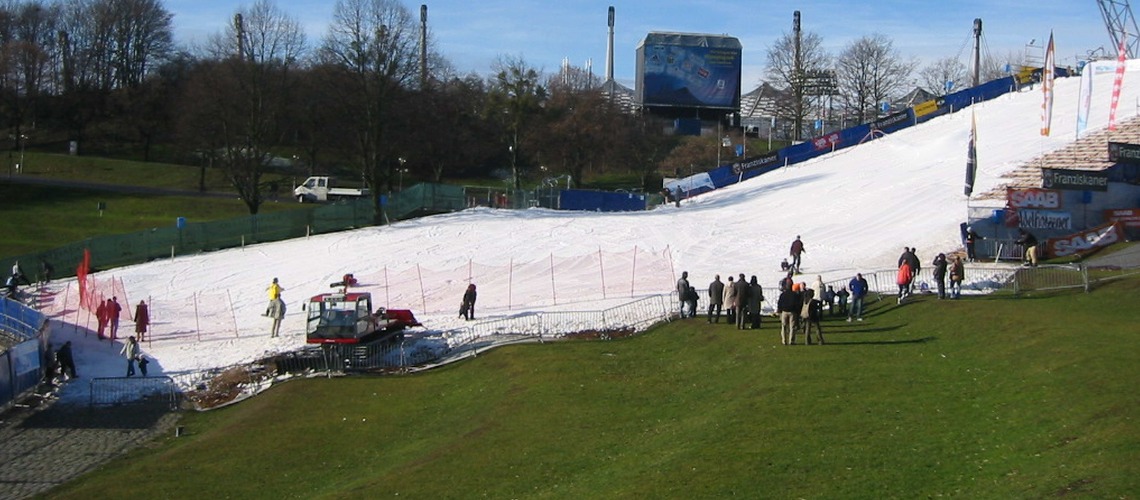 Rising average temperatures in the winter months result in an increasing lack of snow even in high-altitude winter sports areas. This presents competition organisers and ski slope operators with a logistical and economic challenge. Artificial snow is often needed for the trails to be safe and fun for recreational athletes, and for ski clubs and organisers to be able to run competitions under normal conditions. Refrigeration specialist KTI-Plersch Kältetechnik from Balzheim in Swabia has more than 35 years of experience in developing various refrigeration systems. It now offers snowPRO, a container-sized mobile solution, which ensures crisp, white cross-country ski runs and slopes even at warm temperatures and regardless of weather conditions. The biggest benefit: since this snow contains more energy and is more compact than tat from conventional snow cannons, it stays in place longer and is not negatively affected by climate or wind. This enables effective snowmaking on the slopes.
When Felix Neureuther won the World Cup parallel slalom on Munich's Olympiaberg on New Year's Day 2013 against the impressive backdrop of the Olympic Park, it was already clear that it would not be easy to regularly stage the race in the middle of the Bavarian capital. However, nobody expected that it would remain the second and last slalom held there for so long due to lack of snow. In 2015, the German Ski Association (DSV) finally decided to end the spectacular competition.
Since then, however, it has not just been event organisers in Munich or piste operators in the foothills of the Alps for whom the lack of snow has been a headache. Anyone who regularly hits the ski slopes in the cold months or follows competitions in those sports relying on snow – whether it is biathlon, cross-country skiing, Nordic combined, ski jumping or even alpine races – will have noticed that the dreamy white backdrop has given way to slushy white strips of snow surrounded by green-brown landscapes in many places. In recent years, there has also been an increase in reports of international competitions in various disciplines being moved to other venues with better snow conditions or even cancelled altogether because the essential white element was missing, or it has not been possible to stage a race under normal conditions due to the weather. At the beginning of 2020, as many as 30 truckloads of snow were transported to Oberhof from the Biathlon Challenge Auf Schalke in Gelsenkirchen. This traditionally takes place at the end of December, but even the snow produced from 37 conventional snow cannons was still not enough to be able to hold the World Cup safely.
Conventional snow cannons and lances can only operate at temperatures below freezing point
Organisers and piste operators have long since resorted to a variety of options to provide artificial snow for their slopes and cross-country ski trails. However, it is often expensive to get or produce artificial snow, and it is restricted to certain conditions. "Producing snow using snow cannons, for example, only works if the ratio between outside temperature and humidity – known as the wet-bulb temperature – is within a certain range," explains Tobias Heier, Product Manager at KTI-Plersch Kältetechnik GmbH. "Depending on the humidity, the ambient temperature must be around freezing point, or even well below that if the humidity is high." However, such conditions rarely exist in the transition between seasons in particular, when many winter sports enthusiasts are hoping to squeeze in their first or last runs of the season on the pistes when they are not quite so crowded, or when international competitions often still need to run into March and April. Some organisers therefore have tons of snow delivered from snowy regions and then store it in tents or halls. This approach incurs high logistical and financial costs – not to mention the high CO2 pollution caused by transport, storage and cooling. Ski lift operators also have to resort to tricks to keep the slopes open as long as possible for winter holidaymakers, while keeping costs under control.
The snowPRO all-weather snow systems from KTI offer a solution – even in tropical temperatures
The family-run company KTI-Plersch Kältetechnik has chosen a completely different approach at its headquarters in Balzheim, Swabia. This company has more than 35 years of experience in a field that, at first glance, has nothing whatsoever to do with producing ordinary snow for ski slopes and cross-country ski trails: it develops and implements industrial refrigeration systems that are used to cool food or concrete, for example. What makes it so special is that KTI-Plersch installs all its systems in a container, as these are also what ships, goods trains or trucks use to deliver various goods. This means that the refrigeration units can be easily transported to the site and quickly put into operation. KTI-Plersch is also increasingly relying on the use of natural refrigerants, which have a positive effect both on the environment and on the energy efficiency of the snow systems. The company is now bringing the benefit of the experience it has gained from its years of experience with CO2-neutral refrigerants available worldwide into its snow production. These refrigerants can be used to produce ice from water in an environmentally friendly and highly efficient way. It is then processed into artificial snow and transported outside using compressed air. This simple principle is combined with the practical container size of the KTI systems to create snowPRO. "Our snow has the advantage of a low surface-to-volume ratio, so it retains the cold well," Heier reports. "This means the snow survives longer even at higher temperatures and melts more slowly than ordinary artificial snow from snow cannons.
Snow can even be produced in summery outside temperatures thanks to the weather-independent refrigeration machine, even when operators are faced with the snow melting quickly without protective measures. The specially adapted snowPRO systems from KTI-Plersch can even reliably produce snow at tropical temperatures or an ambient temperature of up to +35°C. Operators of indoor ski halls benefit from these models in particular.
71 systems in operation worldwide since the market launch in 2013
Since the development of the first machine for snowmaking at positive temperatures, more than 70 systems have now gone into operation worldwide at various altitudes and climatic zones. As well as downhill ski slopes, biathlon arenas or winter sports training centres in various low mountain ranges in Europe, Oceania and North America, the systems are also used in indoor ski halls in Thailand and Indonesia to supplement snow cannons. This enables residents to enjoy skiing fun in the snow even when the temperatures outside are tropical. In addition, KTI-Plersch rents out the systems for special events and sporting events such as World Cup races or ski jumping. All the systems need to operate is a solid foundation and suitable electricity and water connections.
Customised snow technologies ensure high efficiency
One or more 40-foot containers are used depending on how much snow is demanded. A single 40-foot container can produce at least 100 m3of snow per day. That goes up to 210 m3 when two containers are used. In the future, however, the experts for refrigeration technology will also offer compact systems with a daily capacity of 70 m3 in 20-foot containers. "These compact snow systems are quick and easy to transport and install, so they can be placed in harder-to-reach places. These types of systems are also ideal for renting out for special events," says Caroline Walleter-Plersch, CEO. This is where "flake ice" is produced. The water freezes on the inside of a cylindrical ice maker and is removed by a rotating blade roller. The flake ice is then conveyed into the environment by an air stream and crushed to form small ice particles.

Since 2021, variants with an even higher power density of up to 320 m³ per day (two 40-foot containers) have been available. These are based on a different type of ice production in which so-called slab ice is produced in an even more energy-efficient manner. KTI implemented the idea of using slab ice in technical snowmaking with ski lift operator Florian Leber from Winterberg in Sauerland. The first prototype was successfully tested in the winter of 2020/2021 on one of its ski slopes. "Slab ice has surpassed even my most optimistic expectations as an operator of such a system. Residual moisture also allows me to prepare steep sections on frosty nights, as that is when the ice binds very well," reports Florian Leber. "Once the originally coarse structure has been processed with the piste roller, the skier can no longer tell the difference from normal snow. At the same time, the snow is very resistant to solar radiation on the south-facing slope. This system produces about 30 percent more ice – consuming a similar amount of power consumption and using the same installation space – than the flake ice machines that I have been using for several years on the neighbouring slope. That's why I now have the best possible solution for every slope," adds Leber. Depending on the slope, the period of time during which snow is to be made and personal preferences, ski area operators can freely choose the right combination of flake ice and slab ice. The integrated pneumatic conveying unit means the snow can be blown up to 450 metres – irrespective of the technology.
Snow for every requirement
It doesn't matter what technology is used to produce the snow – consistency plays a vital role for piste operators as well as for professional athletes and their ski technicians. KTI-Plersch systems offer benefits here too. "Our snow is usually somewhat denser than the snow from ordinary snow cannons," Tobias Heier explains.
"This means it stays put and doesn't blow away so easily, meaning that less snow is needed to adequately prepare the slope." Several operators also reported that the snow makes the slope faster than slopes prepared with ordinary technical snow from lances or propeller machines, which is advantageous for ski technicians and athletes. In general, thanks to some optimisations since the systems were launched in 2013, the snow can now be made even more precisely to the desired consistency and small, dry and wetter particles can all be produced to suit what every athlete prefers. This means that KTI-Plersch has adapted well over time to the needs of operators of ski slopes and winter sports centres. "Piste operators don't have to resort to just looking anxiously at the sky every day and waiting for the first snowflakes to fall from the sky. They can now easily and efficiently take effective action to be able to operate pistes beyond the peak season, or to confidently stage events, completely independent of the prevailing ambient temperature," Caroline Walleter-Plersch concludes.
Share This Article