Koo Goggles Launch New Eclipse Collection With High-performance Cylindrical Lens By Zeiss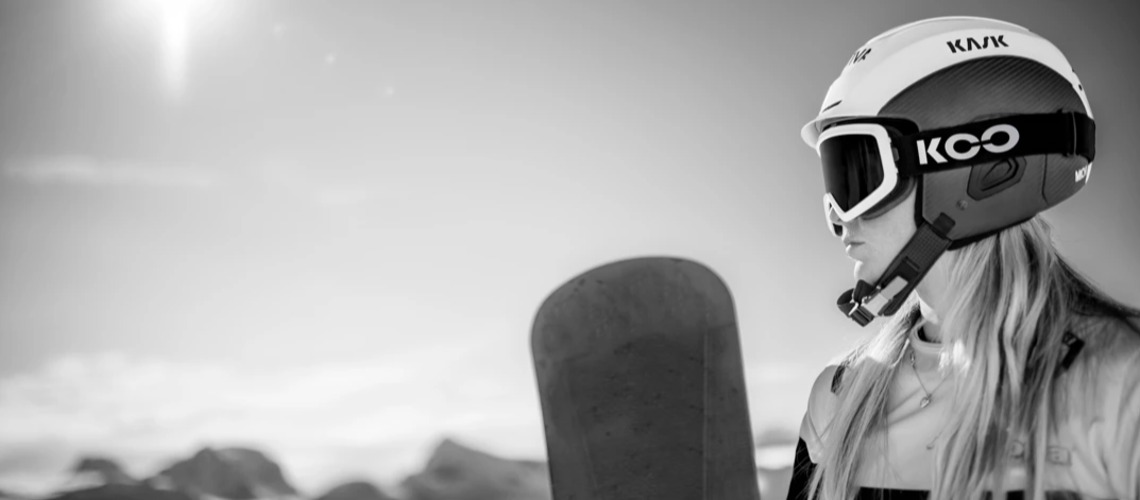 Koo, an Italian eyewear company known for designing sunglasses and goggles that are only the best quality and all made in Italy, announces the launch of its latest goggle: Eclipse.
In a rapidly evolving world, where limits are constantly pushed further by technological innovation, Koo is setting the trend. Founded in 2016, Koo has won the challenge to bring a breath of fresh air to the universe of premium-quality performance product.
The great looking Koo Eclipse goggles feature a high-performance cylindrical lens by Zeiss, providing better vision in all snow sports weather and light conditions. The No Pressure Design, combined with triple-layer foam, guarantee exceptional comfort to complement the Eclipse's leading vision performance and stylish look.
Slot-in System for Changing Lenses:
The Koo Eclipse goggle Slot-in System makes changing lenses simpler and faster. With the Eclipse's locating hooks security system, different lenses can easily be switched depending on conditions and preference.
To remove, simply push the lens from left to right until all the L-shaped engagement hooks are disengaged. To re-fit, place the lens with all the engagement hooks inside their corresponding holes and apply gentle pressure on the lens. Then simply push from right to left until the lens is securely locked. Thanks to the embedded frame, removal and replacement are easy without leaving fingerprints or other marks on the lens.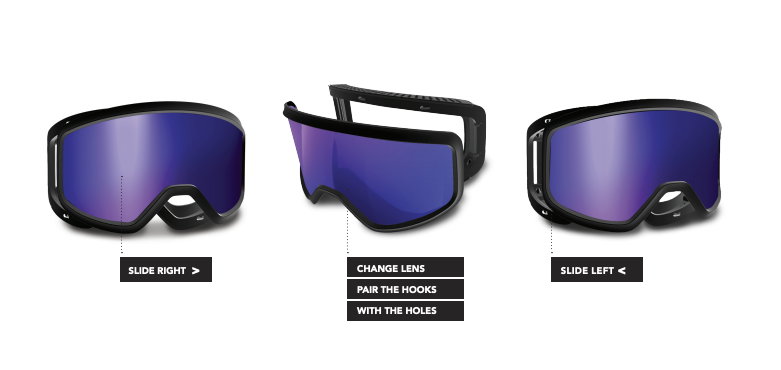 Lens Technology:
For maximum performance, enjoyment and safety in all winter sports, reliably clear vision in all conditions us vital. Koo Eclipse goggles guarantee total protection of the eyes from UV rays (100% UVA, UVB and UVC protection). With the maximum optical quality (Optical Class 1) distortions are eliminated to ensure an unparalleled quality of panoramic vision. The dual lens technology enhances resistance to fogging and exceeds the thresholds required according to European Standards EN174 regulations. The shape of the Eclipse's new cylindrical lens means it sits closer to the face, and the shape of the frame makes the lens less exposed to accidental scratching.
Koo Eclipse Goggle Features:
Cylindrical Lens by Zeiss

- Versatile lens suitable for both fashion and sport applications. Zeiss

optical expertise offers high-quality lenses designed with the same rigorous technology used for ophthalmic lenses. Zeiss

unparalleled experience guarantees the finest optical molds to ensure a long-lasting product.

Maximum Optical Quality (Optical Class 1) -

With over 165 years of experience, Zeiss

is a guarantee of optical quality. The partnership with a leading brand in the field of optical products guarantees the highest standards in terms of quality, design, safety and optical performance.

Integrated Ventilation

- The vents built in the goggle upper part provide a smart ventilation system ensuring cooling airflow, adding extra comfort and a perfect view to the skier.

Panoramic View - Koo's

Panoramic View Technology is an innovative frame design that increases peripheral vision while keeping the goggle frame compact and wearable.

No Pressure Design - Koo's

3-Layer Foam is designed to obtain the maximum comfort.

Slot-In System

- An innovative system designed for fast and effortless lens interchange.

100% UV Protection

- Zeiss

lenses offer total protection from atmospheric agents and against the aggressive UVA/UVB/UVC rays found at high altitude, preventing eye damage that sun rays could cause.

Available with optional second lens

, Unveiul Lens by Zeiss. This lens option provides superior contrast perception and high brilliance of colors and contours, improving visual clarity of terrain during skiing or snowboarding.

100% Made in Italy

, using only the finest materials
The Koo Eclipse Goggle is available in 9 different colorways, starts at $180, and are available at speciality retail shops across the US and Canada.
At the core of KOO's mission lies a deep commitment to offering cutting-edge products, entirely designed and crafted in Italy, which seamlessly blend technological excellence, superior materials and an iconic design. All Koo Sunglasses and Goggles are developed and manufactured to the highest standards and put through rigorous testing to ensure consistent quality and safety. Top-notch Zeiss lenses are fitted as standard for unparalleled clarity and protection.
Share This Article