International ROCK A RAIL Premiere Taking Place During Snowfest Innsbruck On November 26, 2022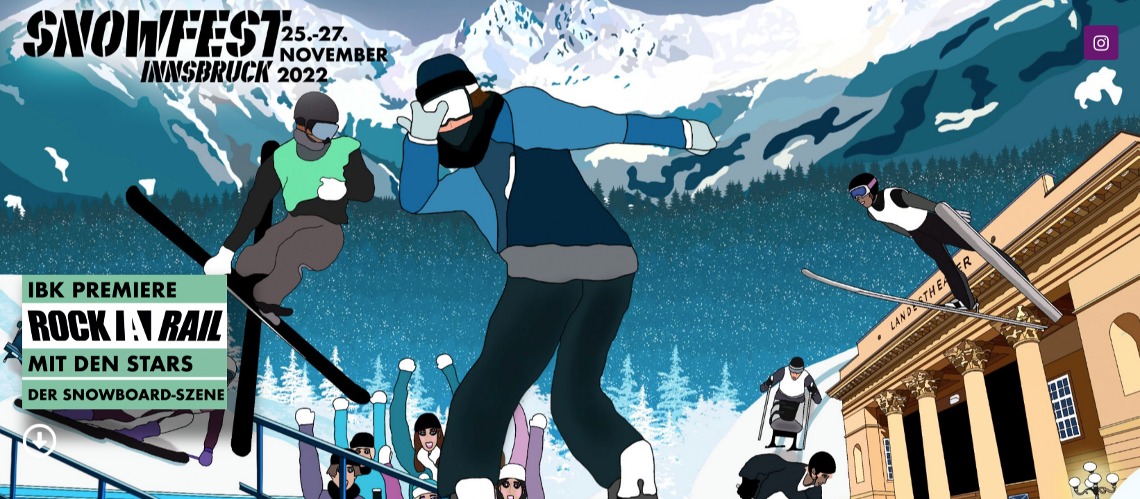 Preparations for the first edition of SNOWFEST INNSBRUCK are in full swing. All lights are on winter sports and freestyle directly in front of Tiroler Landestheater from November 25 – 27, 2022. Highlight is the international debut of the Rock A Rail Snowboard Contest on Saturday, November 26th, with the international street elite participating.

Rock A Rail caused a sensation for several years starting 2011 as a local rail jam that grew into an international urban snowboard event with thousands of followers. Now Rock A Rail moves to Innsbruck. A one-of-a-kind urban set-up will be constructed over a two-storey scaffolding frame covered by recycled snow – directly in front of the theater. Featuring the most provocative obstacles imaginable, possibilities are endless. Directly in the heart of the city, underneath the impressive mountain range of Nordkette.
The riding field includes well-known riders like Austria's Female Athlete of the Year and double Olympic champion Anna Gasser, Annika Morgan (GER), Maisie Hill (GB) and Maria Thomson (CAN). The US-Americans squad is strong with Benny Milan, Drayden Gardner, Max Warbington and Nate Haust. They are joined by Ehtan Morgan (GER), Jesse Augustinus (NL), Max de Vries (NL), Kalle Järvilehto (FIN) and Zoltan Strcula (SVK). All of them and many more are challenged by locals like Marvin Salmina, Simon Pircher and Clemens Millauer. If you don't make it to Innsbruck, watch the livestream on
www.rockarail.tv
on Nov. 26th.

Rock A Rail is integrated into the premier edition of SnowFest Innsbruck. Central element is the Winter Sports Village. Snowboard, freeski, alpine skiing, bob, skeleton, ski jumping, luge, ice hockey or ice stick shooting: the Winter Sports Village presents the big variety of winter sports on Saturday and Sunday and offers easy access. Get to know them and try them out on various stations, on the simulator, on the mat or on snow. The sports program kicks off on Friday with the Freeski Friday session. SnowFest Innsbruck as well as Rock A Rail are free to attend and accessible for everyone.
PROGRAM SNOWFEST INNSBRUCK
Friday, Nov. 25th
17:00 – 18:45

| Freeski Friday Jam Session
Saturday, Nov. 26th
10:00 – 18:45 | SnowFest Winter Sports Village
14:00 – 18:45 | Rock A Rail Snowboard Contest
Sunday, Nov. 27th
10:00 – 15:00 | SnowFest Winter Sports Village
11:00 – 15:00 | Public Ramp
Rock A Rail, presented by Red Bull and Blue Tomato, is teaming up with SnowFest Innsbruck organizers
MTNpool.com
and ASA (Austrian Snowboard Association) for the Innsbruck premiere. SnowFest is made possible by Innsbruck Tourismus, Stadt Innsbruck, Land Tirol, Burton, Faction, Stiegl, Blue Tomato, Kahlbacher and Tiroler Versicherung.
For detailed program, further information and updates check:
Share This Article