Ilka Stuhec Successfully Defends Downhill Gold In Are, Retiring Vonn Takes Bronze In Last Race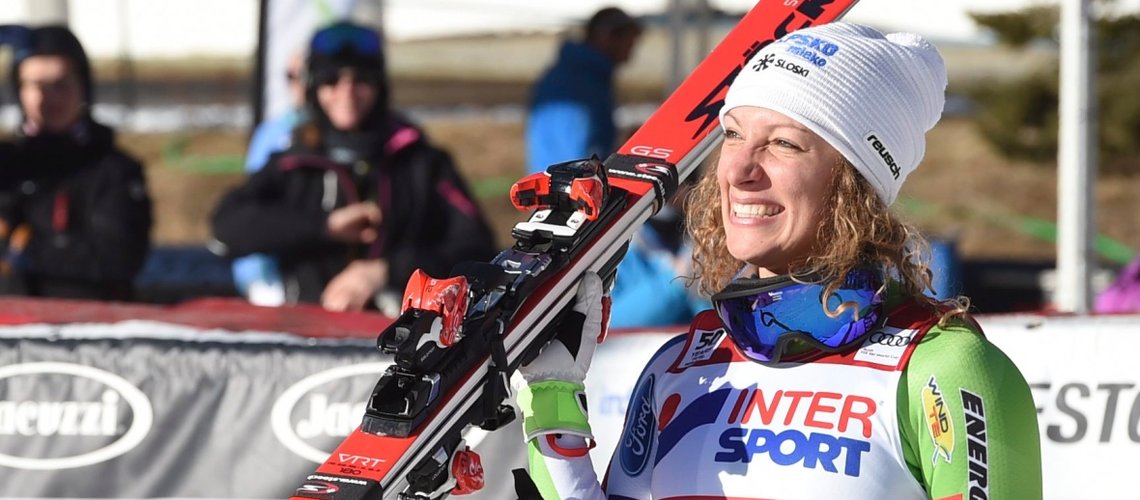 Course workers and slip crews were busy to getting the ladies' racetrack ready following overnight snowfall for the downhill race which ultimately had to be run from the second reserve start due to weather on the upper mountain. Still, it proved to be a memorable day for all in attendance.
Slovenia's Ilka Stuhec repeated her performance from two years ago in St. Moritz (SUI) by winning the downhill title. It was the first successful defense of the ladies' downhill title since 1989.
"It was not a bad run, not at all," Stuhec said, laughing. "I still have to gather all my feelings because I'm quite emotional so it might take a while."
The Slovenian speedster missed the entire 2017/18 season due to injury but has made a swift comeback to the podium.
"None of what happened before actually matters because it's a new day and a new chance. We all start from zero and it's the same for everyone. I just do my best and apparently it was good enough."
Lindsey Vonn was, of course, the talk of the day as she competed in her last downhill race and finished an impressive third, ending her career on the podium just like Aksel Lund Svindal did in the men's downhill on Saturday.
"I think everyone knows my mentality by now, I always risk everything all the time, which is the reason I've been able to win so much and it's also the reason why I crash so much and have had so many injuries," Vonn said. "I risked it all today. I was so nervous all day and had serious anxiety. I wanted more than anything to finish strong. I didn't want to end up like I did on Tuesday, in the fence."
At 34 years of age, Vonn became the oldest woman to win a World Championships medal with her performance and the only woman to collect a medal at six World Championships.
Vonn left everything on the hill Sunday as she competed in her final event in typical Vonn - all or nothing - fashion that over her 18-year career brought her 82 World Cup victories; eight World Championship medals, including two gold in downhill and super-G at the 2009 World Champs in Val d'Isere, France; and three Olympic medals, including the downhill gold at the 2010 Games in Whistler, Canada.
"I risked it all today as always. I was so nervous...I wanted more than anything to finish strong. I didn't want to end up like I did on Tuesday (in the super-G) in the fence," said Vonn, who has won a medal in six different World Championship events - another woman's record. "I was weighing in my mind the risk of putting it all out there, crashing and being injured again, as opposed to finishing where I wanted to. It was an internal battle, but in the end, I went with my emotions and stayed calm, and I was able to execute my plan."
With sunshine and fast, grippy snow, Vonn - starting bib 3 - charged from the lower reserved downhill start house after race organizers shortened the course due to wind at the summit. Despite a slow start, once she found her groove, she reached for the podium.
"For some reason, I'm always slow on top here, but on the bottom, I know how to carry my speed, and once I got into the rhythm of things, I was able to execute and hang on for one last podium," she said.
After being sidelined with a knee injury last season, Slovenia's Ilka Stuhec successfully defended her downhill World Championship title Sunday. Switzerland's Corinne Suter took home the silver. Alice Merryweather (Hingham, Mass.), the 2017 Junior World Downhill Champion, was 22nd.
Vonn stood on the podium one final time to accept the bronze medal in a joyous awards ceremony as Swedish legend Ingemar Stenmark, who holds the all-time World Cup win record of 86 victories, presented the awards to Vonn, Stuhec, and Suter.
In victory, defeat, battling back from crashes and injuries, Vonn will be remembered as a vicious competitor, who brought the sport of alpine ski racing the mainstream of American sports.
"I always risk everything all the time," she said. "That's the reason I was able to win so much. Also, the reason why I crashed so much and had so many injuries."
With another World Championships medal, Vonn is comfortable with her decision to retire and hold her head high as she moves on to the next chapter of life.
"I'm in a position where my body isn't allowing me to ski the way that I know that I can...and that's why I'm retiring," she said. "My body isn't letting me do what I need to do to win races. That's the best I could have done today. There's not another gear. I'm very, very happy and thankful for bronze today."
Sharing the podium with Ilka Stuhec and Lindsay Vonn was silver medalist Corinne Suter, Switzerland's new speed star. She was overjoyed with tears, having already won bronze in the super-G earlier this week after securing her career-first World Cup podium last month.
"I'm feeling a bit better because after the Super G I was so surprised that I got a medal and today I hoped for a medal but the run wasn't perfect so I'm just super happy about my second place today," she said.
Share This Article