Icebreaker Commits To Be Plastic Free By 2023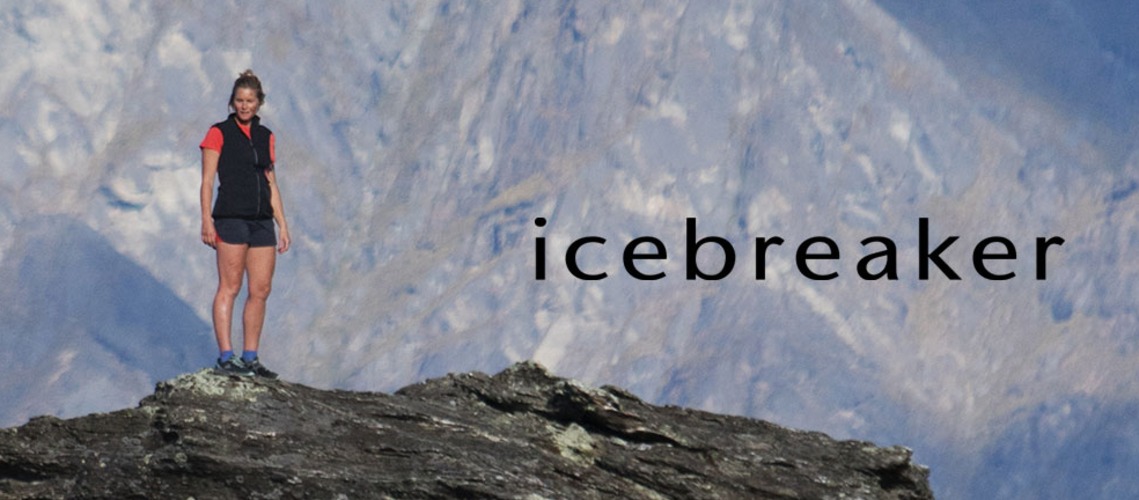 This year, icebreaker celebrates 25 years of creating world class natural apparel, challenging the status quo on how clothing is made and what it is made from. Not only leading the charge with its transparent, ethical and sustainable practices, icebreaker has initiated a long term commitment and ambition to have plastic-free materials by 2023, eradicating synthetics from its entire collection within three years.
As a global natural-based apparel brand, icebreaker champions it's community to move towards natural clothing solutions and partners with change makers and progressive thinkers to inspire people to act and drive change towards a natural way of living. In partnership with ocean advocate Ben Lecomte, who swam through 300nm of plastic pollution called the Great Pacific Garbage Patch in 2019, to raise awareness of the amount of plastics in our oceans, Ben collected over 45,000 fragments of microplastic in the name of scientific research.
With a surge in single-use plastics in recent months, attributed to the COVID-19 pandemic, concern is even more heightened around the devastating effect that plastics will have on the environment. According to multiple sources including CNBC, the increase "is a major blow to the fight against plastic pollution, which is projected to increase by 40% in the next decade, according to a report from the World Wildlife Fund." Icebreaker's ambition for plastic-free materials by 2023 is a major step towards combating this issue.
"People are making more conscious decisions about the foods they eat, and what they put on, or next to their skin," says Greg Smith, Brand President. "We want to change the conversation around how clothes are made and the synthetics within them and make the information accessible to enable more conscious purchases. The apparel industry is the second biggest polluter in the world. As an apparel brand, we want to take charge and lead with positive change."
In order to help achieve this goal, icebreaker did a full audit of its supply chain, resulting in the release of its third Transparency Report, which looks back on a year of natural progress. The report aims to enable people to understand how icebreaker clothing is made and provides visibility and education on its ethical and sustainable practices – this is all designed to help enable more conscious decision making on purchasing and the full life cycle of clothing.
"Today, 87% of our fiber use is natural. We're proud of this, but know we have to strive for better and after listening to our consumers, we are," said Carla Murphy, icebreaker Vice President, Global Brand and Product. "Our long term product vision to be plastic free begins with our materials. We'll be looking at how we replace, renew and rethink our collections with 100% natural fiber alternatives. To achieve this goal, we will need to make bold and sometimes tough decisions, but we know this is what our consumers are looking for and what, more than ever, our planet needs."
Working towards a plastic-free goal is already underway for the merino-based brand, having initiated changes and updates to the Fall Winter 2020 (FW20) collection that include:
An increase to 87% natural fiber composition, including merino wool and TENCEL, in the current collection.
Innovations such as Cool-Lite, a natural merino and TENCEL blend, RealFleece, and MerinoLoft are integral to the performance-driven styles of the future.
Removal of 59 styles of synthetic-heavy styles from the entire FW20 collection
Established the 'Natural Materials Platform' within VF Corporation, a cross-brand coalition to improve both performance and nature-based alternatives in apparel.
Launched icebreaker nature dye, a sustainable alternative to synthetic dye, saving up to 65% in water usage and utilizing plant-based materials
100% PFC-free; developed over the past five years and required close collaboration and testing with suppliers to develop into PFC free versions while maintaining good water repellency.
These achievements show icebreaker's progress, and are just the beginning in the journey to convert the remaining 13% of materials to 100% natural alternatives.
Carla Murphy, Vice President, Global Brand & Product said: "We will be exploring new, creative and innovative ways to enable us to achieve our ambitions. What is important is that we increase the overall benefits for the consumer to enable a movement towards more natural apparel, creating accessible, desirable and functional natural apparel with less impact on the planet. "
Icebreaker is also taking a strong stance on recycled and repurposed materials, as explained by Director of Global Product Design, Alistair Smith, "While we see recycled synthetic materials and products as a step in the right direction, we believe natural materials offer a better solution to the problem of plastic waste. For us, the use of any form of plastic, including recycled plastics is unacceptable, as fundamentally they're still an oil-based product that does not biodegrade nor does it limit our dependence on them. We believe in ending our reliance on plastic and oil-based synthetics altogether."
icebreaker's belief that nature has the answers is rooted in founder Jeremy Moon's dedication to creating a brand that relies on the symbiotic relationship of people and nature, rather than power over it. With 25 years of experience in creating, innovating, connecting and learning, icebreaker is more committed than ever to harnessing the power of nature, and showcasing the benefits of natural fibers to both people and the planet.
Share This Article