Gut-Behrami Wins Cortina Giant Slalom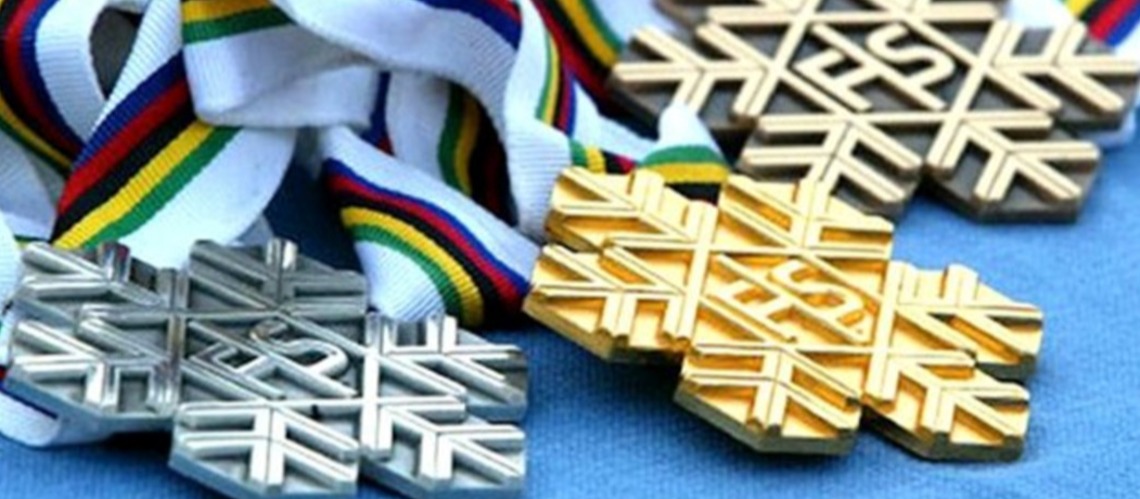 Lara Gut-Behrami will leave Cortina as a double World Champion after winning today's giant slalom. Today's gold medal joins her gold in the super-G and a bronze medal finish in the downhill.
Prior to these World Championships, the pressure was on the Swiss star to bring home her first career gold medal and she answered the call emphatically, already taking that pressure off in the opening race of Cortina with the super-G win. Gut-Behrami's World Championship career medal haul now stands at eight with three bronze, three silver and two golds.
"This was definitely unexpected for me today," said Gut-Behrami. "I'm really thrilled with the result, to finish my World Championships in the giant slalom with a gold is a dream."
But the dream did not come easy as a long course pushed the field to its limit in a highly competitive race. In the end, less than one tenth of a second was the difference between gold and bronze in a tight, hard-fought race today.
It was a thrilling race, with the stateside U.S. fans waking up to see Shiffrin leading after the first run and fellow Land Rover U.S. Alpine Ski Team teammate O'Brien just .02 seconds behind her in second place. Lara Gut-Behrami of Switzerland was in third, only .09 seconds off the lead. Shiffrin snagged the silver medal in the 2021 FIS World Ski Championships giant slalom—her third medal of the World Championships in Cortina d'Ampezzo, Italy, and the 10th World Championships medal in her career. Nina O'Brien finished 10th.
The two women hugged and screamed after O'Brien's fast first run, with Shiffrin telling reporters that this was how O'Brien usually trained—and that she's always been one to keep an eye on in races. Visions of Bode Miller and Daron Rahlves going 1-2 in the 2005 World Champs danced through U.S. ski racing fans' heads and Burke Mountain Academy students gathered around screens at school to watch their two famous alumna duke it out for the medals.
Running 29th in the second run, O'Brien attacked out of the gate and built on her time, continuing to show green at each split, until she made a small mistake just a couple gates from the finish and lost all of her speed. She ended up in 10th place—still the best giant slalom finish in her career.
"I didn't quite bring it across the line on the second run, but I'm really happy," said O'Brien. "I'm glad I went for it. I was definitely pushing the whole way down and I made some good turns. It's actually still my best GS finish ever—a good day! It feels good to see that my speed stacks up against those girls, so that's cool—something to hold on to."
Then it was Shiffrin's turn, who hammered down the turny second run, but finished just .02 seconds behind Gut-Behrami, who won her second medal of the World Championships. However, Shiffrin wasn't disappointed in her performance, which brought her medal total to three at the 2021 World Championships—one of each color.
"It's always like, what could I have done that was two-hundredths faster?" she said. "I'm actually pretty excited. The last two GS races, I was losing a lot more time the second run… I just kept thinking, keep pushing! Keeping a silver and being so close and hanging on to a medal when there's a really big competition for the podium together with so many girls within three tenths or five-tenths of a second, it was really not guaranteed, so that's pretty cool."
Shiffrin wasn't exaggerating about how close the race was: It was the closest World Championships victory in history. Just .09 seconds separated the medals, with Katharina Liensberger of Austria taking third place with the fastest second run—even after going down on her hip near the finish.
This brings Shiffrin's medal total to 10 during her World Championships career, placing her third on the all-time list of World Champs medal winners of the modern era, and was her third time medaling in giant slalom. She claimed silver in 2017 and bronze in 2019.
AJ Hurt and Paula Moltzan also started for the Land Rover U.S. Alpine Ski Team in the giant slalom. Neither finished first run and are OK.
Coming in third was Austrian Katharina Liensberger, just 0.09 seconds behind. The young Austrian now has two medals in Cortina after earning the gold in the parallel. The 23-year-old is more of a star in the slalom and has just one career podium in the World Cup giant slalom.
"I'm completely surprised and really happy with my finish today," said Liensberger. "I had a good first run, which put me in a good position, but to earn a medal today was unexpected for me."
The second run today was clearly slower and longer for the athletes with the different course set, but also because warm temperatures slowed the course. Naturally, the starting field of 99 in the first run also took its toll on the course, but the majority of the athletes were impressed with how well the snow held up under the challenging conditions
Share This Article