Go Travel Launches New Ski Accessories For AW 21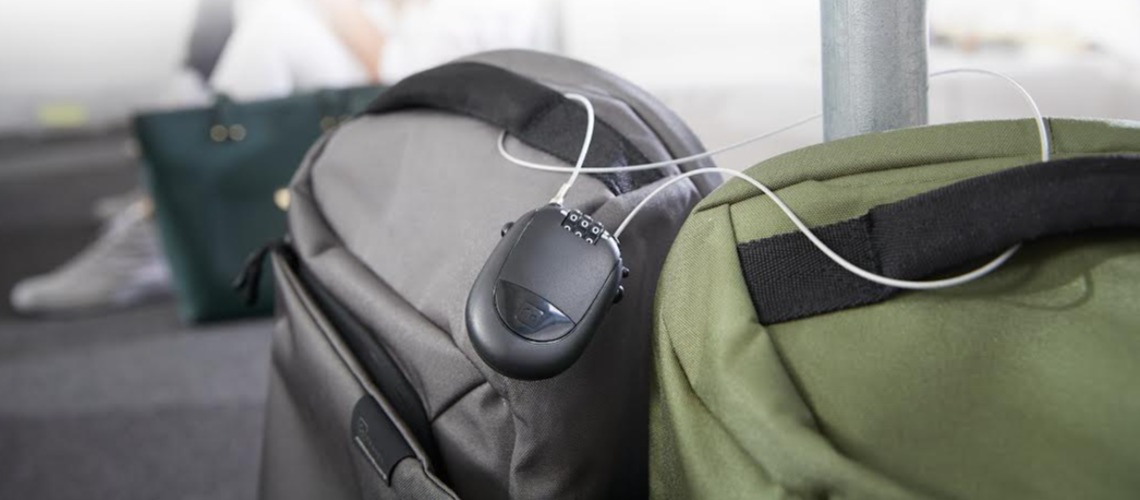 With the last two ski seasons cut dramatically short, the appetite to rip up the slopes, alongside a little Après Ski has never been stronger. The palpable buzz of excitement on the train journey into the resort has been sorely missed and skiers are salivating at the thoughts of a mid-October hit of fresh powder. So, travel accessory expert, Go Travel has pulled together a selection of key accessories to make the most of that maiden voyage this winter. Ensure you're all set to find some incredible lines and make the first tracks of the season.
Rest assured with the Retractable Cable Padlock
When you've got all the gang together, the trip to the slopes is where the excitement begins. Although, typically your bags, skis and boards are in the storage bay, while you sit together in the main train compartment with a little unease about the potential opportunist that may be lurking behind. An excellent deterrent for any thief, the Retractable Cable Padlock from accessory expert, Go Travel, features a retractable 75cm strong steel cable that allows you to secure your belongings in seconds. It's effortless to link the group's bags together or attach them tightly onto a fixture on the train. The length of the cable can be adjusted to fit the size of your skis or oversized bags. When you're ready to alight from the train, it can be retracted automatically with a simple press of a button. The padlock's three dial combination is easy to set using a memorable code, so you don't have to worry about losing keys. When not in use, it's small enough to fit in your pocket and convenient to stash in your everyday backpack.
Sleep is critical for Stamina on the Slopes - Memory Dreamer
Not only can a nap improve your physical stamina and performance but it also helps you learn new skills and enhances your daytime alertness.1 Whether you're thinking of a fun run as soon as you arrive or getting straight into some steep technical terrain, a quick nap before could make all the difference. The Memory Dreamer pillow from Go Travel combines velvety smooth fabric with an incredibly supportive memory foam that allows you to melt into comfort. With a gently tapered rear and fully adjustable front closure that work together to provide the perfect upright sleeping position, this pillow allows you to arrive well rested and ready- to-roll. The memory foam gives full 360o neck support, holding your head securely in place as you sleep to avoid any unexpected neck strain, back pain and even stops annoying head-roll.
Don't forget to keep the lines of communication open – World EU Adaptor Duo + USB
Whether you're checking out real time information like snow reports, webcams or slope status or catching up on work before you shred the slopes, the World EU Adaptor Duo + USB from Go Travel lets you plug in two appliances and charge two power-hungry USB devices at once. Keeping four of you powered up on the train or in the chalet from a single socket. You won't have to wait your turn to charge or risk arguing over who has the lowest phone battery.
For more information about Go Travel, please visit: go.travel
Go Travel designs travel accessories with useful innovation for the everyday commuter, jetsetter, family traveller and even the home. Doorstep to destination, the brand improves every step of the journey, bringing ultimate travel comfort, packing organisation and reassuring luggage security. From iconic travel pillows to TSA locks, RFID to packing cubes, the range is broad and extensive, and includes over 200 much-loved accessories.
Recognising a gap for a co-ordinated range, Go Travel's founder, Jack Rogers introduced the world's first travel accessory collection back in 1978, creating a global market that Go Travel still leads today. Over 40 years later, that pioneering spirit continues to define the brand as it creates industry-leading designs using a wealth of different technologies. Still offering the support and service of a family run company, Go Travel's global operation sees its products distributed in over 110 countries worldwide, across thousands of retail locations.
A trusted and reliable travel companion, Go Travel strives to exceed existing standards and often sets them. Always evolving, always solving and never afraid to revolutionise, Go Travel's forward-focused designs ensure wherever you are in the world, exceptional travel isn't an exception.
Share This Article