Glen Plake's 'Truck Night In America' Recommissioned For Season 2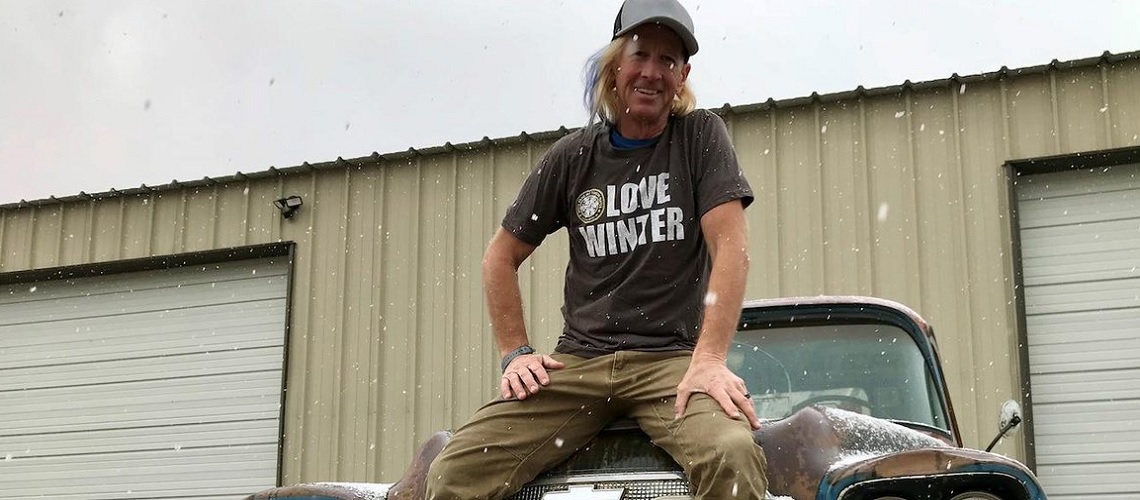 Skiing icon Glen Plake has long participated in races in Baja, at his local race track, and worked on his cars. Now he brings his car skills to the HISTORY channel's "Truck Night in America," where contestants build out their trucks for different challenges.
"I have so many daily drivers," he says, with a laugh. "I probably have one of 10 different vehicles that I can drive at a given time."
This HISTORY Channel competition series tests five drivers and their personal customized trucks in three challenges—testing speed, strength, and handling.
"I love that it's a real show. If we're working on the vehicles, we really are working on the vehicles, I'm not pulling some donated unusable piece of equipment like other car shows," he says. "When we're working on trucks, if I'm yelling for a half inch bolt because we've got a broken shock mount and yes—we are grinding and welding it right now because I need to get you to the next competition. It's all real."
The show is very simple, he says. "All the competitors are just normal folk with their vehicles that they spend time working on, that they care about, that they recreate in. It's really cool the show is definitely 'rung what you brung,' using the circle track analogy. They're not complex vehicles. We've got guys with pickup trucks, Jeeps, they're daily drivers."
In addition to bragging rights, the winner gets $10,000. "I take my position as a mentor very seriously. Do I want to beat the other coaches? Of course I do, but whether it's my guy or your guy, I want to get them to the finish line," he says.
Plake describes his involvement:
"Phone rings: it's a friend's wife, ironically it's my friend from my Kia racing days, she is involved with TV show casting "Glen, are you still racing?" I reply "yea, of course, local stuff for fun...". She says, "Can you send me a racing bio? They really don't care about your skiing she says and maybe a Skype interview tomorrow?" Turns out History Channel is developing a 4x4 truck competition show and they're looking for some hosts and thought I might be good for it. Bio sent, interview done, one week later "Chemistry test" with other hosts over the course of the day I interact with industry experts and other guys that certainly out qualify me, but it becomes clear that I can hold my own and do know a thing or two; at the end of the day I'm asked "Are you available during the month of August?" Fortunately, it is my usual time off. Dead silence, not a word the TV industry is so strange about certain things, on a Friday afternoon, "The Call", NDA, and a background check, "be ready to leave next week". For where? For what? After NDA is signed details emerge. Georgia? Isn't it really hot there in August? It will take place inside a quarry that will be transformed into a giant playground for 4x4's to compete and the chance to win 10k each episode (which there will be ten). Our job is to host the show, be coaches/mentors to the competitors; who are competing in their own personal vehicles; over the next month I lived in the world of "reality TV". Fourteen hour days, six straight - one off, seventy cameras, 150 people on set, Georgia heat, humidity, hurricane, a show shot every two days, five new competitors each episode. Like all adventures/expeditions the story tends to unfold as you go, I've always enjoyed "finding out" as opposed to the definitive plan, even in my mountaineering, it's the old question about human traits: are you an artist? Or an engineer? I have always enjoyed the "artist" way, the confusion and chaos of TV production is something I really enjoy. The relationships of the hosts and the interactions with our teams would develop, I would have great success getting my team to the finish, figuring out tactics - breaking and fixing things, was super fun! "Truck Night in America" was born. It would air weekly on the History Channel.
"Premiere night - honestly the chance of a TV show being a success is very rare, after production release dates floated back and forth, New York knows all, and says little. Football, Olympics, day and time of the week all of this and a whole lot more come into play. March 8, 2018 is finally the night, Thursday 10pm fingers crossed as I watch, episode 1 in a bar in Canada while on a MTN guides exam, glancing around in anonymity "looks like people like it". When the rating numbers come in 1.4 million we would hover around the 1 million mark the rest of the season - which supposedly that's good. Season 2? Like the hosts selection process, the phone goes dead... Will there be a season 2? Will we host it? I am proud to say last Friday I got "the call". Back to Georgia in August...
"Does this mean I'm doing season 3? I don't know? Is there a future show involving me and skiing/mountaineering/outdoorsman? I do have a few skills in that department... I do know that when the door opened, I walked through it, until another one does, when I am not skiing, I will be wrenching, racing, getting my hands cut and greasy doing the same things that I have always done as a distraction after my winter except now millions of people are getting to know about it... To be continued...
"Ski ya on "Truck Night!"
Share This Article