Germany - Cable Cars And Sustainability Belong Together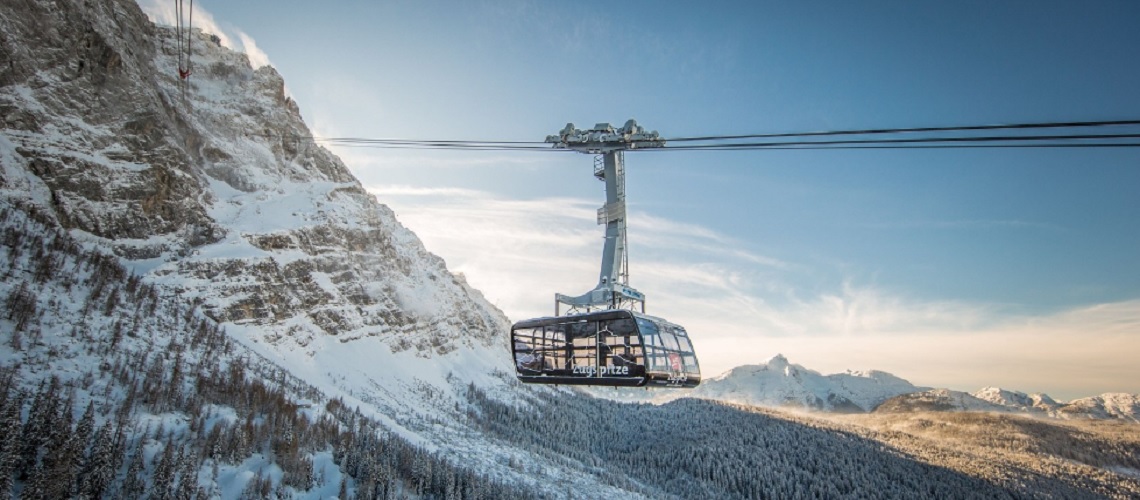 The topic of sustainability is on everyone's lips for good reason and also has a high priority for German cable cars. They have long tried to leave the best possible social, economic and ecological footprint.
As a means of transport for everyone, also predestined for people with disabilities and physical limitations, senior citizens and families with small children, the cable cars enable participation and inclusion and thus create lived social sustainability.
5.1 - this is the added value factor that turns cable cars into motors in the regions, ie 1 job at the cable cars creates or secures 5.1 jobs in the region. This sustainable profitability prevents migration from structurally weak areas and reduces commuting.
The environment is the most valuable asset that cable cars want to protect and preserve as the core of their existence. Many measures have already been taken. "Here, too, the industry is proving its innovative strength. The effort to preserve the magnificent mountain landscape and intact nature is in our own best interests and is essential for us. I believe that with the cable cars we are offering a product that already focuses on sustainability in many areas and will also offer a great deal of potential in the future, "said Christine Kury, board member of the Association of German Cable Cars.
Cable cars are true pioneers of e-mobility, they have always been mostly electrically powered. Their location holds great potential for the production of renewable energies such as hydropower and solar energy:
The Nebelhornbahn's hydropower plant generates about as much electricity per year as the company's cabin cable car uses annually to transport it, saving around 3,390 tonnes of CO2 from 2014 to 2017
At the Arber mountain railway, a photovoltaic system produces around 2500 KWh of solar power. This performance is sufficient to transport around 8,000 guests annually by cable car
In Baden-Württemberg at the Schauinslandbahn, the cabins are cooled with solar energy and the entire system is operated with green electricity
There are also convincing approaches in the field of energy utilization and saving:
The Brauneck Bergbahn uses the waste heat from drive motors for heating and heat supply; 10,000 l less heating oil are used each year
At the K1 chairlift in Willingen, the latest drive technology DSD (Direct Stream Digital) saves around 40,000 kWh per system and year
Cable cars take over measures to protect the landscape:
Guiding visitors through the dismantling of beaten paths, path renovation and maintenance of detailed path networks
Mowing mountain meadows as protection against encroachment
Fencing and reforestation of the mountain forest
Garbage collection, transport and disposal
Connection of the water supply and complex sewer systems on the mountain to the existing systems in the valley
When it comes to sustainability, particular attention is paid to the arrival of guests. The German cable cars are permanently committed to an even better, direct connection to public transport:
Cooperation with Deutsche Bahn and public and private transport companies (environmental network cards all year round at significantly reduced prices, e.g. Garmischer Sommer-Ticket and Garmischer Ski-Ticket or the cooperation AlpenPlus-Bahnen / BOB)
Expansion of the ski rental to enable a comfortable journey without bulky luggage
Provision of free bus transfers
E-car charging stations at the valley station (Arber Bergbahnen, Nebelhornbahn, Ettelsberg Seilbahn)
The cable cars understand sustainability as a process that has to be continuously developed and will continue to shape their actions in the future.
Background information:
The energy requirement per guest on a day of skiing with cable cars, slope preparation, etc. is 18 kWh, just as much energy is required by a mid-range car with an average consumption of 7 liters for a distance of 22 km.
The Bavarian Alpine area covers 4,400 km².
Of this, 37 km² or 0.8% are used temporarily as slope area.
Share This Article