FIS Q&A With Stefan Hadalin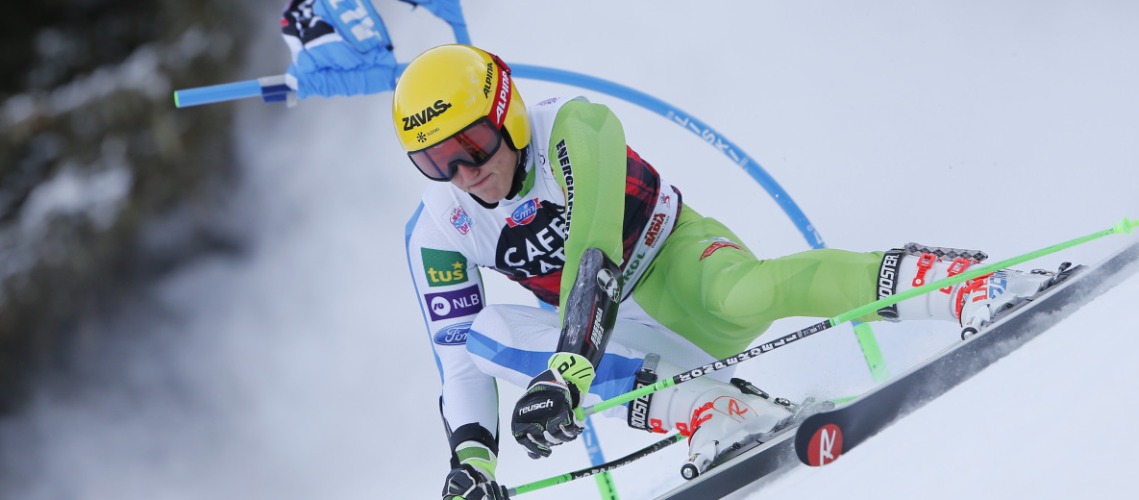 Last season was definitely Stefan Hadalin's best season so far. The Slovenian skier achieved his first World Cup podium and wrote history for his country, earning a Silver Medal at the World Championships in Are. Keep reading to find out more about the 24-year-old skier.
Last season was definitely your best season ever, with your first World Cup podium and your first Medal. In particular, your World Championship Silver medal came after a very tough race. Did you expect that result? How did you live those two runs?
Season 18/19 was for sure the best one so far for me. Winning the medal at the World Championships was a huge achievement for me and my team. I knew that if I managed to finish the DH run in the top 30, everything was possible. So after it happened, I stayed focused and attacked in the slalom run. I must admit that after crossing the finish line in DH, I did not know if it would be enough for the top 30. The waiting game began in the finish area; I was a bit nervous but in the end, I was lucky enough to stay exactly 30th, so with nr 1 in the slalom run I gave my best. The second part of the waiting game began; there were a couple of good slalom guys left on the start. After Marco Schwarz crossed the finish line, I started to feel that the medal was close. I must say that I am very proud and happy that I got a silver medal at the World Championships.
Your medal was the first one ever in Alpine Combined for your country and the second ever for the men at the World Championships. When did you realize it and how did it feel?
After the race, when everything calmed down, I realized how big this historical achievement for Slovenia was. It hit me hard, with a lot of emotions and I felt very proud and happy. I also shed a few tears.
Having your first major result at the World Championships is always great but not necessarily easy to handle. How was the rebound after the race and the following months?
This result gave me some extra motivation and proved that I can ski very well. The team and my family are always standing by my side. When I arrived home from Are, there were approximately 1500 people waiting for me in my hometown and a big congratulations banner across the street.
How important was it for your country and for the skiing community in Slovenia?
It was a big deal! People in Slovenia are really enthusiastic about skiing. We are all striving for the best result, and so are the fans who cheer for us. Being on the podium at the World Cup is a big achievement, but winning a medal at such a big event is something special, so after Ilka's (Stuhec, SLO) second Gold medal at the World Championships they already went crazy, but when I got silver they were very euphorical. I am glad that I was able to make people happy in my country, at least for a few moments.
How important was that result for your confidence?
That kind of result is a good proof of your quality and the hard work behind it. It also gives you strong motivation for the future. For sure, it is also one big step in my career, which will help me to be even more confident in the future.
What are the next steps towards improving and becoming more consistent?
I think the first step is to improve the physical condition of my body during the summer so I can push to the limit all season long, and the second challenge is to stay healthy throughout the whole season.
Who are your inspiring athletes in skiing and in general?
I would say that among the retired skiers I am inspired by Slovenian Rok Petrovic, Croat Ivica Kostelic and for sure Marcel Horscher, who has brought skiing to a different level. Among the active ones, Alexis Pinturalut is definitely one of the athletes I admire the most . In general, I am inspired by people who are fighting against climate change, such as the Swedish girl Greta Thunberg.
Which is your favourite slope and why?
This is a hard decision. I would say Ganslernhang in Kitzbuhel. This slope is really difficult with a lot of rollers, it is always very icy, and even the crowd is great there. Additionally, both of the Swiss classic slopes in Adelboden and Wengen are also really special
How is your spring and summer time? How do you like to spend your free time?
Summer is always nice but busy; with all the drayland preparations and some sponsor activities, my schedule is quite full. I normally rest or go on a trip with my girlfriend, watch some movies or read a book in the beautiful summer evenings.
"Winter athletes are made in the summer" is a common saying in ski racing. What do you focus on in the summer?
That is a fact. With my coach, we are focusing a little bit more on endurance because I had some problems with it in the past, so we are trying to improve it, but, yes, the hard work is done during the summer
Share This Article