FIS And WSF Announce Unification Of Competitive Snowboarding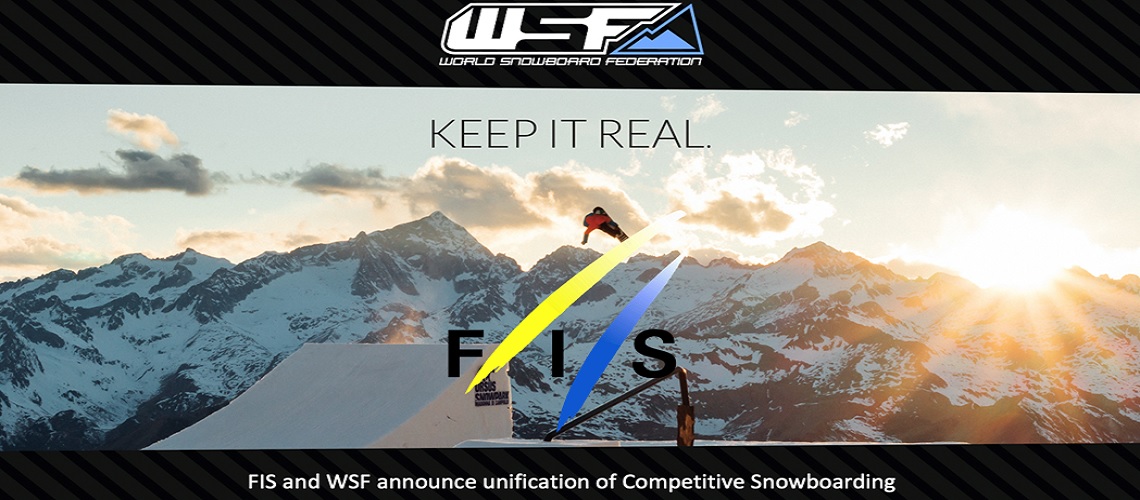 The International Ski Federation (FIS) and the World Snowboard Federation (WSF) have reached an historic agreement regarding the global unification of competitive snowboarding and the future custodianship of the World Snowboard Points List (WSPL).
The agreement outlines significant opportunity and defines the responsibilities for the Snowboard competition pathway from grassroots to the Olympic Winter Games.
The World Snowboard Points List (WSPL) is recognised as the most comprehensive and authentic ranking of international snowboard athletes in the events of Halfpipe, Big Air and Slopestyle. Custodianship of the WSPL will transfer to FIS immediately to ensure continued viability of the WSPL and provide certainty to athletes and National Associations for its future.
In addition to the WSPL, discussions are underway for further harmonisation, including event calendars and sanctioning. Both FIS and WSF recognise that their respective membership bases are largely the same and have a similar focus, facilitating the first steps of unification. Both share the objective of ensuring that the most important interests are those of the athletes, nations, events and sport as a whole, with each party contributing its unique strengths.
FIS recognises the legacy of WSF's rich collection of digital history of Snowboarding and as the authority for the development of amateur snowboarding and development of young riders through grassroots programmes, events and other activities. These responsibilities will be detailed in a service agreement between the two bodies.
Meanwhile, WSF agrees that Snowboarding will benefit from FIS' status as the unique, representative governing body, providing athletes with a clear international pathway to the Olympics. There will be ongoing collaboration between WSF and FIS where the breadth of opinions can be brought together to focus on strengthening the sport.
A joint FIS and WSF Working Group will oversee the transition and provide information on progress that follows the below key principles agreed by FIS and WSF.
Under the custodianship of FIS, the WSPL will be overseen by a classification advisory group, comprising sport experts, that will be responsible for the inclusion and the weighting of events in the WSPL,
The development activities carried out by the WSF, funded in part through this new arrangement, will be structured in collaboration with the FIS Snowboard, Freestyle, Freeski Youth and Children's Sub-Committee.
Dean Gosper, FIS Council Member and Chair of the FIS Snowboard, Freestyle, Freeski Committee commented; "Unification ensures an unambiguous pathway for athletes and Nations. The collaboration in reaching this historic outcome provides the foundations for the vision behind the Agreement. I commend all involved who persistently returned to what is best for the sport and its athletes, not just organisations. Our responsibilities have not changed, but our tools to implement focused programmes for competition and grassroots Snowboard have."
Satu Järvelä, World Snowboard Federation President; "I am thankful for everyone's efforts to help to get to this point. This unique collaboration helps the WSF to continue to be able to provide resources for all nations to help promote the sport of snowboarding as a healthy activity for everybody. We will still be dedicated to all nations both governed and independent, and as well to the independent events and support the sport through a more unified platform. The care and upkeep of the WSPL is supported now in FIS through the snowboard nations and allows the WSF to focus helping to grow up the next generation of riders."
Share This Article