Finland's Leading Manufacturer Of Ski Waxes Vauhti Speed Signs Substantial Distribution Contract With Fischer Sports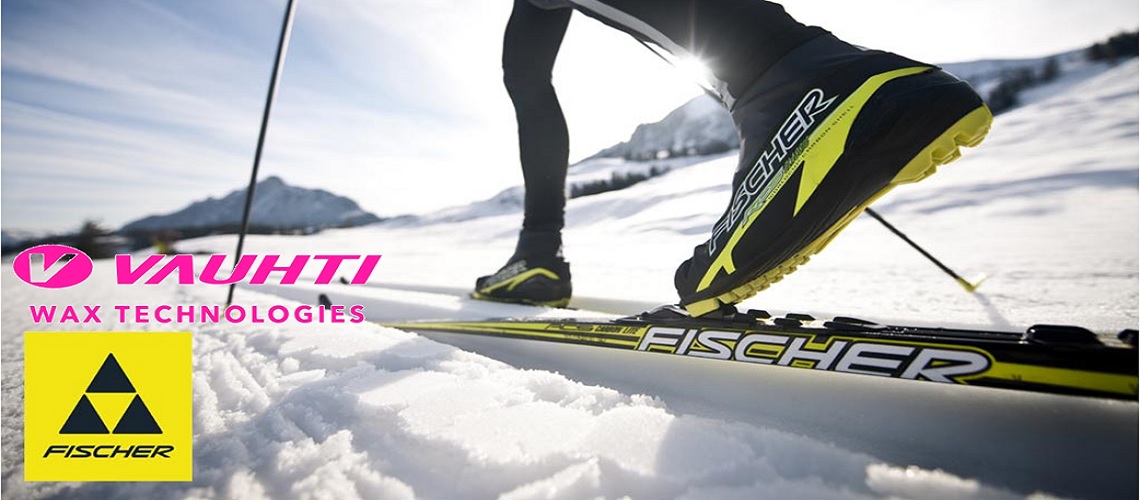 Finland's leading manufacturer of ski waxes, Vauhti Speed Oy, has signed a substantial distribution contract with one of the world's largest ski manufacturers, Fischer Sports GmbH. Along with the new import and distribution cooperation, Fischer will introduce Vauhti's ski waxes in its product portfolio and wholesale in the key markets of winter sports in Austria, Germany, Switzerland, France and Russia. Distribution through Fischer will reach customers and consumers already next autumn.
Vauhti Speed Oy's history roots back to 1912. Vauhti is one of the world's oldest, if not the oldest, ski wax manufacturer to still be operating. There are newspaper advertisements that date back to 1935, which feature Vauhti waxes. Aulis Tolsa started to manufacture ski waxes with his brother Valto Tolsa. When Tolsa retired in 1991, the ownership of Vauhti was transferred on to ski legend Aki Karvonen.
Vauhti Speed Oy's Chairman of the Board, Martti Uusitalo, is happy about the new expansion of operations. "We are extremely satisfied and happy that the Finnish company's, innovative technology in liquid ski waxes have gained such wide-scale global interest."
Uusitalo says that the cooperation with Fischer Sports GmbH is unique to the Finnish operator. "Subcontracting and industrial cooperation, which began in 2017, as well as Vauhti's expertise in product development convinced Fischer's management that they would like to expand their portfolio to our products."
Vauhti has produced waxes and care products for skis under Fischer's name since 2017. Every ski that is manufactured at Fischer's factory has been waxed and processed in production with products produced by Vauhti. The Fischer wax selection will continue alongside Vauhti as its own separate collection.
Fischer Sports GmbH is one of the world's largest ski manufacturers. Cooperation with Fischer signifies the rapid opening of international markets as well as the significant growth of turnover. "Vauhti expects that with the Fischer cooperation and its existing business operations, its turnover will double within the next three years to approximately 8 million euros", says Uusitalo.
Vauhti is a global pioneer in liquid ski waxes. Liquid care products and waxes are currently the most trending product group in the ski wax market. Fischer CEO Franz Föttinger is satisfied with the cooperation: "We are absolutely convinced of the products of Vauhti and have had our Fischer Care and Wax products manufactured there from the very beginning. Especially the liquid waxes, for which the Finnish company is the market and innovation leader, represent the future of ski preparation and care for us. All Vauhti products are innovative, work extremely well and are very easy to use. This makes them a perfect addition to our ski range". With the view to the trade he adds: "In combination with the usual good service from Fischer, we can offer the specialist sports retailer an interesting alternative to conventional wax manufacturers!"
Alongside research and development work, Vauhti has significantly invested in production technology and equipment. The new bottling line for liquid products, which was installed during the autumn, is fully automated. It allows uninterrupted production and a daily capacity of up to 12,000 wax bottles.
Vauhti Speed Oy's Chief Executive Office Esa Puukilainen says that while the Fischer contract offers new distribution routes for Vauhti, cooperation will also deepen in material research. "The special expertise of both operators ensures good prerequisites for even better functioning product solutions for all types of snow", Puukilainen said
Nowadays, Vauhti's wax factory is one of world's most modern and most automatized ski wax factories. In 2014, Vauhti was transferred to the family investment company, which is run by Martti Uusitalo, who has strongly influenced Finnish skiing.
Esa Puukilainen, a PhD who enjoys great respect in the field, was hired as the CEO of the company. In his doctoral thesis, he studied the interaction between plastic material and water, and used the base of a ski as one subject of application. Vauhti carries out research cooperation with the University of Eastern Finland's Depart of Chemistry. The department's research groups have several decades of experience in e.g. The production of polymers used as the base material of skis, the chemical and structural modification of surfaces and the theoretical simulation of atomic phenomena of surfaces.
Vauhti's objective is to be the leading operator of wax technology. Vauhti's products have been used by the world's leading national teams during World Cups and World Championships for decades already. In addition to the national ski teams in Nordic countries, Vauhti also operates as a wax partner for the national teams of Austria, Russia and Canada.
Share This Article