Federal Garden Show Mannheim: Cable Car Cabins Revealed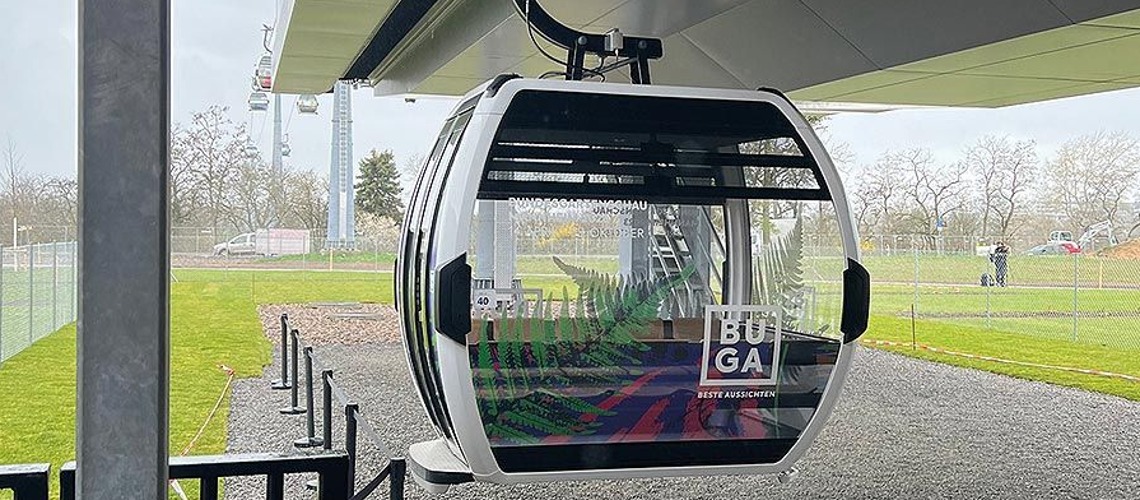 It hovers at lofty heights above the Neckar: the BUGA 23 cable car, which already characterizes the cityscape. Now the sight has changed a bit. Instead of white, wrapped gondolas, the motifs on the cabins are now revealed. The 30 BUGA 23 cabins glow pink, green and yellow. Another 34 are designed by BUGA 23 partners and sponsors.
Together with Lord Mayor Dr. Peter Kurz, the BUGA 23 partners came to the photo shoot all about the cable car. The creative and diverse stickers were admired together. The cable car with a total of 64 cabins, each of which is designed for 10 people, connects the two Spinelli and Luisenpark exhibition grounds during BUGA 23. In seven to eight minutes, up to 2800 people can be transported per hour and direction. During the journey, the cable car covers a distance of approx. 2 km.
During the trip over the Neckar, whose banks have taken on completely new forms in the course of the Neckar renaturation measures, visitors can take a completely new look at Mannheim.
The cable car as a connecting element between the two areas is part of the sustainability concept of the Federal Garden Show 2023 in Mannheim. Since two sites had to be connected in terms of transport, the cable car, which is powered by green electricity, was the most ecological and resident-friendly option. Major parts of the cable car come from the Dutch flower show Floriade in Almere; and after the BUGA 23, the entire system will again be set up at a new location.
The manufacturer and operator of the train is Doppelmayr.
BUGA 23 cable car facts:
gondola
Propulsion station on Spinelli
Deflection station in Luisenpark
Capacity up to 2,800 people/hour in each direction
Conveyor speed: 6.5 m/sec
Driving time: 7 minutes.
64 cabins for 10 people each
10 supports
Horizontal landings about 2 km (2049 m)
Operation with green electricity
Sustainability study by Darmstadt University of Applied Sciences
Share This Article