Eliasch Elected As FIS President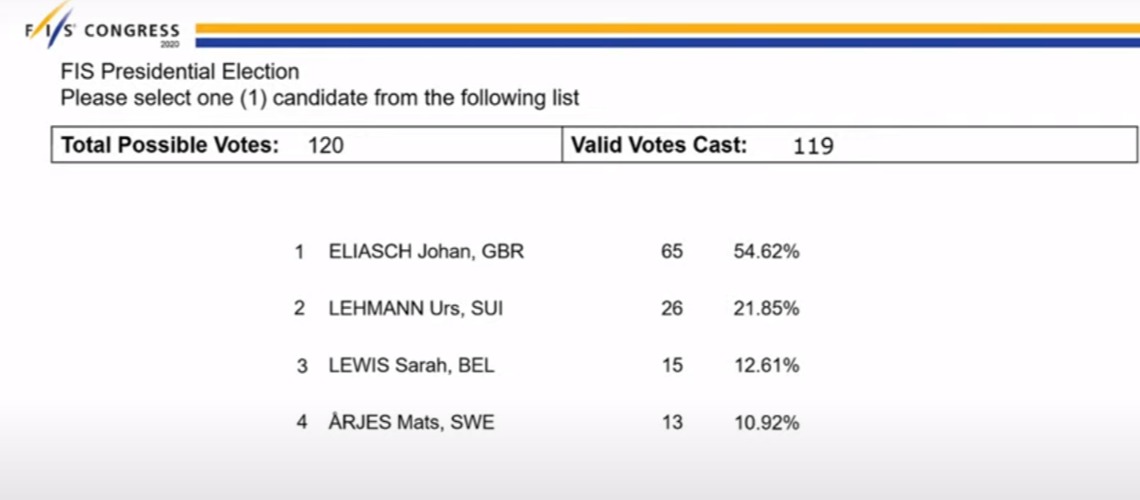 Four candidates were running to be the FIS President to take over from retiring President Gian Franco Kasper. The election was held online on 4th June 2021 during the International Ski Congress.
Johan Eliasch won in the first round by a simple majority with 65 votes giving him 54% of the votes cast
Eliasch was elected as the new FIS President after just one round of voting. He earned 54.82 percent of the vote with 65 votes. Behind him was Urs Lehmann (SUI) with 26 votes (21.85%) followed by Sarah Lewis (BEL) with 15 votes (12.61%) and Mats Arjes (SWE) 13 votes (10.92%)
"I'm incredibly humbled to be chosen as your president." Eliasch said to the Congress after his election. "I want to thank FIS for organizing such a professional virtual congress. I would especially like to express my gratitude to Gian Franco Kasper, whom I have known for many years. We would not all be sitting here today if it wasn't for him.
He continued, "I will be engaged, open-minded and transparent and a president that represents all nations and all disciplines and now let us go to work."
In addition to the Presidential election, the Congress also elected the 16-member Council. The elected Candidates are:
ARJES, Mats, SWE
GOSPER Dean, AUS
KUMPOST Roman, CZE
LEHMANN, Urs, SUI
MINEV Tzeko, BUL
MURASATO Aki, JPN
PAINE Dexter, USA
RODA Flavio, ITA
ROESTE Erik, NOR
SCHROECKSNADEL Peter, AUT
SMREKAR Enzo, SLO
STEINLE Franz, GER
UUSITALO Martti, FIN
VION Michel, FRA
VYALBE Elena, RUS
ZHEN Liangcheng, CHN
In addition to the above elected Council members, Hannah Kearney (USA – Freestyle Skiing) and Martti Jyhla (FIN – Cross Country Skiing) were appointed as the Athletes' Commission Representatives in the Council for the upcoming term.
Both the President and Council will serve a term through the next International Ski Congress, which will take place in late Spring 2022.
The election was the primary business at today's Congress as all National Ski Associations agreed to table all proposals for the FIS Statutes until the next Congress when it can be staged in person.
Outside of the housekeeping business, a major decision of note was the adoption of the Mainau Manifesto, which will serve as the guiding sustainability document for FIS in the upcoming years.
Additionally, five new nations were approved as Associate Members, they are: Cape Verde, Panama, Tanzania, United Arab Emirates and Vanuatu.
Johan Eliasch has spent many years working in the sports manufacturing industry, having previously worked in the private equity industry. In particular, 25 years ago he acquired the Austrian sporting goods company HEAD, which had subsequently been built into one of the world's leading private companies.
Beyond the sporting world, Eliasch has become a leading expert on solutions to issues caused by climate change, advising the UK Government on Deforestation and Clean Energy. In 2005, he created the Rainforest Trust, and in 2006, he co-founded Cool Earth. He has advised British Prime Ministers, and Shadow ministers, and currently is President of the political think tank, Global Strategy Forum.
Eliasch has many business interests, which have allowed him to build a considerable knowledge base. Current roles include being Chairman of Equity Partners, and the Saatchi Gallery; and a Director of Aman Resorts, London Films, the Foundation for Renewable Energy and Environment, Longleat and Pitch@Palace Global. He is an advisory board member of the All-Party Parliamentary Group for the Polar Regions, Brasilinvest, and the Stockholm Resilience Centre.
In the past he has served on the boards of IMG (2006–13) and the British Paralympics Association (2002-2009), the sports advisory board of Shimon Peres Peace Centre (1997-2016), the advisory boards of the World Peace Foundation (1996-2002), Societe du Louvre (2005-2015), the Centre for Social Justice 2004–2015, the British Olympic Association (2003-2012) and Capstar (2013-2015). He was non-executive chairman of Starr Managing Agents (2008-2015) and of Investcorp Europe (2010-2014). He was non-executive director of Acasta Enterprises (2015–17). He was a member of the Mayors of Jerusalem and Rome's International Business Advisory Councils (2010-2016). He was a trustee of the Kew Foundation (2010-2016). He chaired the Food, Energy and Water security program at RUSI (2010-2016). He was a member of the Mayor of London's (Boris Johnson) International Business Advisory Council (2008-2016).
Eliasch resides in London but operates his activities from multiple different locations.
Share This Article