Destimetrics - Snow Keeps Falling but Booking Pace & Room Rates Retreat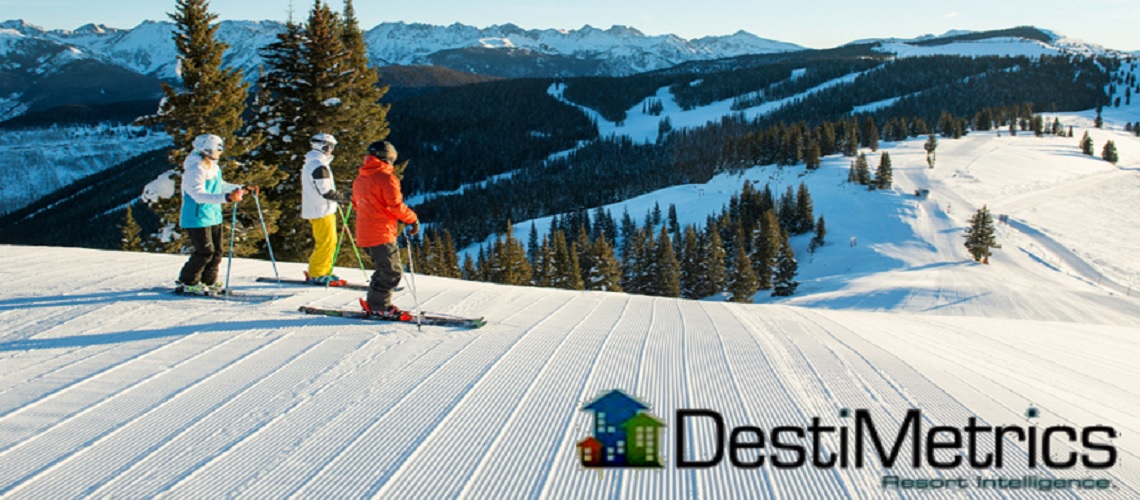 While March usually signals a push to the final weeks of the ski season and increasing focus on the upcoming summer, consistent and abundant snowfall across a wide swath of the West indicates that many resort destinations can extend their winter operations to capture additional business into the typically slower weeks of mid-April through May and a handful may operate into the summer months. But despite all that snowfall, high nightly room rates and continued economic pressures made a noticeable dent in both bookings and rates. The latest analysis from DestiMetrics,* part of the Business Intelligence division of Inntopia, in their monthly Market Briefing also reported that while occupancy is down slightly compared to last year, overall rates are still substantially higher than they have been compared to the past three seasons. The data is aggregated from approximately 28,000 lodging units in 17 mountain communities across seven western states through Feb. 28.
February occupancy steady; rates and revenue very strong
Even though occupancy during February dipped a scant 0.8 percent compared to last February, the Average Daily Rate (ADR) was up 11.1 percent. When contrasted with the mid-pandemic February of 2021, occupancy was up a strong 26.3 percent and ADR up 57.6 percent, and compared to February 2020, just weeks before the pandemic hit, occupancy is up a slight 1.8 percent and rates are up a dramatic 44.2 percent.
Booking Pace: Strong for February arrivals, sliding for upcoming months
The magic wand of snow was apparent for short-lead bookings made in February for arrivals in that month. When compared to one year ago, bookings for in-month arrivals were up 22.2 percent. In addition to abundant snowfall, the strong growth was also the result of soft bookings one year ago when the Omicron variant was causing some travel hesitation.
But for the broader perspective, after two consecutive months of gains in booking pace during December and January, the momentum slowed in February for visitors arriving in the full six months from February through July compared to both last year and the last pre-pandemic booking month of February 2020. In a year-over-year comparison, bookings for this six-month period are down 4.5 percent and when compared to three years ago, bookings are down 8.5 percent. This is the fourth decline in the past six months for year-over-year booking pace.
Strong season expected despite slight dip in occupancy
Compared to the same time last year, as of Feb. 28, actual and on-the-books occupancy for November through April remains down a scant 1.4 percent—the same as last month. But January remains the only month in the 2022-23 season with higher occupancy than last year. Lodging properties are weathering the decline by capturing higher room rates with ADR up a healthy 7.1 percent from last winter.
In contrast to two years ago in the midst of the pandemic, occupancy this year is up 30.4 percent and daily rates are up 46.4 percent while the more "apples-to-apples" comparison looking back to three years ago shows seasonal occupancy is up 3.2 percent with slight gains in all six months while ADR is up a strong 39.9 percent.
"Snow has certainly been the main story this year as most of the West has seen strong and consistent snowfall since December while Northeast destinations have been struggling with spotty slope conditions until recently," observed Tom Foley, senior vice president of Business Intelligence for Inntopia. "It's likely that western resorts have benefitted from the lack of snow in the East during the past few months. But with improved conditions at eastern resorts, western destinations may see some modest declines in occupancy during the rest of the season—at least from out-of-state visitors." He also emphasized that "the data clearly shows, once again, that good snow offsets negative consumer behavior in tough economic times. Even though overall performance is soft compared to last year, it would have been an appreciably different situation if Mother Nature had failed to deliver this season."
Foley went on to acknowledge some challenges that arrived with the snow. "Ironically, the strong snow year is a bit over-the-top in some destinations making it difficult and sometimes impossible for skiers and riders to reach some resorts because of challenging road conditions and closures."
Occupancy masks softer absolute demand
But the situation isn't exactly as it appears. The number of lodging nights available for nightly rental has fluctuated in the wake of the pandemic. Many individually owned units and homes have been offered for rent fewer nights this season as homeowners changed how they use those units while other owners have removed their homes from the available rental pool entirely. With fewer nights available for rent, the numbers used for calculating actual occupancy are changed. The result is that lodging stays based only on room nights booked are down 4.5 percent compared to last year at this time—and that is much softer than the 1.4 percent decline in occupancy.
"Occupancy and room nights booked sound like the same thing but the distinction is that occupancy looks at the number of nights that are booked as a percentage of available rooms for rent—which is a decreasing number this year as owners change how much or little they make their units available," clarified Foley. "But room nights booked are the 'apples-to-apples' comparison and that means that the slower booking pace we've been seeing combined with shorter stays has resulted in fewer rooms being booked this year than last," he continued.
Foley pointed out that this trend has been increasing since Summer 2022 and is crucial for understanding the full context of how mountain visitation has actually been shifting down in recent months based on the changes in unit availability.
High room rates—under economic pressure?
Aggregated room rates remain up 7.1 percent compared to last year at this time and an impressive 39.9 percent compared to the pre-pandemic season of 2019-20. But the data indicates that in some destinations, economic pressure is starting to push down those consistently rising rates of the past two years. Daily rates for the months of February through July as of the Jan. 31 data showed that all 17 participating destinations were recording aggregated gains in their daily rates. Four short weeks later, as of Feb. 28, those gains fell back in at least three destinations who reported either flat or declining room rates for that six-month period.
"This notable downward shift in room rates for the upcoming months is a concern, particularly when coupled with the slackening decrease in absolute demand," articulated Foley. "Strong daily rates have been protecting overall revenue performance for many months, despite slackening demand. But as economic pressures persist and consumers pull back on discretionary travel expenditures, that revenue cushion could shrink or evaporate in the months ahead if lower consumer demand dictates lower rates."
Econometrics
The economic roller coaster ride continued during February led by the Dow Jones Industrial Average (DJIA) which declined a significant 4.9 percent during the month—1,429.3 points to a closing of 32,656.7 points. This is the second notable drop in the past three months and a sharp reversal of the positive momentum recorded during January. It is also its lowest closing since last September. "Ironically, this negative activity in financial markets was partially in response to strong jobs and employment numbers—which are currently triggering higher interest rates and that makes investors jittery," explained Foley.
Once again, the Consumer Confidence Index (CCI) and the Consumer Sentiment Index (CSI) were mixed during February. The CCI slumped from the revised 106 points recorded during January to finish down another 3.1 points to hit 102.9 points—a decline of 2.9 percent and the second consecutive monthly decline in confidence and the fourth time it has dropped in the past six months. Consumer expectations about the future have now been below the benchmark recession indicator for 11 of the past 12 months with intentions to purchase expensive items such as homes and travel also declining during February for the third consecutive month. In contrast, the University of Michigan's CSI rose a moderate 3.2 percent. While still low by historic standards, this index continues to claw its way gradually up with consumers reporting that strong earnings and easing price pressures are the reasons for the moderate uptick in sentiment.
The national Unemployment Rate rose from 3.4 percent to 3.6 percent in February as employers added another 311,000 new jobs. Although down from the January surge of 504,000 new jobs, the vigorous addition of new jobs exceeded expectations by the Federal Reserve Bank, and stymies their efforts to cool down the economy and inflation. The strong job growth would usually signal the likelihood of additional increases in interest rates, but the recent failure of the Silicon Valley Bank may act as a red flag for the Federal Reserve and bring an end to further significant increases. However, interest rates remain much than they have been and are discouraging purchases made on credit, including travel. The Leisure and Hospitality sector led the way in February with 105,000 new jobs which is slightly higher than the six-month average of 91,000 new jobs per month. Of those positions, 14,000 were in the accommodations sub-sector.
The national Inflation Rate fell in February from 6.4 to 6.0 percent, indicating that actions taken by the Federal Reserve Bank are having the desired effect. However, despite that positive figure, consumer prices actually rose in February from January, up 0.4 percent, and the current six percent inflation rate is actually a six percent increase on top of the 7.9 percent recorded last February.
Keeping an eye on
*Length-of-Stay is having a considerable impact on the bottom line as it continues to shrink after a dramatic rise in 2021. The average number of nights for bookings made in February was down 0.16 nights from last February and 0.11 nights compared to pre-pandemic February. The length of stay began shrinking in early 2022 as economic forces and weak financial markets emerged even though daily rates continued to rise. Shorter stays contribute to a softer booking pace and result in a dramatic impact on revenue—16 percent lower per booking.
*The softening in booking pace is due primarily to strong long-lead bookings one year ago at this time as travel concerns related to the pandemic were easing. However, when compared to three years ago when the booking pace was on track for the best booking pace record ever, the weakness this year indicates that economic forces are slowing down consumer spending and shorter stays.
"All this snow is a good thing as it has offset the many economic challenges facing consumers this season, but there is a lot more going on behind the scenes in mountain lodging," offers Foley. "While occupancy is almost flat and revenues are very positive, those figures are based on shifting numbers of available lodging units that can skew actual performance. Inflationary pressures are starting to become more noticeable in the broader economy and are extending into the usually resilient mountain destinations. As a result, we've seen the biggest decline in daily rates since 2020," he continued.
Foley was quick to point out the many positive aspects as well. "All this snow creates a 'snow hangover' that triggers strong early season pass sales and early bookings for next year. Plus, the opportunity for an extended season allows lodging properties to pad their coffers a bit as it looks like we're certainly moving into softer business conditions," he explained. "And most notably for our participating properties, this season is going to be the second best ever for seasonal revenues—second only to last year's historic numbers," he concluded.
*DestiMetrics, part of the Business Intelligence platform for Stowe-based Inntopia, tracks lodging performance in resort destinations. Each month, the forward-looking reservation data is compiled and aggregated with individualized results for each region and distributed monthly to subscribers at participating resorts. Approximately 28,000 lodging units in 17 mountain destination communities across Colorado, Utah, California, Nevada, Wyoming, Montana, and Idaho contribute to the data pool, and represent an aggregated 55 percent of all available rental units in those regions. Results may vary significantly among/between resorts and participating properties.
Share This Article